Kalākaua Avenue was blocked around 11 a.m. on July 21 by thousands of people rallying against the construction of the Thirty Meter Telescope on Maunakea.
What started with a social media flyer only a couple of days ago ended up becoming a rally that brought traffic to a halt along Kalākaua Avenue this morning. Along with long processions of Toyota Tacoma's taking over the road with Hawaiian sovereignty flags waving, protesters flooded the street until they were ushered by police onto the side of the road.
Having been one of the kia`i (protectors) who had chained themselves to the cattle guard of Mauna Kea Access Road this week, Imai Winchester feels the start of a movement.
"This particular event was thrown down maybe a day or two ago," Winchester said. "But there's been so much activity, so much support, so much vocal harmony in all of the different communities, that were really seeing the true capacity of mankind, of humanity."
Winchester said of Gov. David Ige's call for a state of emergency, "It's not a state of emergency; it's a state of humanity."
The rally congregated around the Gandhi statue near the Honolulu Zoo, which Winchester claimed to symbolize the protesters' aspirations "to be the change that we need to see in Hawai'i and for the world."
Many marchers gave out flyers to visitors as well, sharing stories to spread awareness among tourists on their side of the issue.
The rally was not merely focused on protest— it was also a cultural celebration, with rallying speeches punctuated by hula and song.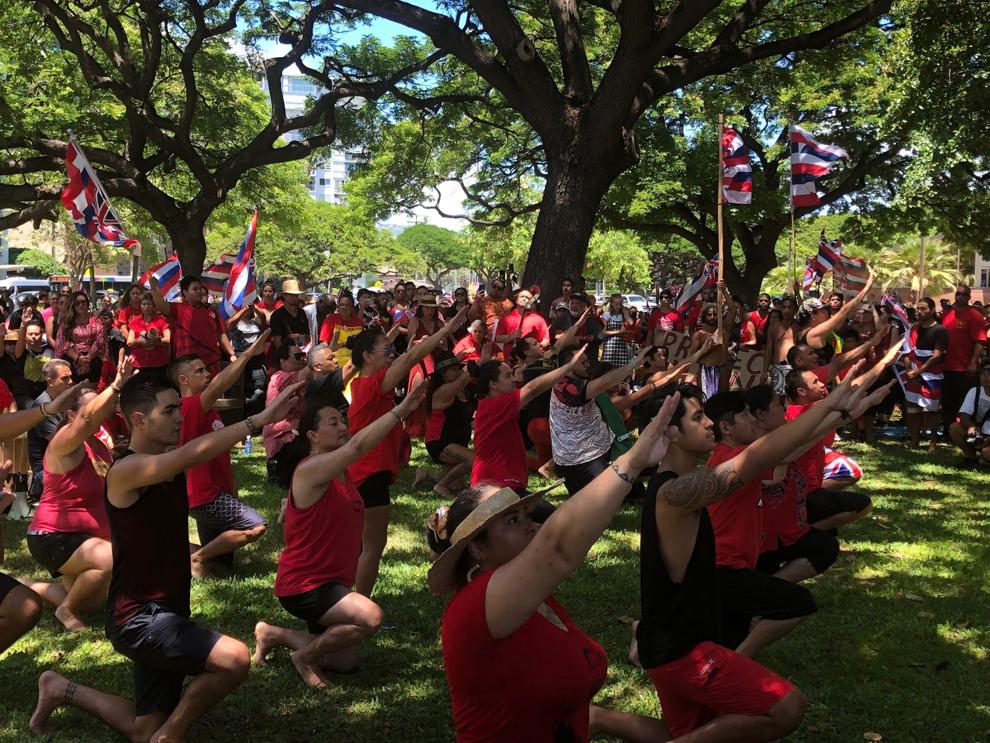 Samuel Spencer, a sophomore at the University of Hawai'i at Mānoa majoring in audio engineering, took part in a hula that was showcased at the denouement of the event.
When asked what brought him and his hula Hālau to the rally today, Spencer said: "Whether it's dancing hula, whether it's chanting, whether it's doing little things like making signs and stuff ... it really shows that we want to make our presence felt."
UH alumnus Kuanoni Kaniaupio-Crozier showed his indignation toward the university in the face of this issue.
"After the long history of kanaka in Hawai'i, we have seen kanaka displaced and we have seen no appreciation for the indigenous culture, knowledge, and traditions that have kept the economy here in Hawaiʻi running," he said. "I'm sad to see the president of our university ignoring the voices of both the student body, the ASUH, the professors, the faculty, the Department of Hawaiian Studies and the School of Hawaiian Knowledge which has called formally for his resignation."
Many of the protesters not only called for the resignation of UH President David Lassner, but also for Ige to step down as well.
"We're starting to see a generational shift, a revolution here in Hawai'i," Winchester said. "So that's why we're here ... to empower one another but to send a message loud and clear to the governor that we are not going away. In fact, we're gonna get louder and cause even more disruption, we're gonna shake this system."