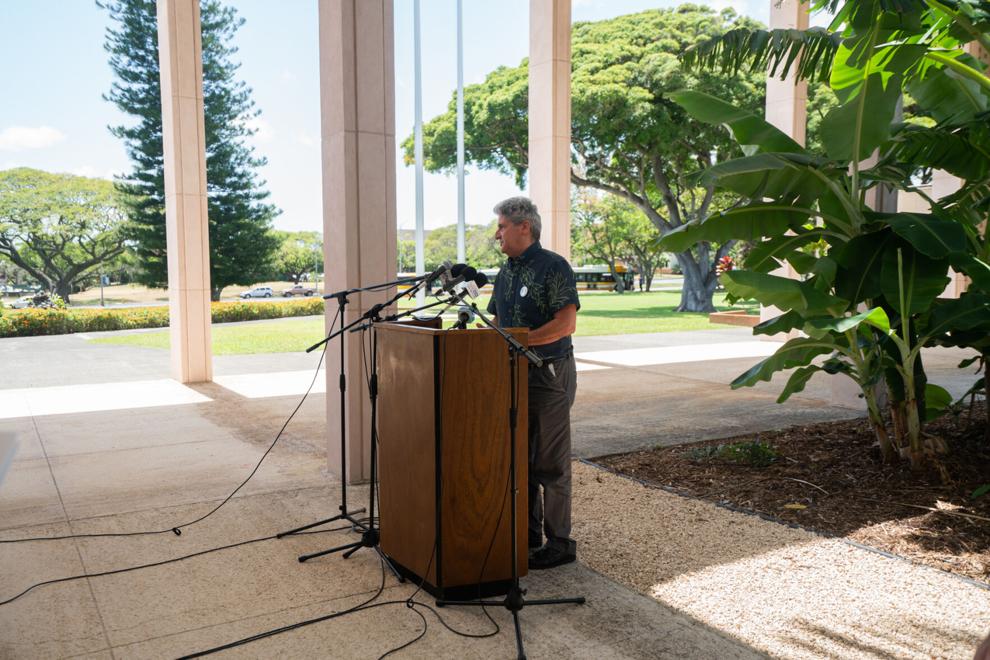 All students, employees, visitors and volunteers must be fully vaccinated against COVID-19 or regularly obtain a negative COVID-19 test result to be on any UH campus, according to new policies set by the University of Hawai'i. 
The purpose is to reduce Hawai'i's rising COVID case count. Vaccine documentation and test results must be uploaded into the LumiSight UH App prior to coming to campus. 
Student residents are also required to submit documentation to the campus health services office. A list of free testing sites can be found here.
The current vaccination and testing policy will be replaced with a mandatory vaccination policy after the U.S. Food and Drug Administration approves at least one COVID-19 vaccine, according to UH spokesperson Dan Meisenzahl.
"Unfortunately the FDA approval did not come in when expected. Though it's expected to come soon, and so we had to again adjust our policy," Meisenzahl said.
Student athletes and those dorming are currently the only people who are required to get the vaccine, or must have a religious/medical exemption, Meisenzahl said.
As the situation surrounding the pandemic continues to change for the state, the university updates its policies based on new information about the virus. "I think it's really about responding to what's happening in the pandemic as to why the policies will continue to change," Meisenzahl said.
Although the state of Hawai'i has reached a 61.5% vaccination rate, this past week has brought the largest number of infections so far, averaging 657 cases per day according to data released by the Department of Health. 
COVID-19 research done by the Hawai'i Pandemic Applied Modeling Workgroup predicts 600 daily case counts becoming a reality as Hawai'i sits at a vaccination rate below 70%.
Requirements for UH faculty are still not clear
As of Monday, all State and county employees need to show proof of vaccination status to their employers. 
"The highly contagious Delta variant creates a big risk of infection, especially for members of our community who are not vaccinated … This new vaccination and testing policy for State and county workers will help protect the health, safety and welfare of the people of Hawaiʻi," Gov. Ige said on Aug. 5.
Conversations with the university's three labor unions are still in progress to require UH's approximate 10,000 employees to get the vaccine. As of now, employees will follow the same procedures as students.
The UH Telework Leave option is still available to faculty, despite the university announcing earlier that they would be requiring all employees to return to campus by Aug. 3.
"We have also begun working with our unions on a non-COVID-19 telework policy, which we hope can be implemented by the end of the year," UH president David Lassner said in a July 23 announcement. 
An "evolving" situation 
The rise in cases has prompted Governor Ige to proclaim Executive Order 21-05, enacted on Aug. 10, which limits indoor social gatherings to no more than 10 people, outdoor social gatherings to no more than 25 people and requires restaurants to have socially distanced seating.
Meisenzahl said he thinks the policy is "evolving" rather than just changing. "When the FDA does approve it, the requirement will be in place for the spring 2022 semester," he said. "So that means there will be no 'you can be tested weekly' if you're unvaccinated, you will have to have a medical or religious exemption to be on campus," Meisenzahl said.
Lassner was optimistic about the declining rate of COVID-19 cases in his virtual appearance at the Board of Regents meeting on July 15. UH News announced later that day that the enforcement of the vaccine would only include those individuals participating in on-campus housing and specific activities.
Lassner said that unvaccinated students would not be prevented from enrolling in on-campus classes.
"Heartened by the high rate of vaccination among students and employees, UH is confident that under new guidelines being finalized its campuses will be safe even without fully enforcing the mandate when the fall semester begins," UH News reported on July 15.
Less than two weeks later, Lassner released another announcement with modifications to the previous vaccination requirements, lamenting the rising cases in Hawai'i. 
"Unfortunately, it should be obvious to all that COVID-19 conditions have worsened in Hawaiʻi, across the nation and globally," Lassner wrote in his July 23 announcement. "A new variant is exploding, and we have now seen more than a week of triple-digit numbers of new cases daily across the islands."
The delta variant, which has been found on Oʻahu, Maui, Kauaʻi and Hawaiʻi island, is twice as contagious as previous variants, according to the CDC.