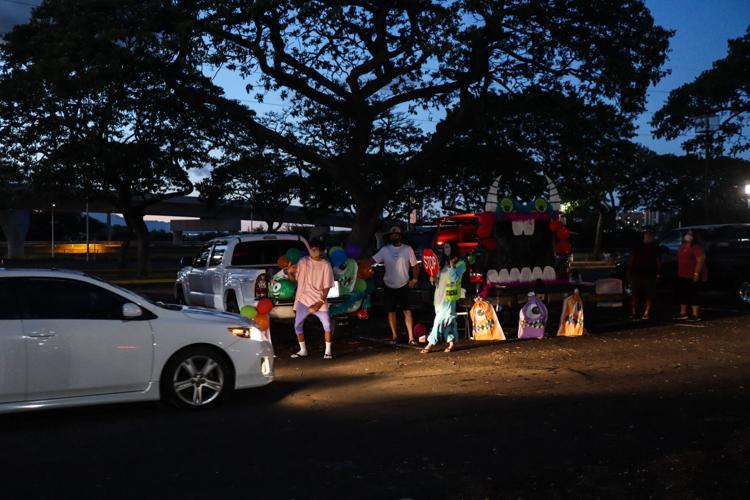 With open trunks, hundreds of cars lined up in the Aloha Stadium parking lot on Halloween as children and adults in festive costumes confined to their cars stopped by each stall to pick up their treats.
The COVID-19 pandemic has made way for people to showcase their creativity in celebrating seasonal festivities and occasions. This year, Halloween was celebrated with drive-through trick-or-treats and a haunted house as well as a drive-in music event. Families still partook in decorating their houses with their family members and eating candy in the comfort of their homes.
The state Department of Health and U.S. Centers for Disease Control previously recommended pausing traditional house-to-house trick-or-treating for this Halloween. Health officials encouraged people to abstain from direct human touch such as personally handing out treats to children.
O'ahu is currently under the Tier 2 reopening strategy and hoping to work towards Tier 3. Tier 2 allows for social gatherings of up to five people. Although the city's Halloween guidance mentioned that a trick-or-treating group must not surpass five people including parents and young children, Mayor Kirk Caldwell advised against it and rather recommended households to celebrate at home.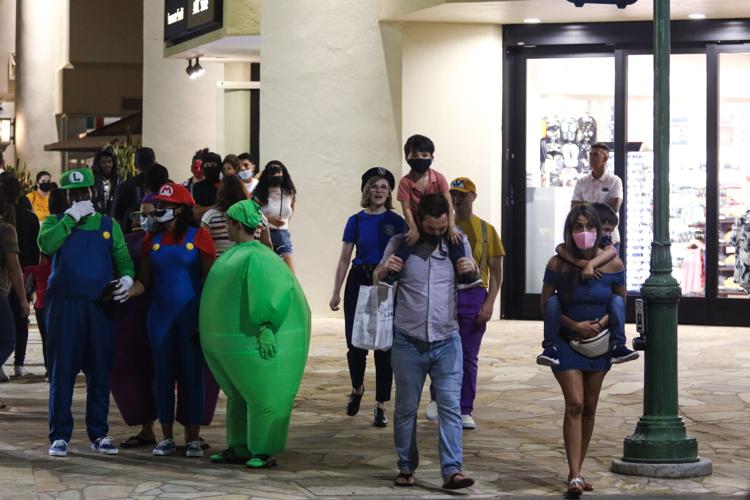 In a press conference on Oct. 29, Mayor Caldwell said, "Halloween is a fun holiday, but right now we got to put public health and safety ahead of fun, It doesn't mean we can't celebrate within our family unit, doesn't mean we can't dress up, doesn't mean we can't carve a pumpkin, doesn't mean we can't share candy with our keiki. But really, I'm asking as mayor, we're in Tier 2 trying to work toward Tier 3." At Tier 3, social gatherings of up to 10 individuals will be allowed.
Throughout the whole week leading up to Halloween day, Oʻahu residents were seen adjusting to the changes. Although the "don'ts" for Halloween this year included outdoor and non-drive thru activities, there were enough ways to celebrate the event in non-traditional ways.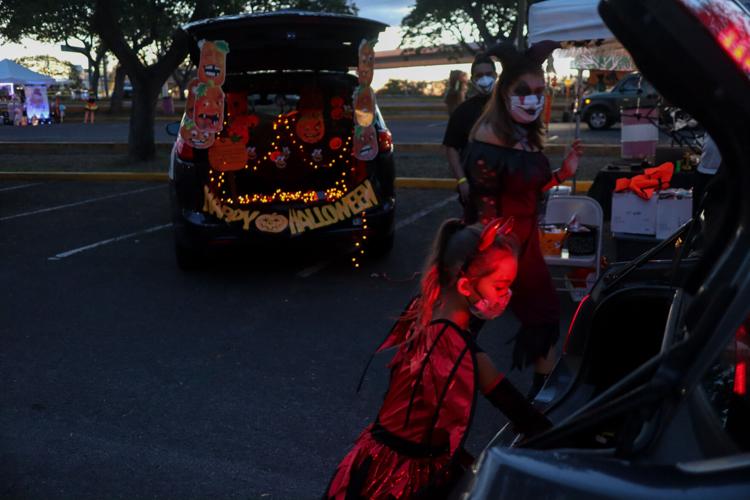 The drive-through culture
The drive-thru option is treated as a savior in light of COVID-19. Throughout this pandemic, it is one of the safest ways to conduct a festival, activity or service.
Aloha Stadium, illuminated with spooky-themed colors, hosted a "Trunk and Treat Drive-Thru" event from 5 p.m. to 10 p.m, which featured over 30 Hawaiʻi businesses from all around the island. Over 1830 trick-or-treaters came through to receive their individually wrapped treats. Families were asked to remain in the cars with closed windows.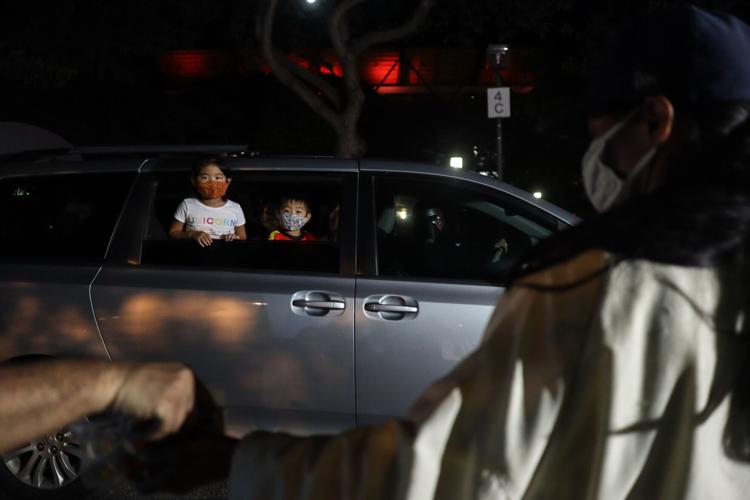 In previous years, there have been many haunted houses on O'ahu that residents can walk through to enjoy jumpscares to feel the Halloween vibe.
However, the pandemic has switched the walk-thru haunted house option with a drive-thru. The CDC stated that, "Going to an indoor haunted house where people may be crowded together and screaming" is considered a high-risk event that lacks social distancing and can spread COVID-19.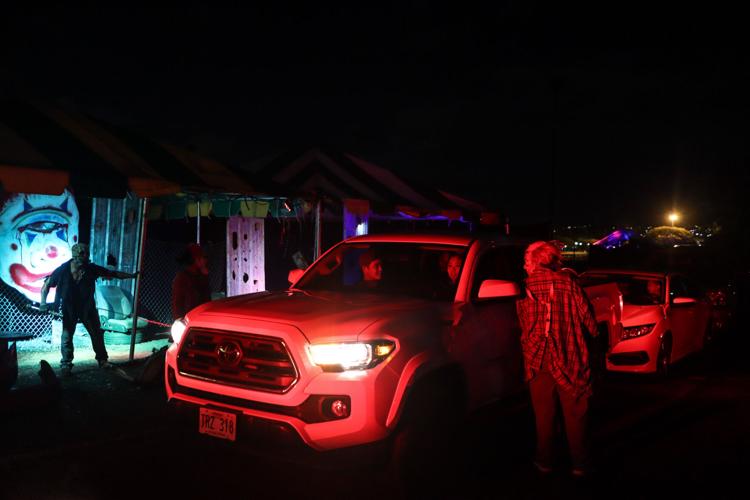 In order to arrange a spooky haunted house experience, Habilitat Hawaii initiated the state's first drive-thru haunted house at Aloha Stadium. As of Oct. 29, about 2500 cars with approximately 10,000 people drove through the haunted house. Previously, all their shows were sold out.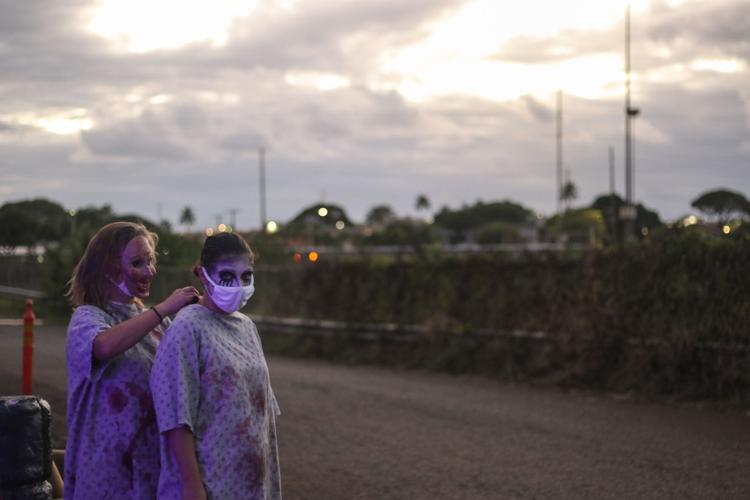 The event required the incoming passengers to abide by the safety protocols, which included not exiting the vehicle and keeping the windows closed.
There were 50 actors working in six different scenes of the show situated in the parking lot of the stadium. The haunted-house actors are Habilitat Hawaii residents.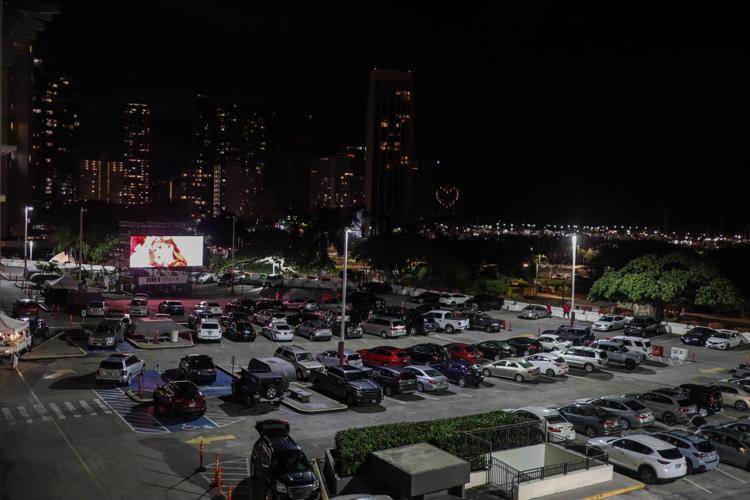 Drive-in festivities
The drive-in culture was not confined to trick-or-treating or haunted houses. On Oct. 30 and 31st, the American Renaissance Academy hosted Halloween Haunt, a drive-in event at the Kapolei Event Center with three electronic dance music DJs on each night, followed by a screening of the horror movie "Insidious" on Friday night and "Insidious 2" on Saturday night.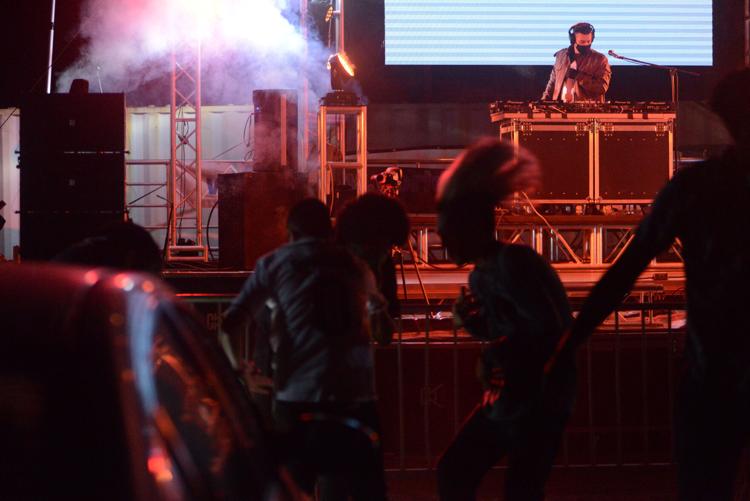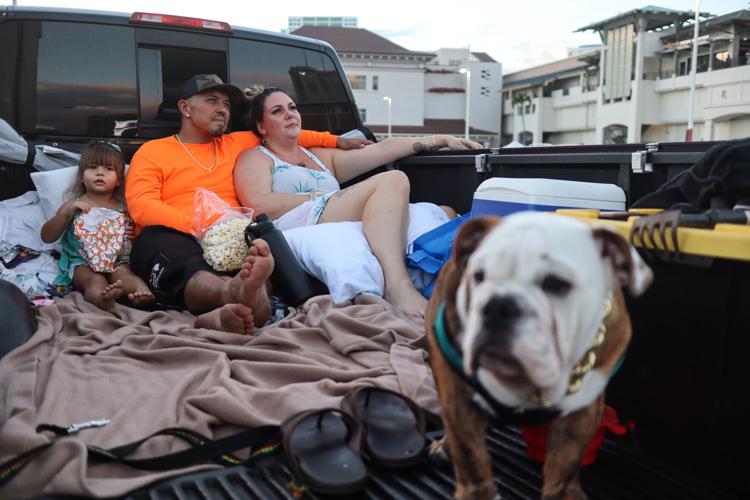 This is the latest in a series of drive-in music and movie events hosted by the American Renaissance Academy as a part of their Halloween Month campaign.
Social distancing guidelines were enforced, including limiting cars to five people regardless of whether those people are from the same household. Cars were parked with enough space for people to stand and dance in the area immediately next to their car, and every person who was outside their car was wearing a face covering. Additionally, attendees could tune into a radio station and listen to the live performance from the comfort of their parked car.
UHM third-year law student Ariel Ashe said, "It was nice to see the community again, we're a really close-knit EDM community on the island." Most people were happy to attend a live event for the first time since the COVID pandemic started. "It felt like I was returning to my happy place, PLUR is the way of our community. It represents peace, love, unity and respect."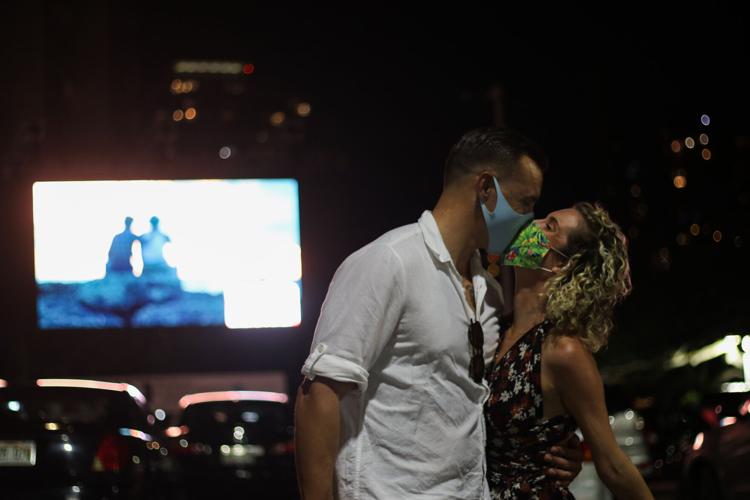 Aloha Drive-In Movies in partnership with Hawaii International Film Festival transformed the parking section between Neiman Marcus and Macy's at Ala Moana Center into an outdoor theater. The viewing space features a 30-foot LED screen, with enough space to fit 83 socially distanced vehicles.
The drive-in movies will run through Nov. 20.

Decorations galore
Tucked away on King Street, Donovan Gomes and his partner Chelsea Ramsay decorated their house for Halloween for the fourth year in a row. "We were excited, the kids had a rough year so it was nice setting this up for them," Ramsay said.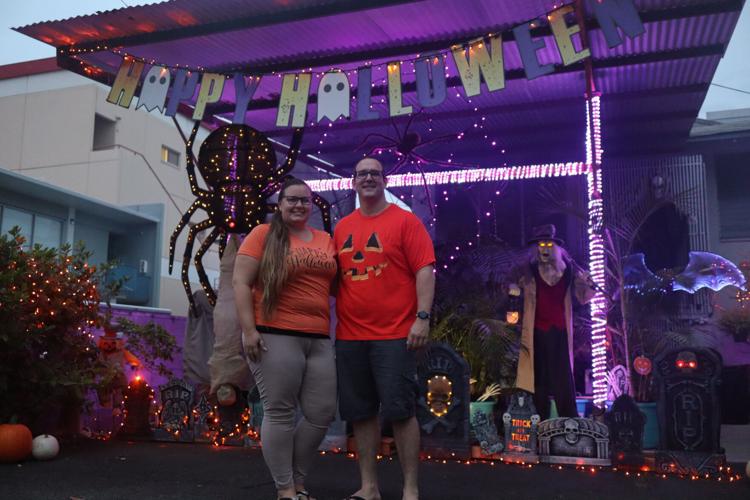 In addition to the traditional Halloween decorations like Jack-O-Lanterns, a large light-up spider and an ominous zombie farmer, Gomes set up a projector to screen TV shows and movies like "The Mandalorian" and "Hocus Pocus." 
Gomes and Ramsay decorate their house every year, accumulating more decorations for a grander set up the following year. Gomes said, "we don't get many trick-or-treaters because we're on such a busy street, but we do it for the neighboring kids, and our friends and family."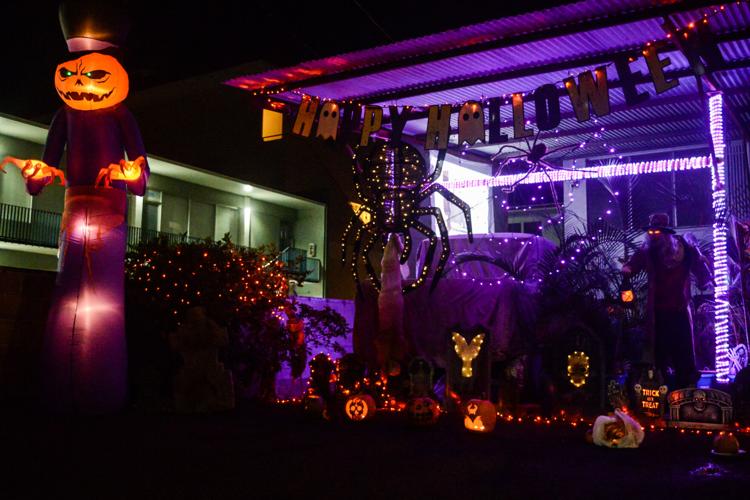 While Gomes said he was unsure how he plans to elevate their decorations even further next year, Gomes and Ramsay confirmed that they will continue the tradition. Gomes and Ramsay also plan to decorate their house for Christmas, providing some holiday spirit in a year overshadowed by the COVID-19 pandemic.
Like Gomes and Ramsey, Chuck Martin, a 1974 UHM alumnus, did not forget to decorate his house in East Oʻahu with pumpkins and superhero characters.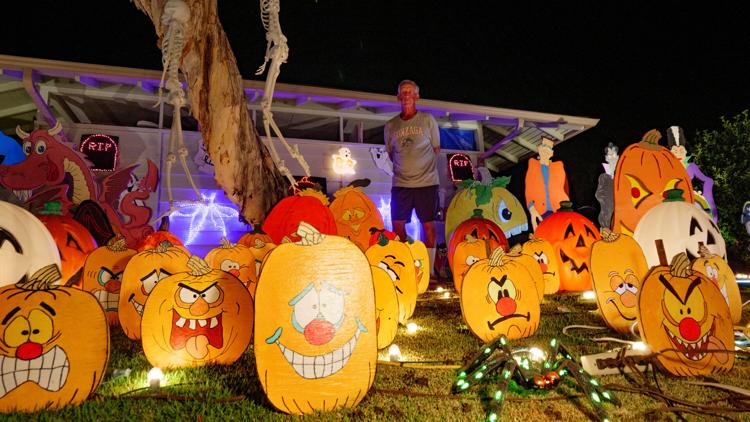 Although his children are getting older, he plans to continue the decorations for a few more years and the pandemic became more of a reason to continue the spooky tradition. 
Martin handcrafts many of his holiday decorations. Some of his favorite pieces are the pumpkin faces shown in the photo above. He has handcrafted and painted each wood carving decoration set up in his yard.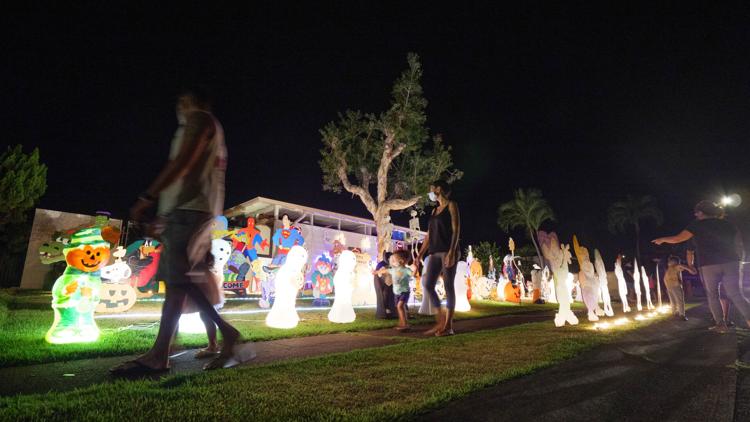 With multiple storage lockers full of decorations, Martin looks forward to decorating his yard for  Thanksgiving, Christmas and the Fourth of July. He is preparing for Christmas by sculpting an 8-foot Grinch and the Teenage Mutant Ninja Turtles.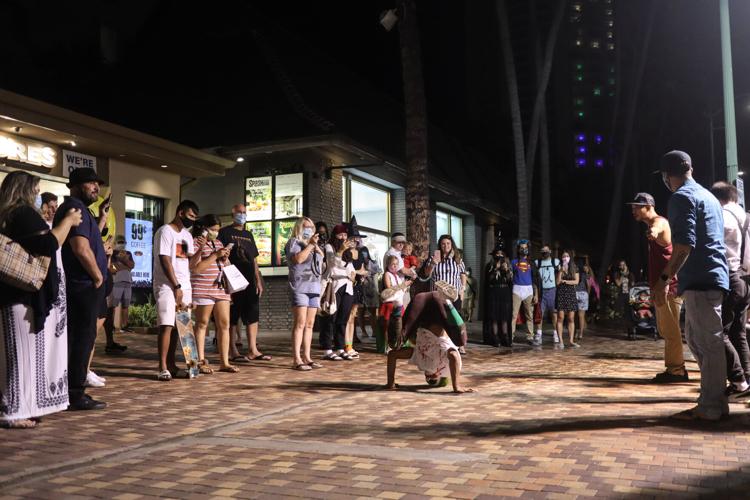 Same old Waikīkī
Every year on Halloween, Waikīkī sees a record number of people flooding the streets in the wildest of costumes migrating from one bar to another. It is thought to be the busiest night of the year. Not surprisingly, Waikīkī saw its fewest number of people compared to past Halloween nights. Although people were seen wearing face masks, some continued to gather in large groups.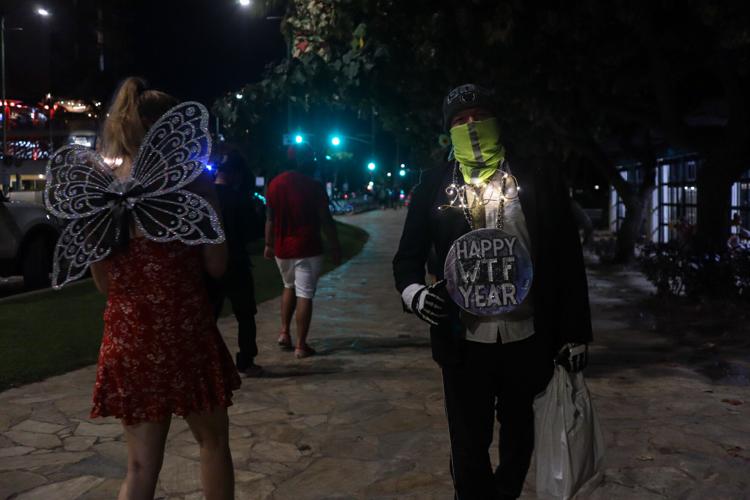 Honolulu police officers patrolled Waikīkī, encouraging residents and visitors to follow COVID-19 restrictions by enforcing facial coverings and dispersing large groups of people. Sidewalks and parts of beach entrances were barricaded on Kalakaua Avenue to prevent street parking and gathering.