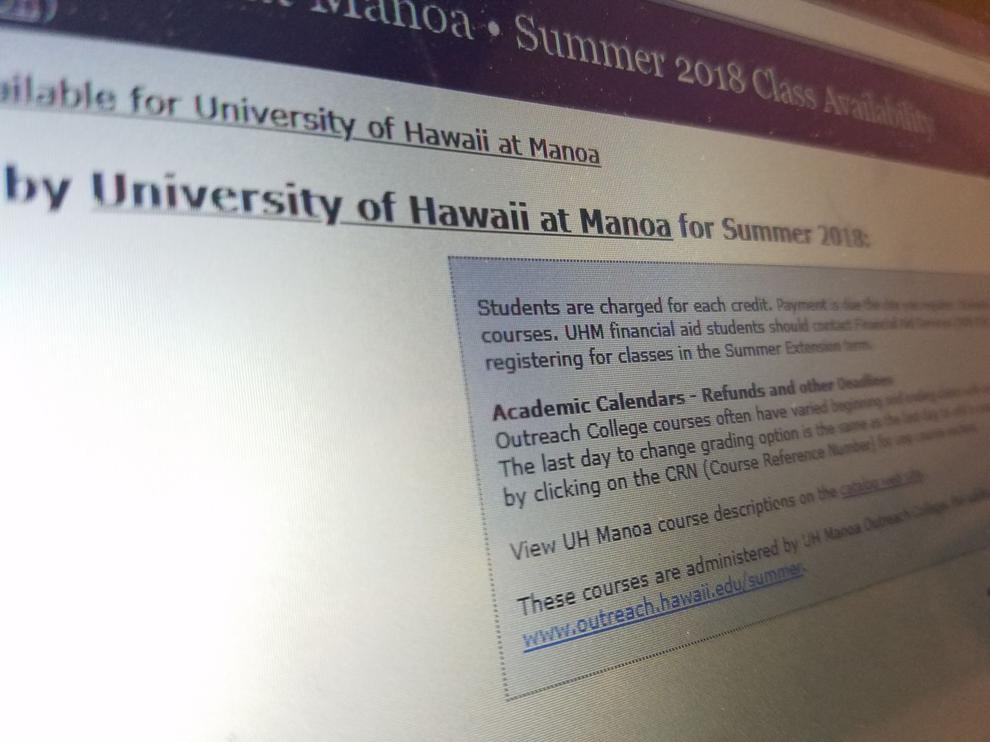 The new academic year begins in about a week, but for some at the University of Hawaiʻi at Mānoa, the learning grind did not stop.
Summer school, referred to as Summer Sessions, offers students the chance to receive credits for their degrees and participate in special courses that may not be offered during the school year. Although it is another way to enhance one's academic journey, summer school also presents issues when it comes to balancing work and enjoying the summer months.
It is vital for students to consider the consequences of enrolling in summer classes and decide for themselves if it is something they can accommodate into their schedules.
The sunny-side of summer school
From knocking out General Education (GE) requirements to participating in a summer-only class, students are able to receive many benefits as a result of taking summer courses.
Dr. William Chismar, Dean of Outreach College, who is in charge of Summer Sessions, believes that UH Mānoa's summer programs are advantageous, and service students and their intellectual pathway.
"Our students benefit in lots of ways. One, it allows them to catch up or stay on track. If they weren't able to get a course and they need it in order to stay on track for their graduation, the summertime is a good way to pick up a course," Chismar said. "It's also there for special courses, so in the summertime we get visiting professors who may offer a special course that isn't offered during the Fall and Spring."
Summer school also has a benefit for those with double majors.
"It's a good opportunity for getting enough courses in for a double-major, or a minor without extending your graduation date or without having to take 21 credits in one single semester," Chismar said.
UH Mānoa sophomore Juliette Puplava is currently enrolled in Korean 205, which combines the Intermediate Korean 201 and 202 courses into an 8-week long summer course. She considers summer school a "godsend" when it comes to finishing GE courses.
"If your degree is small like mine (Fashion design and Merchandising) and you're planning to minor in something (else), it can be hard in the normal four years or eight semesters," Puplava said. "Summer courses are quick way to get rid of your pesky GED stuff like English, math, or any intro classes."
For UH Mānoa junior Jessabeth Aggacid, she sees summer school as a chance to experience the classroom setting in a different, more intimate way.
"Some summer classes might be smaller than regular semester classes. Having a smaller amount of students in a classroom allows professors to be able to cater to each student's needs much more efficiently and effectively," Aggacid said. "Smaller classes also tends to be more intimate allowing students to establish new and more personal connections - both with their classmates and professor, which I believe is a very important aspect of college."
Aggacid also mentions that Summer Sessions allow a more narrow focus on the classes taken.
"Most students typically only take 1-2 classes simultaneously during the summer. Thus, students are able to focus on 1 or 2 classes instead of juggling 5 classes on top of their extracurriculars," Aggacid said.
Summer (school) woes
Advantages and disadvantages often go hand-in-hand. While summer school offers a different academic dynamic for students, it can also present certain problems.
One of these issues include the loss of freetime.
"A big disadvantage is that you have to be here during the summertime. You have to take classes; you can't go off and do something during that time," Chismar said. "You can't go out working, you can't go on vacation or anything like that."
What makes enrolling in summer school while participating in other activities or work difficult is the presence of intensive summer courses, which require one's full attention. Chismar uses UH Mānoa's summer 3-week intensive classes as an example.
"A 3-week course is equivalent to a 15 credit workload. So, in those three weeks, you're taking a 15 hour course load - all in one class," Chismar said. "Students need to think not in terms of 'I'm only taking one class for three weeks,' to 'this is all I'm going to do for three weeks' because it's a full load. It's equivalent to one semester, done in three weeks."
For Puplava, who is working during the summer, sees this aspect of summer school as a disadvantage.
"It's a lot of work," Puplava said. "Most classes go between 4 - 8 weeks, and to cram a whole semester in at that amount time can especially difficult if the student has a part time and/or full time job."
Although, according to Chismar, non-residents do not need to pay non-resident tuition for summer school, the challenge of paying for education is prevalent, especially for Aggacid, who mentions in her interview that her class was costly.
Chismar acknowledges the financial implications of choosing to enroll in summer courses, and says the Outreach College is working to alleviate the burden.
"We have tried to address that by offering a lot of scholarships," Chismar said. "This summer, we offered a total of 1.4 million dollars in summer scholarships."
Understanding what's best for you
Summer school is a valuable resource for students to partake in if they have the time and financial resources to attend. While Summer Sessions has its advantages and disadvantages, it is a path one must be willing to dedicate themselves to throughout the duration of their particular class.
Puplava urges her fellow students to analyze their intentions of participating in Summer Sessions before enrolling, especially if they are looking into taking an intensive class.
"Summer school is extremely useful, but I encourage students to be realistic with the idea of completing the course load; don't bite off more than you can chew," Puplava said. "Taking one whole semester to get a good grade is better than taking a summer course and getting a c+ and d+ to just get it done."
For Aggacid, summer school is, overall, advantageous. For its cons, it still allows students to gain an edge while working toward their degrees.
"While summer school credits are often limited, taking summer classes allows students to graduate earlier than four years," Aggacid said. "It also gives an opportunity for students who might've missed a class from previous semesters. In a way, summer semester is the perfect that to get ahead or catch up on credits."