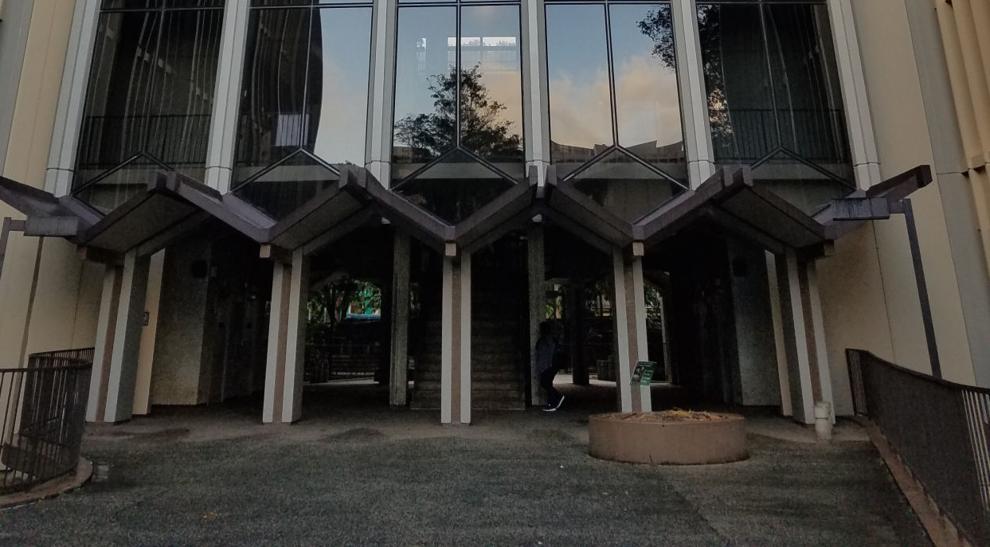 Ethnic humor plays a vital role in Hawai'i's local culture. Those who are not well-acquainted with ethnic humor may view the practice as racist; in contrast, people who do not see ethnic humor as such may believe the former is too sensitive. Regardless of one's perspective on the subject, users of ethnic humor must recognize the possible consequences of using ethnic jokes, whether the intent is to be hurtful or not. 
'Black dog roasting on an open fire' 
"Makadangdang soyout billy goat dangalagala bout bout" is one of the first phrases people will hear when listening to "Filipino Christmas," a song by local comedian Frank De Lima. The track has become a part of the state's Christmas tradition and can often be heard on the radio during the holidays. 
The song has earned a place in people's hearts because it highlights cultural stereotypes that are associated with something many living in the islands are familiar with: the Filipino culture. According to the University of Hawai'i at Mānoa's Center for Philippine Studies,  about 70 percent of those living on O'ahu are of Filipino descent. Filipinos constitute 23 percent of the state's overall population. 
Whether born and raised in Hawai'i or recently moved, ethnic humor can find its way into everyone's daily lives. UH Mānoa freshman Celine Arnobit believes that ethnic humor is prevalent in the state because of its diversity. 
Arnobit was born in the Philippines and moved with her family to Hawai'i at 6 months old. Being the first generation to have grown up in the United States, Arnobit is no stranger to ethnic humor and jokes aimed at Filipinos. 
"Growing up in a Filipino household in a place where the culture itself is so prevalent, I have definitely been exposed to ethnic humor. The best examples that come to mind are the obvious Filipino stereotypes, such as eating dog meat or always being late to events," Arnobit said. "Personally I don't relate much to these ... but I am aware that these stereotypes are meant to poke humor at the Filipino culture as a whole, and I find it interesting that such trivial details have become comedic norms that most people from Hawai'i are aware of."
For Arnobit, ethnic humor offers a unique way for cultural connectivity with one's own culture, as well as others from different ethnic backgrounds. It can also offer a sense of comfort for those who are away from their place of origin. 
"Many families here are first or second generation, which means that they often bring much of their home culture with them to Hawai'i. As newcomers, many find comfort or common ground with others through humor," Arnobit said. "I think it also helps that Hawai'i as a whole retains a welcoming nature to other cultures, which makes it easier to respectfully joke around about such a vast topic as culture and ethnicity."
Seeing the stereotype 
Not everyone will think a joke is funny. This is the same case with ethnic humor. 
UH Mānoa associate professor Roderick Labrador, who immigrated from the Philipines and grew up in San Diego, works for the Department of Ethnic Studies. 
In his book "Building Filipino Hawai'i," he discusses ethnic humor, and focuses on what he calls Mock Filipino, or "speaking English with a 'Filipino accent.'" Comedians like Frank De Lima often use Mock Filipino, as one can note in his song "Filipino Christmas." According to Labrador, the use of Mock Filipino "produces stigmatizing discourses of immigrant Filipinos, which in turn work to stigmatize locals as immigrants." As noted in "Building Filipino Hawai'i," Mock Filipino is often associated with someone will little to no intelligence or a FOB, someone who is "fresh off the boat." 
Many can laugh at Mock Filipino but may find themselves forming a negative image of immigrant Filipinos in their mind - even those who are Filipino themselves. 
Labrador quotes Jonathan Okamura, also a professor at UH Mānoa, in his book. According to Okamura, many of the negative stereotypes surrounding Filipinos are "an unfortunate historical burden of the plantation period of labor recruitment," a time "when unattached young men with little formal education dominated the Filipino population." 
Labrador notes that while ethnic humor is a part of the island culture, it allows for the formation of ill-will toward different ethnicities. 
"Although understood as 'innocent' and 'harmless' joking in which 'we can laugh at ourselves,' Hawai'i ethnic humor in general and Mock Filipino in particular simultaneously produce racially demeaning or 'racially interested discourses'."
Arnobit agrees that ethnic humor can have negative results.
"A negative implication is that hurtful stereotypes or misunderstandings can arise from ethnic humor. I believe that there are certain boundaries when it comes to humor in general, and most people are aware of such boundaries, especially when it comes to race and ethnicity," Arnobit said.
Offering a middle ground 
Like Arnobit and Labrador, I am of Filipino descent. Having been born and raised on O'ahu, ethnic humor has been a normal part of my upbringing. I have used ethnic humor and witnessed others make jokes about those of different cultural backgrounds. Before, ethnic humor was not hurtful; everyone I knew partook in it and those at the receiving end always laughed, sometimes responding with another joke.
Ethnic humor continued to be funny until I realized how negatively it could affect people. In junior high, a new student named John moved from the Philippines and transferred into my class. During transition periods between classes, I noticed how John's demeanor would change whenever an ethnic joke was thrown at him. I was aware of the stereotype that Filipinos eat dog, so when my classmates started calling John "Black Dog," I knew it was supposed to be funny; however when I saw John's face the first time he was called that, it wasn't funny anymore. John looked dejected, and his expression became worse every time. Ethnic humor is not always made with ill-will, so I like to think that my classmates did not mean to hurt John; however, it seems that intention was lost in translation. 
Many believe those who do not like ethnic humor are too sensitive and do not belong to or understand the local culture. For a long time, I thought that way as well; however, this way of thinking may not necessarily be the best when considering other mindsets. 
Ethnic humor makes sense for people from Hawai'i because we are used to it; ethnic humor is one way to connect with those within our culture and with those of other cultures. However, like the case with John, ethnic humor is also met with negative reactions, even if people did not mean to upset someone. This does not mean people from Hawai'i are bad; we simply lead different lives from those who are not from the islands. We may question how others live and vice versa. We cannot please everyone nor will everyone agree on certain subjects.
People who love ethnic humor should continue to use it; those who do not should not. Those who partake in it must consider the potential consequences of ethnic jokes; even if the intent is not to be hurtful, the person or people the jokes are aimed at might not feel the same way. Likewise, those who do not agree with ethnic humor should be able to voice their opinions without being regarded negatively but must keep in mind that not all jokes are made to be hurtful. 
Arnobit has similar thoughts.
"As long as it is clear that what is said is meant to be a joke and comes from a place of understanding and acceptance, I think that ethnic humor can be fun and comforting to participate in."