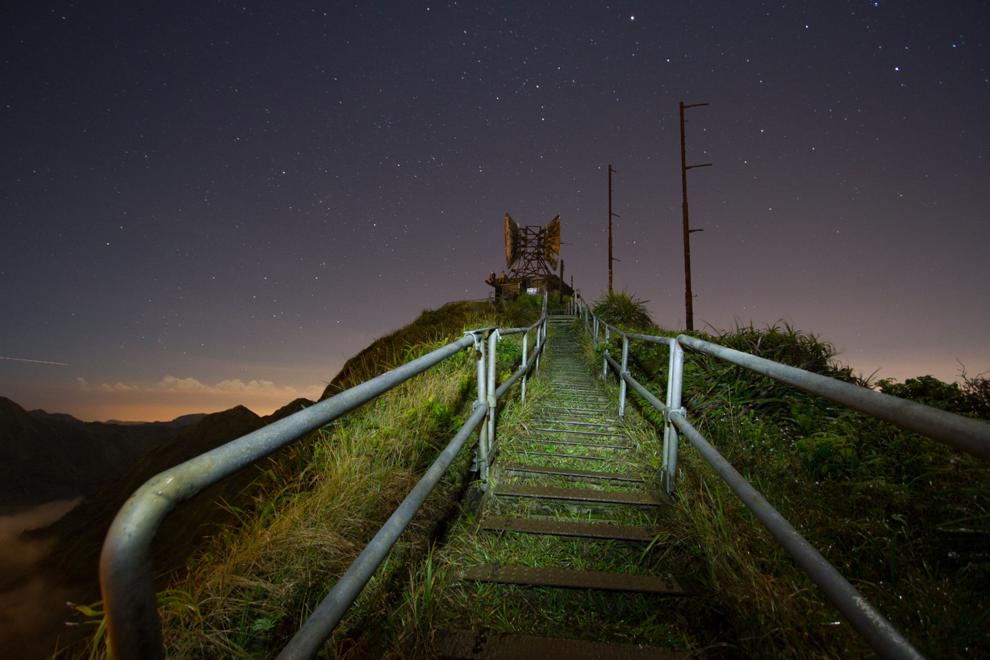 Whether you're from Hawai'i or not, you've seen the illegal Ha'ikū Stairs. Publicized through Facebook and Instagram, as well as the National Geographic, this hike's awe-inspiring view of O'ahu's Ko'olau Mountain Range is hard to ignore – which is probably why so many people have been fighting to re-open this historical landmark. There is a petition online, which already has over 7,000 supporters to reopen the hike.
Many Hawai'i locals are devastated and they have a right to be.This trail was defunded by the Honolulu Board of Water Supply due to the maintenance upkeep as well as the lack of public safety within the residential areas. However, with the proper funding to improve the hike's safety, more people will be able to conquer this magnificent beauty for generations to come.
Closing a national treasure
The Ha'ikū Stairs were initially built as an access route that was used by the military during World War II. In February 2015, there was a landslide that severely damaged the hike. Due to the $1 million blockage by the Board of Water Supply, more officials have been monitoring the area. However, taking down the hike is not an option.
 "Estimates are that it will cost $4 million to $5 million of our money to demolish this Windward hike. It is a unique hiking trail, a world-class attraction and a very valuable historic site. This would clearly be a very unfortunate and misguided decision," said Dr. Vernon Ansdell, president of Friends of Ha'ikū Stairs.
In comparison to paying millions, the option of taking down the hike is unrealistic. Also, the Board of Water Supply has been paying $60,000 a year on security guards to keep trespassers away. By keeping the Stairway to Heaven open, the state will be saving money along with preserving this national treasure.
"There's an 'either, or' solution. You keep it or you get rid of it for safety sake," said resident Bob Crosby to KHON News. 
He's right. If it makes more financial sense to keep the hike instead of tearing it down, resources should be used to make it safer.
Although the Ha'ikū Stairs are illegal and have been since repairs were made in 2002 costing the city $950,000, people have been continuing to hike it for over 30 years. There needs to be more awareness brought to how popular this hike is and why keeping it open would satisfy the public. 
Popularity of the hike
The Stairway to Heaven was mentioned on National Geographic's "Best Hikes: Ten Trails at Risk." There are also local support groups such as Friends of Ha'ikū Stairs that work in favor of the hike in order to protect the environment and bring awareness to botanical species that can be found on the trail. When the trail was open, they were able to help maintain the area by removing any invasive species.
Although the amount of people who hike the Stairway to Heaven is unknown, there are hundreds of photos in social media that show people taking the hike. Since the hike is popular, it shouldn't be taken down and should instead become open to the public for a fee.
Is a $100 entrance fee worth it?
If it means saving the Ha'ikū Stairs landmark: yes. Friends of Ha'ikū Stairs have proposed collecting a revenue that will support the hike's revamping process. If the hike reopens, they would charge $100 for tourists and $5-$20 for local residents. Those fees would go towards paying for repairs and everyday maintenance, which will make the hike safer and more secure. This seems like a reasonable price to pay, considering that this will aid in bettering the entire hike for generations to come. In contrast, trespassers could be fined up to $600, with six months of prison time.
 "If you could see the emails we get, people from around the world and O'ahu are truly begging us to come and hike the stairs," said Vernon Ansdell to Fox News.
There have also been many complaints by the residents that live near the area regarding the parking situations, in which a portion of the entrance fee could be allocated toward public safety.
To read the opposition piece to this head to head about Stairway to Heaven, check out "Time to take down Ha'ikū Stairs."