Her bare feet stretch out across a pastel pink bed. Plumeria flowers lie scattered beside her. One blossom adorns her ear. A light pink dress fits loosely over the Native Hawaiian woman depicted in Pegge Hopper's painting "Pua Melia," one of the artist's best-selling prints.
If people in Hawai'i don't recognize Pegge Hopper by name, they likely recognize her work: flat planes of pastel colors, accents of tropical flora and, featured most prominently, a lounging Hawaiian woman. For decades her paintings have decorated homes, offices and hotels across the state.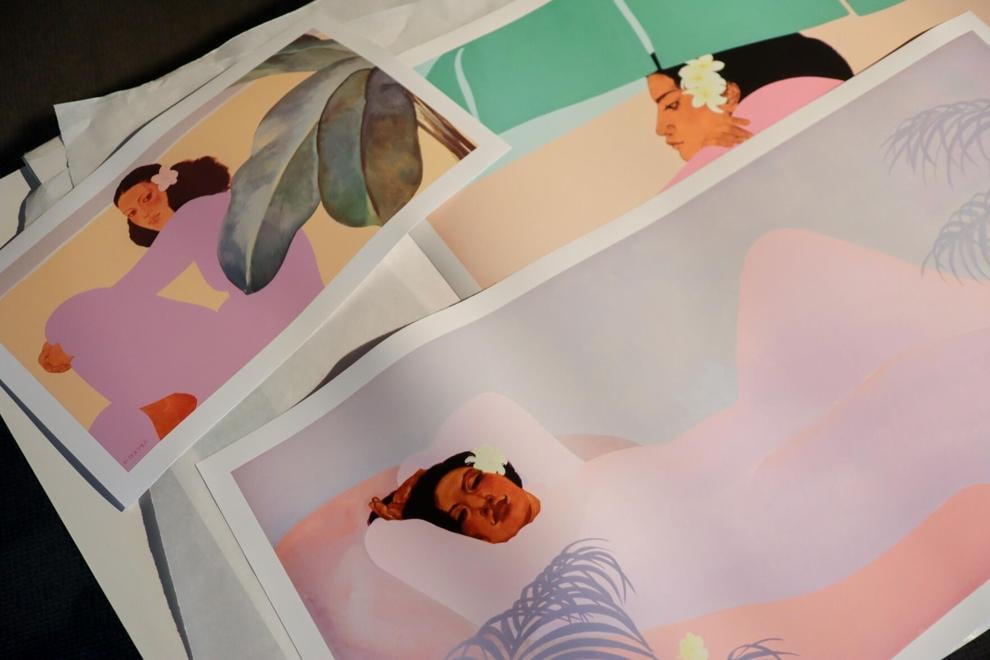 In an island community with a fledgeling art scene, Hopper has done well for herself. She drew from her background in advertising to produce work that appealed to buyers without succumbing to kitschiness.
"I'm not 100% selling my soul to making money and I'm not 100% selling my soul starving to death," she said in an interview. "I'm trying to walk that middle line."
After 37 years in business, Hopper sold her gallery in Honolulu's Chinatown this month. Maile Meyer and Wei Fang, both members of art nonprofit Interisland Terminal, bought the building. The organization plans to use the space as a gallery to showcase the work of local artists. Their first show, scheduled in September, will be dedicated to Hopper's work.
Over the course of her career, Hopper's paintings have graced gallery walls from Chicago to Japan, making the artist a recognized creator of images of Polynesian women. Two massive paintings of hers hang in the Daniel K. Inouye International Airport, the island chain's main airport. 
In an article published last year, Hawai'i Public Radio arts and culture reporter Noe Tanigawa described Hopper as having "helped shape the world's view of Hawai'i."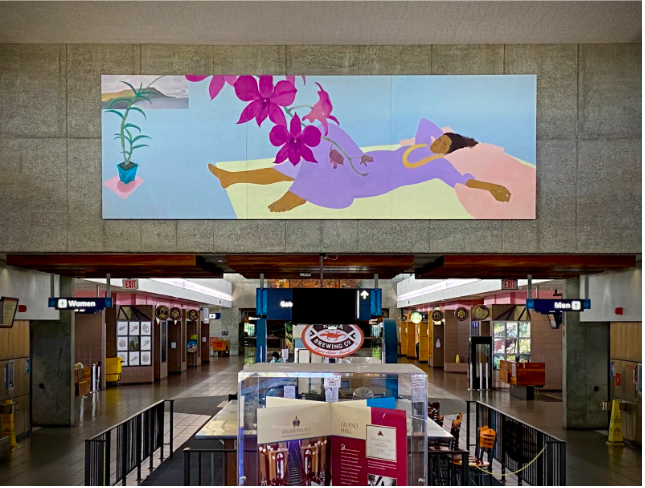 Hopper's palette and planes of color match upholstery, making the paintings ideal for interior decoration according to Gaye Chan, a professor of art at the University of Hawai'i at Mānoa. The lounging woman "signifies the good life," Chan said. 
But this symbolism disturbs Chan and other onlookers who see Hopper's work as part of an artistic legacy that has commodified people indigenous to the Pacific islands while masking dispossession and continuing racial inequality. Critics argue that the popular images fail to raise any immediate questions for the average viewer: This is the good life, for those who can afford it. 
"There's just such a long history of representations of Native Hawaiian women as just lounging, only remarkable because of their beauty," said Maile Arvin, an assistant professor of gender studies and history at the University of Utah. Arvin grew up with Hopper's prints around her family's home. 
 "We deserve more," she said, referring to Native Hawaiian women. "Better and more complex representations."
A pragmatist, Hopper sees her art as a source of income. To her the figures, which she paints without using models, are decorative and apolitical. 
"I am not painting Hawaiians, I am painting a myth," she said. "It has nothing to do with Hawaiians. I am merely using them as a beautiful thing just like an orchid." 
As the United States reckons with its many iterations of racism, representations of people of color have come into question. In April, Land O'Lakes removed the image of a Native American woman from its logo. Two months later, Quaker Oats retired the Aunt Jemima name and packaging from the company's pancake-mix and syrup.
These changes do not seem to have compelled companies using images of Hawaiian women –the ubiquitous grass skirt hula dancer, for example– to question their advertising tactics. Where does that leave an iconic island painter whose work straddles the line between interior design and art?
The Commercial Artist and The 'Dusky Maiden'
A self-described "commercial artist," Hopper worked in advertising for high-end department stores in New York City and Milan before moving to Hawai'i in 1963. Let go from her advertising job in Honolulu, she started painting Hawaiian women and before long was commissioned by Mary Philpotts McGrath of Philpotts Interior to do a series of such paintings for the Kona Village Resort. 
 When gallery owners invite Hopper to do a show, Hopper says they want work that will sell. In her case, that has meant painting lounging Hawaiian women. 
 "Art is not a benevolent endeavor," she said. "It's not a nonprofit."
Supplying this market demand enabled her to raise three children in Hawai'i, purchase her own gallery in Honolulu and a second home in Mexico. She has reached a level of success many artists dream of. 
"This is part of a larger issue of whose art is paid attention to and who is able to make a viable living through producing art and images," said Laurel Mei-Singh, an assistant professor of ethnic studies at U.H. Manoa.
A Hopper original can cost as much as $28,000 or $3,000 for a serigraph. Her gallery also sells prints in the $30 to $250 range.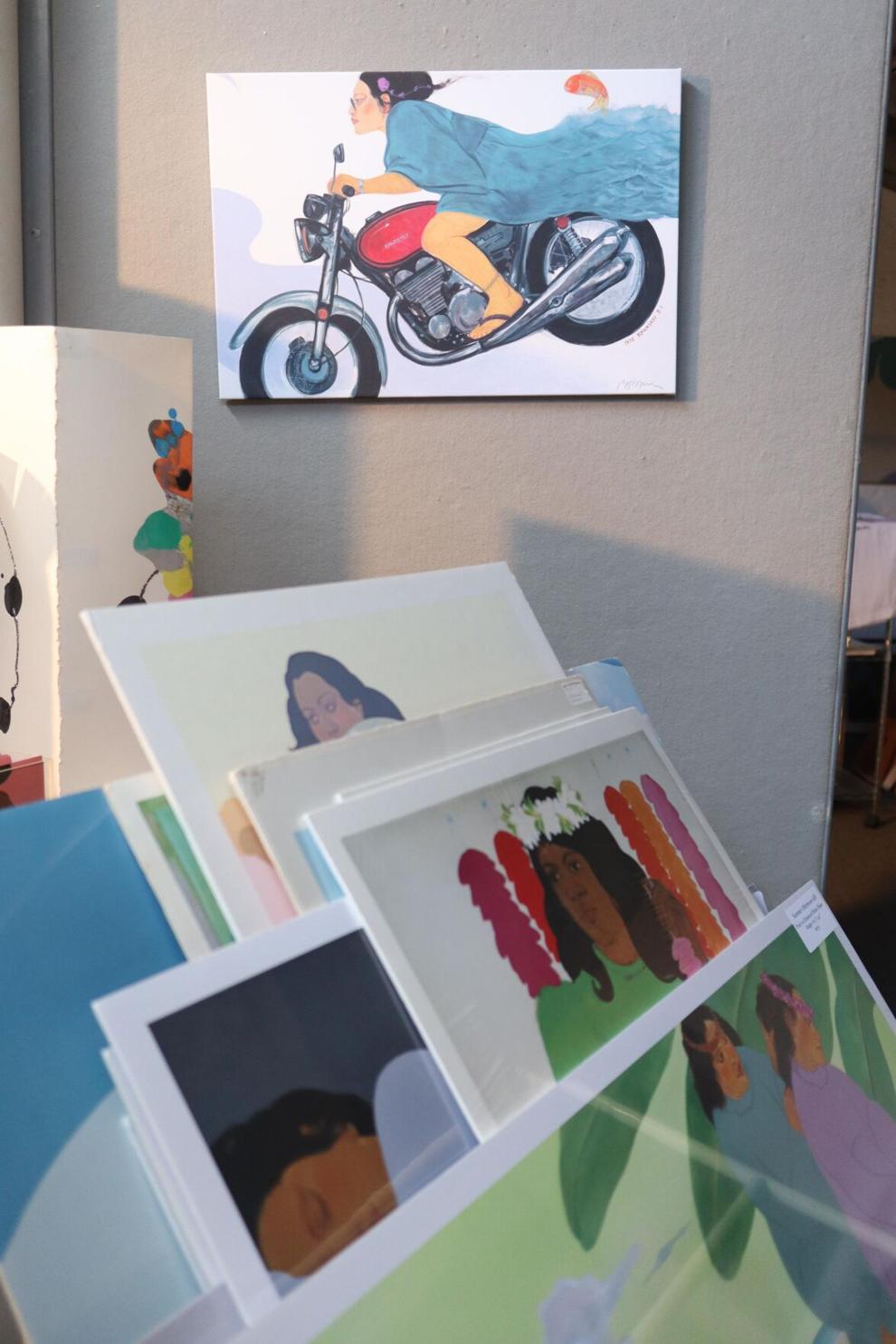 Over the course of her more than five-decade career, Hopper has diversified her repertoire beyond lounging women. One of her collections features a Hawaiian woman flying through the canvas on a motorcycle, her mu'umu'u billowing behind her. In another series, women in various poses represent the five elements in Chinese philosophy. But buyers are more interested in her signature work: brown skin women in repose, contemplative and serene.  
The popularity of images of Pacific Islander women  lounging, an archetype scholars call "the dusky maiden," is rooted in a past some trace as far back as initial European contact.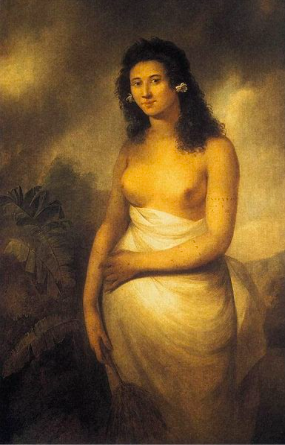 Arvin of the University of Utah points to William Hodges, an artist who sailed alongside Captain James Cook and other European voyagers to the Pacific. Hodges' paintings of Tahiti conjure a Garden of Eden with women styled as Grecian bathers.
The images, coupled with prevailing pseudo-scientific theories on race, were used to defend imperial ambition.
"The islands were so idyllic that they needed a European male presence to come protect them," Arvin said.
At the turn of the 20th century, when the U.S. annexed Hawai'i, businessmen began investing in tourism in an effort to diversify the islands' economy away from cash crop agriculture.They used images of Hawaiian women as hula dancers, lei makers and bathers who are "sexually available to visitors," to allure people to the islands, according to Jaimey Hamilton Faris, an associate professor of art history and critical theory at U.H. Manoa.
 An artistic tradition developed in tandem with the ad campaigns. It included the work of John Kelly and Madge Tennent, and more recently Kim Taylor Reece and Diana Hansen-Young, all foreigners who moved to Hawai'i and became famous for painting the islands' indigenous people. 
Hopper's work stands out to local artist Meleanna Meyer for its sensitivity and refinement. The women Hopper paints are clothed and not performing for the viewer. Meleanna is the sister of Maile Meyer, the new owner of Hopper's building.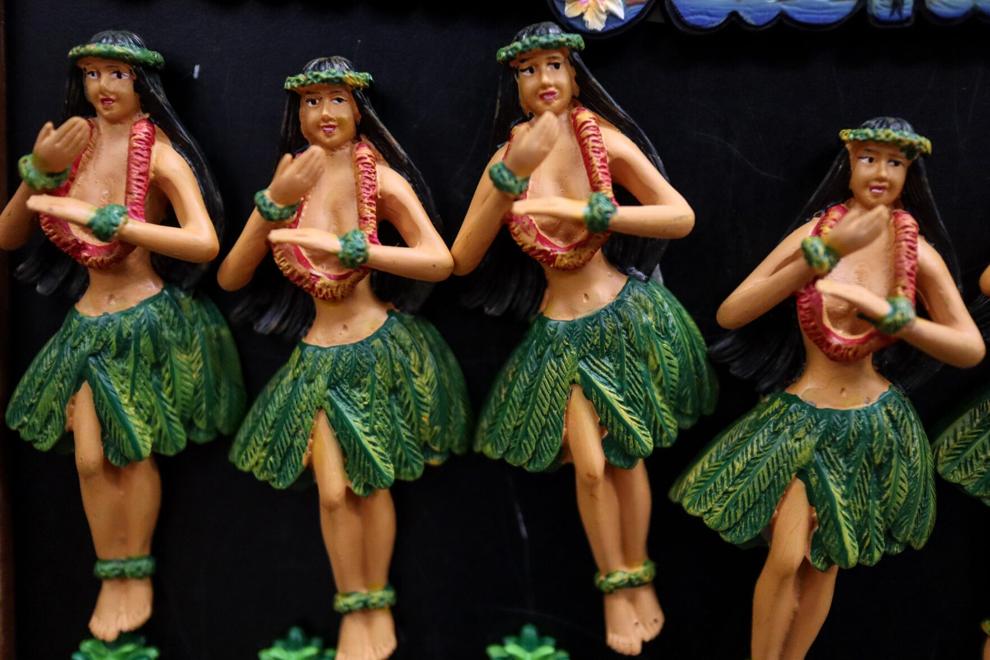 "Pegge is able to succeed in that without being trite or banal," said Meleanna Meyer, who is also a friend of Hopper.
Hopper rejects the notion that she's part of any kind of artistic legacy and asks that we not read too much into her work. Indeed, the lay viewer likely does not consider such nuances.
"That's the power of representation. How deep it goes, how unquestioning people are," said Hamilton Faris. "The imagery seems innocent on the surface but it really is embedded with these ideas of colonization, primitivism and the patriarchy." 
Race, Power And Privilege 
Hopper's work is celebrated in Hawai'i for countering the stereotypical hula dancer imagery cluttering stores in Waikiki. 
The California-born designer drew inspiration for her work from the King Kalākaua Photograph Exhibition at the Hawai'i State Archives. The photos, taken in the 1800's, showed Hawaiian women sitting, their expressions pensive and unsmiling.  
"This woman that I paint is androgenous," Hopper said. "She is, to me, tough. She's not skinny. She owns herself."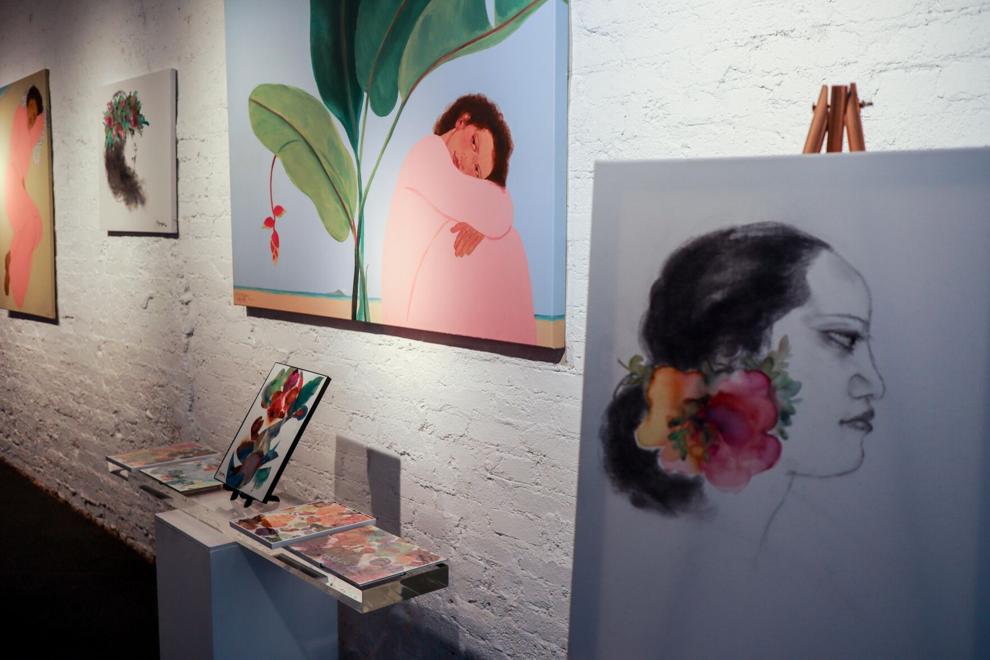 For Maile Meyer, the artist behind the paintings is herself a contemporary feminist. Meyer noted The Pegge Hopper Gallery's contributions to Planned Parenthood of Hawai'i. Local nonprofits Domestic Violence Action Center and People Attentive To Children, or PATCH, have also used Hopper's work to fundraise.
Maile Meyer founded Na Mea Hawai'i, a store specializing in locally made art, products and books by local authors.
"This woman that I paint is androgenous. She is, to me, tough. She's not skinny. She owns herself." - Pegge Hopper
Even though the women in Hopper's popular paintings are passive, many feel a sense of empowerment in viewing the work. Others say the repetition of this imagery plays into a stereotype that associates women's power with nature and fertility. 
According to Mei-Singh, the U.H. Manoa ethnic studies assistant professor, paintings like Hopper's mask darker realities plaguing Native Hawaiian and Pacific Islander communities in Hawai'i, ranging from higher rates of homelessness to the environmental damage caused by  military drills locally and onislands across the Pacific. Depending on the viewer, Mei-Singh said, the images naturalize existing social and economic hierarchies.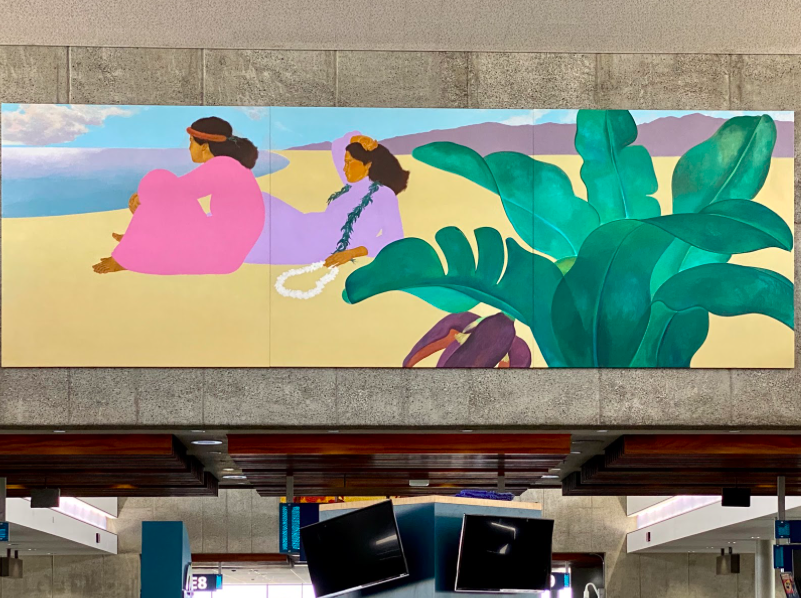 Hopper knows Native Hawaiians don't live in the fantasy world she depicts. In fact, the artist's views of indigenous women contrast with the idealized images she creates. 
Asked in an interview if she felt responsibility toward the Native Hawaiian community, Hopper described the importance of personal responsibility and offered a pull-yourself-up-by-the-bootstrap approach to attaining financial security.
"I know nothing about the Native Hawaiian community," she added. "I respect and appreciate their problems but I do nothing to inhibit or help them in any way."
Representing Hawai'i
When Kaʻiminaʻauao Cambern looked up at Hopper's prints in his house growing up, the images of women gazing down confused him. Why did they look so docile when the women in his life were so active? he wondered.
"Perhaps if you capture them or you make them docile-looking they're not as threatening to you," Cambern said. "As if they're not out there fighting to stop the bombing."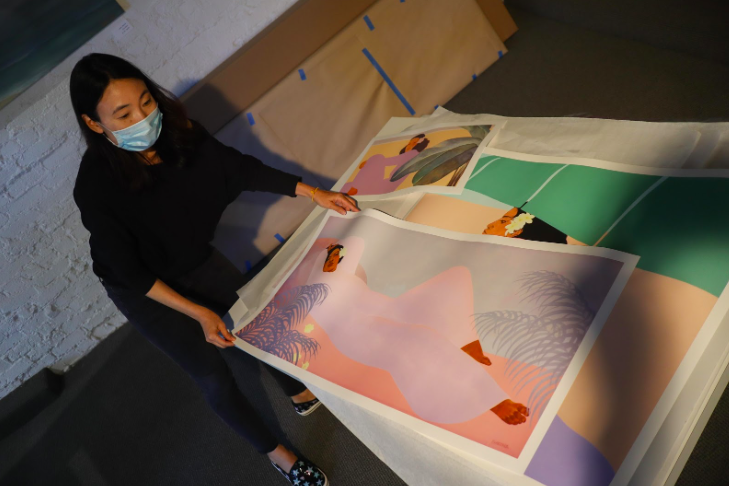 Today, when Cambern looks at Hopper's painting entitled "Pola," with its upside down banana flower hovering above a woman with a tribal-looking tattoo, he is disturbed. 
"The mai'a is a phallic symbol," said Cambern, a political science doctoral candidate at U.H. Manoa who has studied Hopper's work. Mai'a means banana in Hawaiian. In ancient Hawai'i. women were forbidden from eating certain varieties of bananas. 
"Perhaps if you capture them or you make them docile-looking they're not as threatening to you."  
-Ka'imina'auao Cambern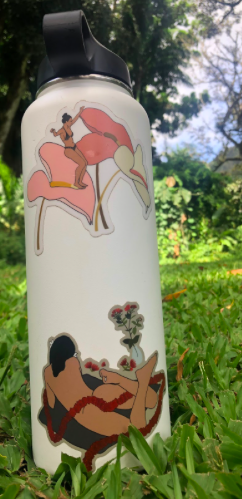 Cambern is similarly ambivalent when he looks at the work of Margaret Rice. Like Hopper, Rice's work often depicts a Hawaiian woman lounging. One image entitled "Tūtū Pele" shows a nude woman stringing flowers on a lei. The lei is draped across her naked body, partially covering her buttocks. 
"It brings up great anger to see Pele, the goddess Pele, Pelehonuamea, being depicted as a millennial influencer," Cambern said. He added, though, that Rice donates some of her profits to conservation efforts and publicly announced her opposition to the Thirty Meter Telescope, a construction project met with resistance from many Native Hawaiians. Rice could not be reached for comment. 
In June, the magazine Modern Luxury Hawai'i featured Rice as one of four "Hawaiʻi millennials who are making a difference." Hawai'i News Now published a feature on Rice, celebrating her depictions of "strong, fierce, beautiful women." 
Many artists in Hawai'i work to disrupt simplistic representations of the islands and its people. 
Bernice Akamine, an artist whose work explores military presence in Hawai'i, collects bullet casings and dirt from live-fire training sites, stretches of land used as training grounds by the U.S. military as soldiers prepare for war. A glass artist, Akamine recreates the bullets out of glass filled with the dirt she collected.
Last year, the Honolulu Museum of Art featured a series of portraits of people who are Native Hawaiian by artist Kapulani Landgraf. Superimposed on their faces were the words: "WE ARE NOT AMERICAN HE HAWAI'I AU MAU AU MAU." The Hawaiian phrase translates to "I am Hawaiian now and forever."  
San Francisco-based photographer Adrienne Pao uses art to explore her Native Hawaiian ancestry and present the island chain as a place full of contradictions.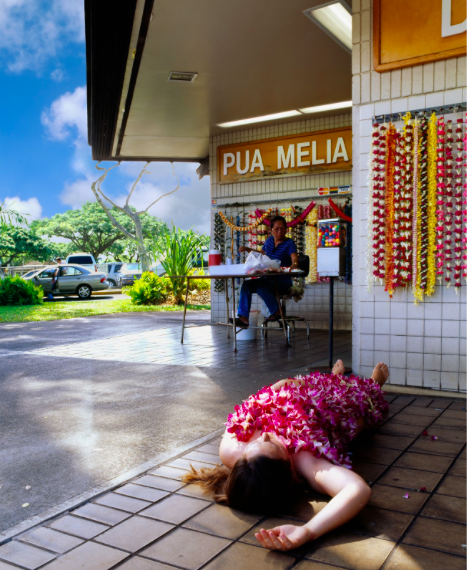 In her photograph "Lei Stand Protest," Pao's body lies, nude and corpse-like, on the concrete floor at the airport lei stand in Honolulu, a place familiar to locals. 
For Pao, Hawai'i is both a tropical paradise and a concrete jungle. Lei making can be a time-honored tradition, as it is for her family, or something overseas factories pump out for tourists. Likewise, some viewers see violence in Hopper's work while others find empowerment. 
"All these things can exist at one time," Pao said.