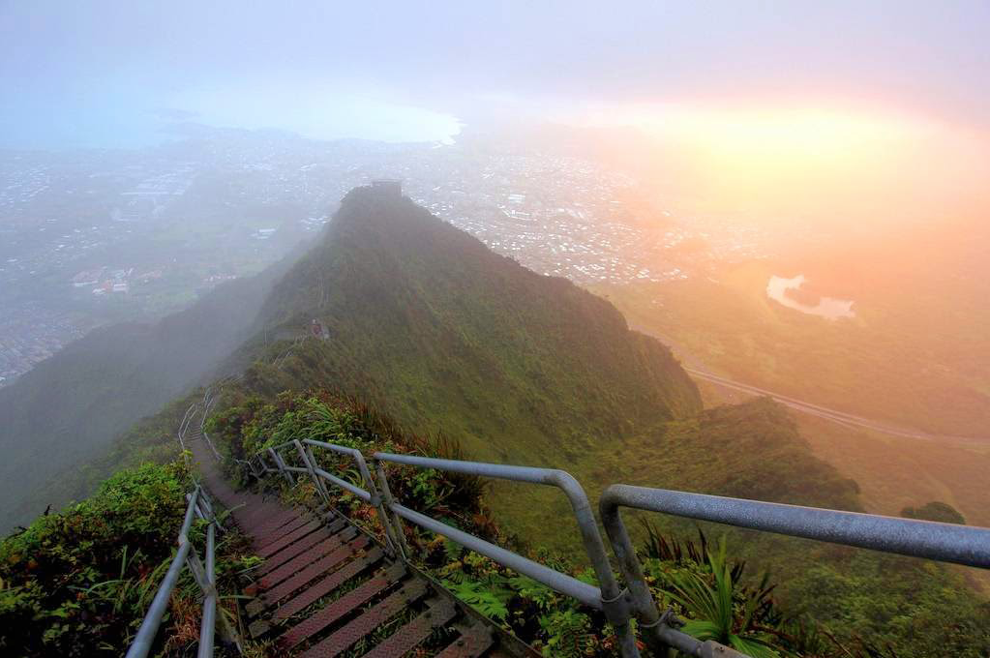 Picture an architectural and engineering wonder, unmatched in all the world, with fabulous views – a hike through the clouds in a Hawaiian rainforest. Would your first inclination be to … tear it down?
That is exactly what Honolulu's Board of Water Supply has just announced it will do to Ha'ikū Stairs, otherwise known as the "Stairway to Heaven." As a result, Honolulu Magazine listed the Stairs as one of Hawaii's most endangered historic places.
No one disputes that the stairs are a magnificent recreational, engineering and educational resource, that their views are awe-inspiring or that, if re-opened, a properly managed Stairway to Heaven would be a huge source of pride for the people of Hawai'i. So, why has the city allocated $500,000 to prepare the environmental impact statement for their removal?
And that is not the only expense. It would cost from $2.5 - $3 million to tear out the stairs. This is after spending $1 million to repair the stairs in 2002. Government usually spends this kind of money to fight society's ills. So it is hard to believe that this governmental initiative is fighting beauty, inspiration and tranquility. Hikers risk fines and arrest because the stairs are currently restricted. Imagine lifting heaven and earth to prevent people from exercising, and you begin to see how truly problematic this is.
Why has it come to this? Because the government sees the Stairs as a nuisance to eliminate, rather than a treasure entrusted to them as public stewards to protect and enhance. Everything that has happened over the last 15 years has flowed from this attitude and mindset. Without a change in direction, the stairs will be gone before you can say "I wish I had stepped forward to fight this." Don't let it come to that. Too many things have happened in our country in just the last year alone because people thought someone else was going to stop it.
Right now the stairs are closed to the public, and those who climb them are subject to a $1,000 fine and/or up to six months in prison. And the city recently stepped up their enforcement significantly. We are certainly not encouraging you to go out and climb them. We are encouraging you to join us and get them re-opened for legal access.
The good news is that similar efforts have been met with success in the past. In the 1990s, a group of property owners lobbied for the demolition of the High Line, a 1.5-mile-long abandoned viaduct of the New York Central Railroad. The demolition was already scheduled when the Friends of the High Line were formed and it was saved. The High Line is now a city park and has nearly 5 million visitors annually. Now, we are facing a similar situation with the Stairway to Heaven and, just like with the High Line, we have the opportunity to make a difference. If we succeed, much awaits you. 
The 18-inch wide "path" is bolted into the ridgeline, which is barely wider than the stairs themselves, and is often wrapped inside a cloud. The stairs are not a hike for beginners, but they are an integral part of the Hawaiian landscape. When a cloud blows by on its orographic ascent, a stunning, almost 360 degree view of the island unfolds in front of you. For those wanting more, there are trails at the summit that take you all the way to Moanalua Valley on the other side of O'ahu.
The good news is that re-opening the Stairs is simple to accomplish, with a minimum of neighborhood disturbance. For example, vehicular access through Ha'ikū Road (which skirts the neighborhood) could be restored, and hikers would drive straight up to the former Coast Guard station parking lot. The city could turn management of the Stairs over to a non-profit agency or ecotourism company, with safety and interpretive information for hikers on natural, World War II, Hawaiian history and cultural features of the valley. With a two-tier admission pricing (residents and non-resident), using a conservative figure of 250 days per year of climbing to allow for inclement weather, the stairs would more than pay for themselves at only 80 hikers a day. With the help of volunteers, this space could be converted from what the city calls a public nuisance to a thriving public space.
The Friends of Ha'iku Stairs will be holding a public meeting for volunteers and friends in October. We need volunteers to write op-eds like this, help manage our website and Facebook page, assist in our fundraising drives, participate in rallies and otherwise show the city that they cannot tear down the stairs without a fight.
We have lost so much of the quality of life that made Hawai'i a paradise. Now we have a rare opportunity to bring some of it back. Our economy could also benefit in the process, without the environmental cost of another hotel or shopping mall. We offer instead beauty, nature and a real adventure.
The Friends of Ha'iku Stairs, who have been working to reopen the Stairs for 30 years, will be holding a public meeting for volunteers and friends to make sure this does not happen. Please join us!