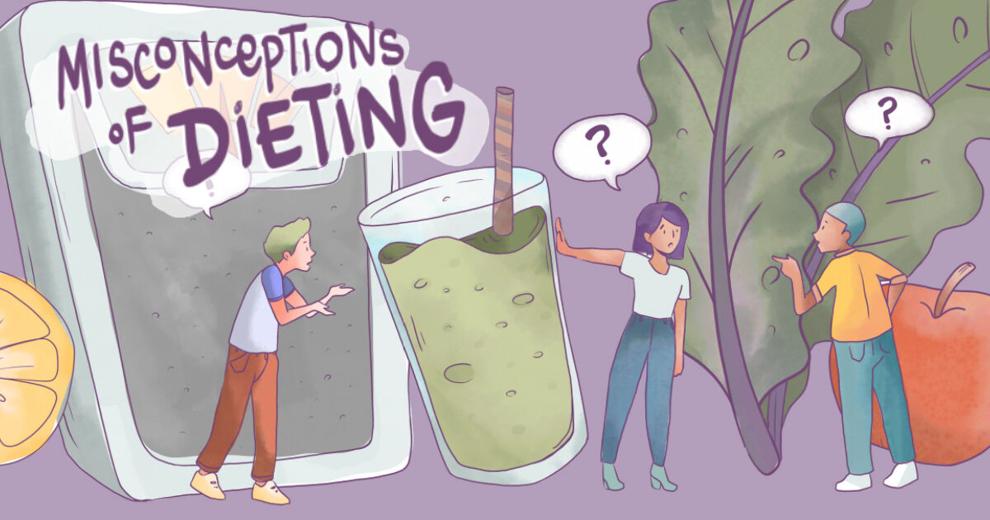 Diets have been around for centuries. Various ones go in and out of style, reappearing every few decades with a new name. Despite their powerful presence in the media, diets rarely fulfill the expectations that people have about them. 
"The biggest misconception is that diets work," Jennifer Draper, a registered dietitian, nutritionist and University of Hawaiʻi at Mānoa professor, said. 
Throughout her career, Draper has promoted the idea that diets are not one size fits all. "Everyone has a unique body story, whether it's different diets, or some kind of trauma or their genetics," she said. "There's no way that everyone doing the same thing would get the same result."  
For instance, if a college athlete were to model their diet off a TikToker's "What I Eat In A Day"video, they could wind up severely malnourished. 
The ketogenic diet, which only allows one to consume fats and proteins, was originally created for children who suffered from seizures. If the wrong person takes the keto diet, they could wind up with high cholesterol. 
2015 University of Hawaiʻi education graduate Michiko Northway relied on the methods she found in magazines and online articles to maintain what she thought was an acceptable weight. She was only 12 when someone first told her that she ought to watch what she ate.  
"I didn't have any guidance other than what I was reading," she said. The articles she found recommended diets that cut out carbs or fat. They advised skipping breakfast and eating as little as possible for the rest of the day. Whatever diet that Northway read about, she tried.  
"I was mentally exhausted because I was so focused on trying to fit into the body that society was telling me that I should fit into," she said. 
Most people looking to try a diet aren't doing it for superficial reasons. Northway said she thought losing weight would have helped her find self-confidence and happiness.
While these are very important qualities, they do not necessarily go hand-in-hand with weight loss. Draper says she has had many clients who tell her similar things. 
"They end up with this wishlist of what they'd like to have, that they thought would happen with weight loss. And most of them had had some weight loss, and that stuff didn't happen," Draper said. 
It isn't easy finding important things like health, confidence and happiness. Many consult professionals when they lack such things. 
Draper says many health care professionals incorrectly attribute health deficiencies to weight. "People will go in for a cold, and a doctor will comment on weight," Draper observed. "Every single client that I've worked with that has a higher BMI has had that experience when they go to the doctor. That's where there's confusion, because people think it's healthy to focus on weight."
Draper explained that body weight itself is not a predictor of risk or disease. People who live in big bodies can have the same aches and pains as people who live in small bodies. It ties back into being a diverse society, with people that are meant to be different shapes and sizes.
Additionally, professionals who push the idea that weight gain is bad may not understand that sometimes, weight gain is to be expected. 
Brittney Akai, a 2019 UH graduate in marketing and management, had a similar experience to Northway's when she was growing up. In high school, during weigh-ins, her P.E. teacher asked if she had experienced some recent weight gain in front of the class. Aside from her embarrassment, her initial thoughts in response were, "Oh no, I'm getting big. I'm getting fat."
It took a lot of sifting through the internet, and a few tried and failed diets for Akai to shift her perspective and come to the realization that sometimes, weight gain is just a part of life. 
 "I just felt really down on myself," Akai said, thinking back on when she would take days off from a diet. "I had to reel it back and stop because I found that it was affecting other parts of my life. I would eat less throughout the day so I could go out with my friends ... I just knew that I had built such an unhealthy relationship with food." 
Akai's intuitive realization aligns with Draper's teachings. "Diets work in the very short term. The body will lose weight, but then it's going to gain it back," Draper explained. "People lose weight, then they gain back more, and so they think they have no willpower. They think they can't be trusted around food, they have all these feelings of guilt and shame, and they feel like a failure. But they didn't fail, it was the diet that failed." 
 Draper sees clients caught in cycles of anxiety and depression, exacerbated by lack of nutrition. Hair loss, fatigue and inability to focus are only a few of the many physical side effects. 
However, Draper recognizes the difficulties in the recent body positivity movement. "Going from hating your body to loving it is a stretch," she acknowledged. "Think of it like a relationship. You don't have to love every part of it. I wear a size eleven shoe. I don't like shoe shopping. Do I hate my feet? No." 
For those still looking toward weight to improve health, Draper recommends teasing the two apart. "Eat more plants, add more water, add movement (not necessarily exercise), do volunteer work, spend time with grandma," she said.
"You'd like to be more confident? What if you could start working on that right now, even if your body didn't change?"
When one finds the courage to throw away weight-focused mentalities, it opens up their capacity to build a better relationship with their own body, a relationship founded on trust and respect.