Correction issued on March 8, 2016: The last section of this article has been updated with a new suggestion for an alternative hike.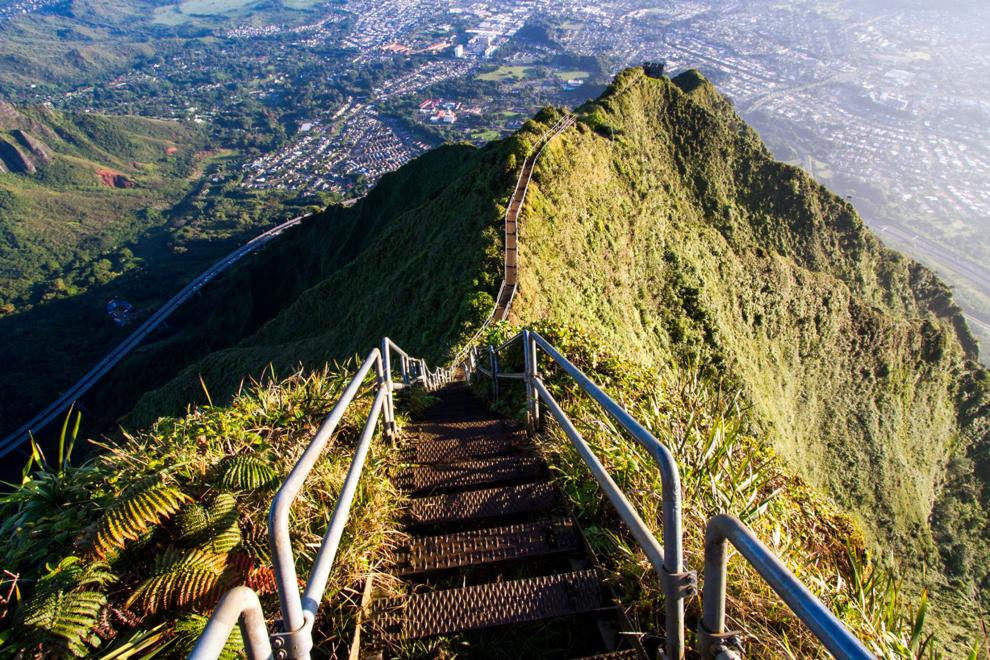 Known to many as the Stairway to Heaven, the term for this hike was coined for its location above the low-hanging clouds atop the mountain range. Although no official record is available,  cases of missing, injured and dead hikers are reported each year. Closed off to the public for over three decades, the remnants of an old exploit have posed serious dangers to the would-be hikers and an endless trespassing nuisance to neighbors in the area.  
Destroying Stairway to Heaven is not only the best way to protect lives, but also the best solution to providing the community with the peace they deserve.
The danger 
Originally opened in 1942, Stairway to Heaven, or Ha'ikū Stairs, was used by the U.S. Navy and Coast Guard for various radio signal towers and antenna operations. Although officially closed to the public in 1987, the stairs were repaired in 2003.
Since its closing in 1987, countless people have been injured or lost trying to climb the stairs. There have also been a few deaths. In 2012, 62-year-old Fritz Hasenpusch died hiking the stairs. Just recently in 2015, Big Island native and hiker Dayleen Pua has gone missing in Moanalua Valley Park trying to get to the Ha'ikū Stairs, according to KITV. 
Signs warning hikers to keep away and a posted security guard attract thrill seekers at times that are more dangerous than normal. For example, people who are trying to avoid security guards go at night, which increases the potential danger.
Not everyone is an experienced hiker and knows the land. Though most people make it through the journey, history has proven even the most experienced hiker can lose their life on these stairs. 
Who's responsible?
The main reason the Ha'ikū Stairs were closed to the public were issues concerning liability to the City and County of Honolulu. Considering the high level of danger, the City and County of Honolulu would continue to be responsible for every lost, injured or fatal hiker incident – liability that is paid from our taxes. They would also be responsible in the event of a crisis to provide aid to hikers. 
 Posting signs have proven to not be enough. The state must tear down the Ha'ikū Stairs to protect ignorant hikers and protect the community from nuisances such as trespassers and littering.
Easier said than done 
Most notoriously, a group called Friends of Ha'ikū Stairs have led the way in providing a solution to bringing public access back to the stairs. However, its implementation would be too difficult.
To provide public access, the City and County of Honolulu must repair and constantly maintain the stairs to durable condition in order to prevent potential loss of life, but also establish a clear entrance that doesn't interrupt the Ha'ikū valley community. Public facilities such as bathrooms and rubbish cans would also be needed to protect the community from trespassers and litter.
Funding has to also be established for repairs,  maintenance and new development. With Hawai'i ranking  30th of 50 states in budget solvency, according to George Mason University, it's safe to say we cannot afford this action.
Although proposals have included charging people up to $100 as an entrance fee, proposed fees do not provide equal access to those who cannot afford it.
The county must make it similar to Diamond Head and provide an affordable solution that will provide equal access. Whereas making it too expensive limits access, lowering its price only forces the state to subsidize it more. The cost of funding the stairs for safe public access is a cost both the state and the public cannot afford to bear.
A better alternative
According to Hawai'i Magazine, there are other hikes that may be equally rewarding as well. The Lanipo Trail, for example, is a seven-mile round-trip journey that ascends to the Ko'olau mountain range summits and offers some of the same views of the windward side as Ha'ikū Stairs.
 Hiking can still be thrilling without having to risk your life and breaking laws while doing it.
To read the opposition piece to this head to head about Stairway to Heaven, check out "Keep the Ha'ikū Stairs open."