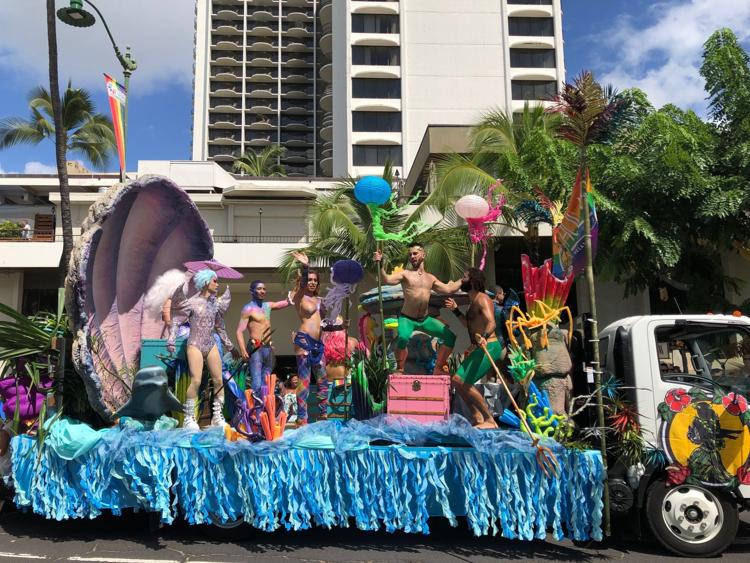 The streets of Waikīkī were a rainbow of color this morning during the 2019 Honolulu Pride Parade. According to the Hawaiʻi LGBT Legacy Foundation, Honolulu Pride is "Hawaii's largest and most colorful festival for gay, lesbian, bisexual, transgender, queer and allied communities," and takes place every year to celebrate diversity and inclusiveness. 
The parade started at 11 a.m. at Magic Island and ended at the Waikiki Shell, where festivities continued until 6 p.m. Sponsored by the Hawaii LGBT Legacy Foundation, the Pride Festival at the Shell was free to the public and featured entertainment, food and booths from various organizations. The parade that led to the festival went on until about 1:30 p.m., featuring floats sporting rainbow balloons and banners as well as fancy cars displaying people in full-blown drag queen attire. 
William Young and Mercedes Legend were two decked-out performers who posed on the Hula's Bar parade float. Both wore body paint and glitter, and Legend was topless but for two silver nipple shields. 
Legend, who does drag performances at Hula's Bar, voiced her appreciation of the freedom of expression that the Honolulu Pride promotes. "No matter what gender or what race you are, you're just here pretty much to have fun and be who you want to be, and express yourself in any type of way, shape or form," she said.
Young had similar sentiments. "The significance of Pride is to be yourself and celebrating diversity," he said. "What makes me want to be myself is having and seeing the rest of the community be here to celebrate, and just allowing people to be themselves and appreciating who they are no matter how you want to be."
Leeward Community College sophomore Faith Hawver described her experience as a supporter at the Pride Parade. "It was very exciting and nerve wracking at the same time," she said, referring to the contrasting feelings of celebration and tension which were both present at the event due to supporters as well as protestors in attendance.
"Not everybody's as open as you'd think it would be, so there's still that general fear of just walking out there not knowing what you're gonna find," she said, describing the protestors that showed up during the parade carrying signs that read "God Hates Gays" and other homophobic slogans.
Nonetheless, morale at the parade was high overall, and supporters were encouraged to shout louder to drown out the protests during the parade.
UH alumni Maurice Tokuda-Higashi had been a part of the Longs Drugs parade float, and described the importance of this Pride Parade in particular.
"This is the fiftieth year that we are fighting for gay rights since the stonewall," he said, referring to the Stonewall riots that occurred in New York which many consider to be a turning point in the gay rights movement. The first Pride Parade was started a year after those riots, making this the 49th year of the Pride Parade.
"It is definitely a celebration for 50 years to celebrate fighting for this and there's definitely been some progress. We're doing some good in the world," Tokuda-Higashi said.