Graduation in Hawai'i is made a bit more exciting by the local tradition of lei giving. Graduates are stacked with flower lei, yarn lei and candy lei. And almost every graduate will  receive a few money lei for good luck.
When you buy a money lei you have to pay for the dollars used in it along with the lei maker for their services. If you are on a budget this graduation, but still want to wish your ohana a prosperous future, consider making your own money lei at home by following Ka Leo's step-by-step guide.
---
What you will need
• Four to five feet of ribbon
• At least 15 dollar bills
• Tape
• Scissors
---
Step 1) 
Fold your bill in half, lengthwise. Repeat this two more times. Try your best to match up the sides.

Step 2) 
Unfold the bill, it should be divided into eight equal parts. 
Step 3)
Using the creases you just made as a guide, fold the bill at the crease. Alternate between folding toward the front of the bill and the back. The bill should look like an accordion when you are finished.

Step 4)
Grab the bill in the center and fan out the dollar so that it takes on a circular shape. String the ribbon through the gap between where the edges of the dollar meet. Tape the edges of the dollar together. Repeat on the other side.

Step 5)
After the ribbon has been strung through both gaps, double knot the ribbon to secure the dollar.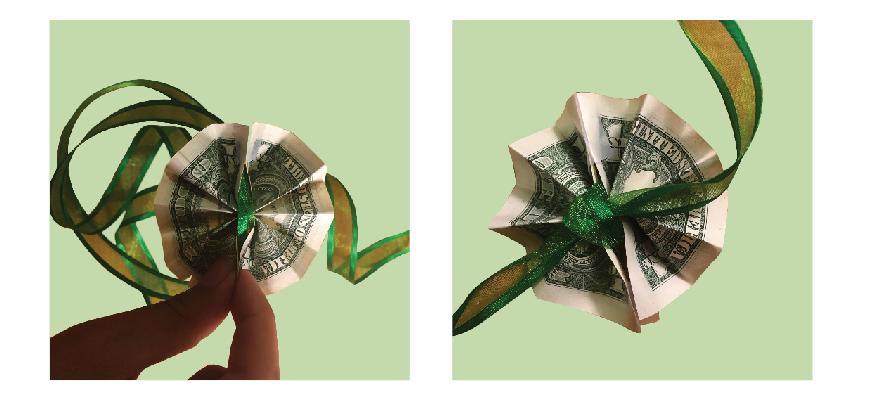 Step 6)
Continue this for the rest of the dollars until you have filled the ribbon. You can space out the bills based on your budget. If you have less money, space the bills out farther. Or, if you are feeling generous, bunch them up closely.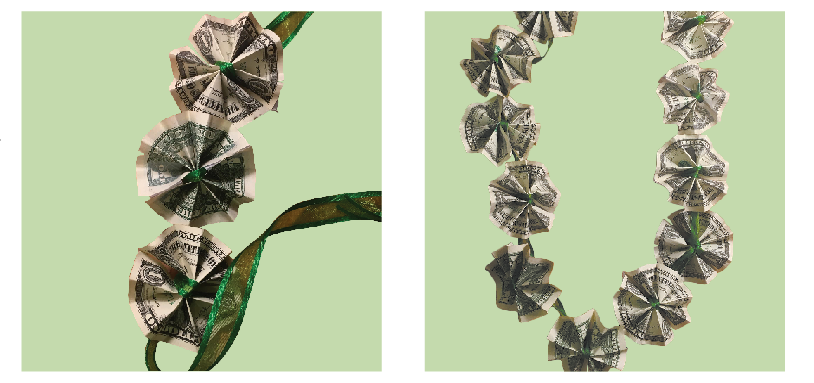 Tie a double knot at the end to finish off your lei.