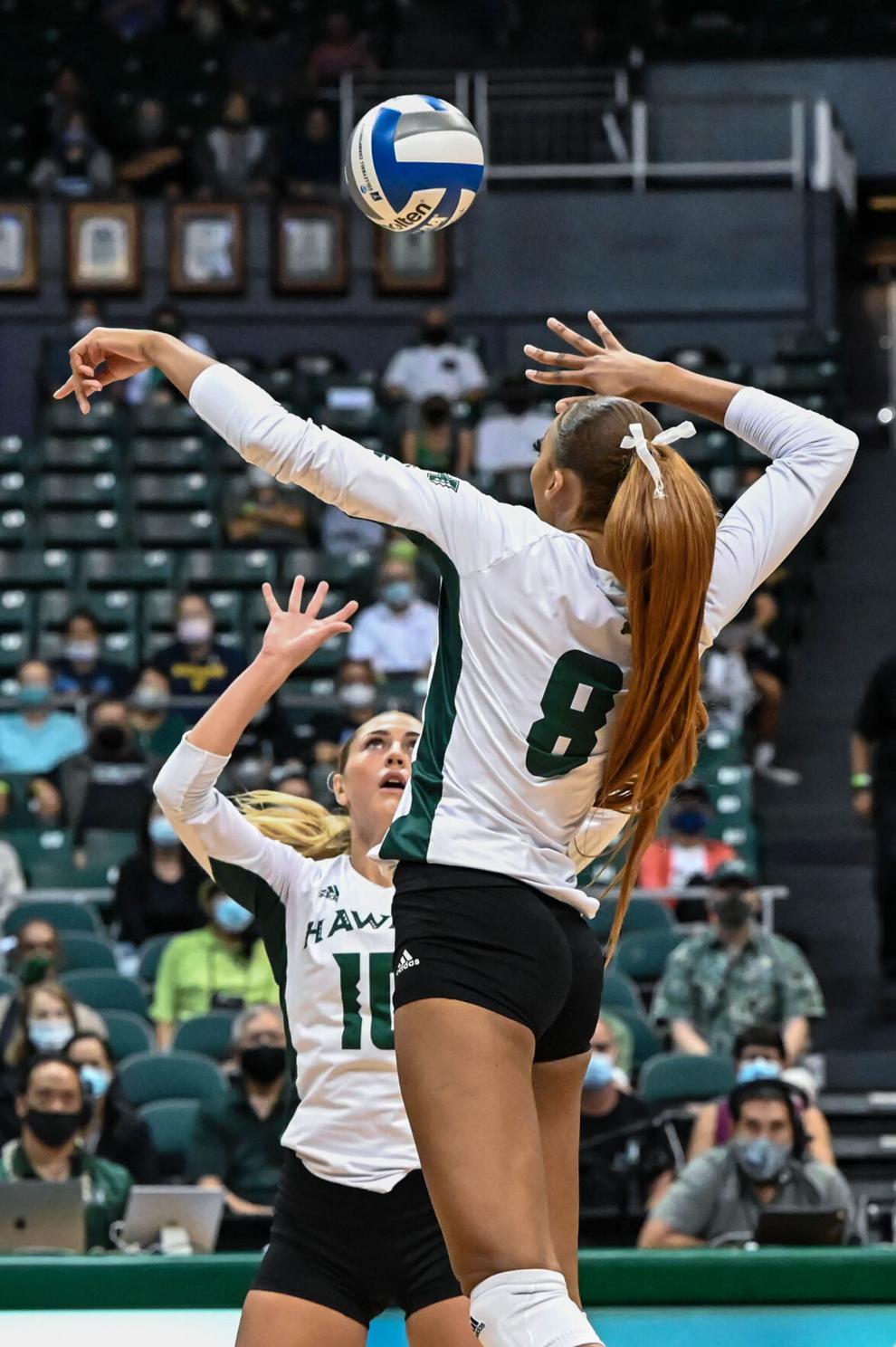 The block was up all evening inside SimpliFi Arena at Stan Sheriff Center.
The 15 that the University of Hawai'i women's volleyball team put up against UC San Diego on Sunday evening was the second most they put up all season, only behind the 16 they had against Utah Valley in September.
Scores for the match were 25-14, 25-21 and 25-20 for the Rainbow Wāhine, who now have a two-game lead atop the Big West Conference standings over second-place UC Santa Barbara with four games remaining.
Amber Igiede had another stellar performance this past weekend, putting up 13 kills and 10 blocks, and Skyler Williams posted 11 kills of her own in a match that was heavily dominated by the Hawai'i middle blockers early on.
"We obviously win when our middles get the same attempts as the outsides and hit for a high percentage," Hawai'i coach Robyn Ah Mow said. "Means our passing is pretty good and/or our defense is. Happy about that."
Set one was strong for the duo of Williams and setter Kate Lang, whose quick sets to Williams were responsible for the Rainbow Wāhine's first three kills of the match.
"It was really great," Williams said about her communication with Lang. "Even when we had miscommunication, we'd look at each other like, 'Okay, next one. Let's just keep going because the connection is good.'"
Although UC San Diego scored the opening point of the match, they never led after in set one, as Hawai'i hit .361 behind 9 kills from its middle blockers.
UCSD started the second set with a 4-0 run before Hawai'i went back to its bread and butter, with Igiede and Williams recording the first six Rainbow Wāhine kills of the set. The six kills helped lift Hawai'i to a 11-8 lead, leading to a Tritons timeout.
Hawai'i led 20-13 in set two, but started to fade and UCSD closed the gap to a 22-20 Rainbow Wāhine lead. Despite the attempt at a comeback, Hawai'i took care of business with Igiede's ninth kill being the set point.
Set three saw Hawai'i start to incorporate its outside hitters after the strong play by its middle blockers, highlighted by Brooke Van Sickle recording five of her six kills in the set.
"Just having our middles involved so much in the first and second set, they were starting to commit to blocking our middles," Lang said. "I would wait and flick to the outside and just try to keep things moving and balanced throughout the blockers."
Much like the second set, Hawai'i started out strong but UCSD gained ground, cutting its deficit to as few as two points, before Van Sickle put two kills off double blocks and teamed up with Williams for a block on the Tritons' right side Trinity Castaneda for the final play of the night, closing the book on the Tritons.
For UCSD, Ava McInnes led the Tritons in kills with 13, and Castaneda added 12 kills herself. Kailua native and 'Iolani graduate Naya Dong led UCSD in digs with 14.
Hawai'i heads back on the road for the final time of their conference slate, playing Cal State Bakersfield on Nov. 19 and Cal Poly on Nov. 20.
"This is definitely going to be one of the harder road trips just because of the travel," Ah Mow said. "Get on a five-and-a-half-hour plane ride, get off that plane ride, get on a two-and-a-half-hour bus ride. We'll try to get some sleep and get some practice going."