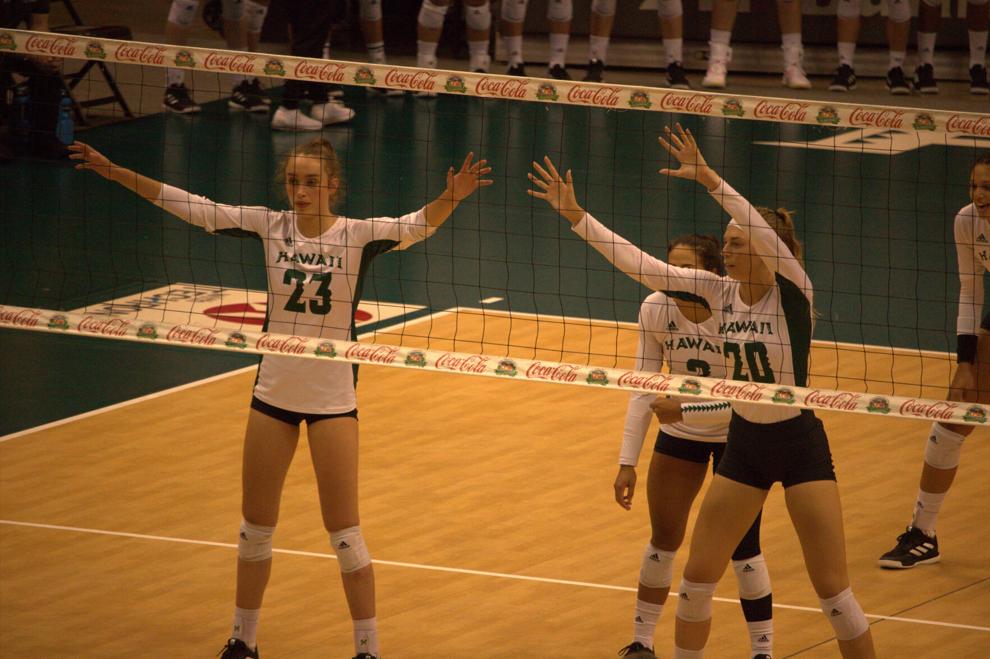 Coming off a winless road trip, the Rainbow Wāhine volleyball team had a much-needed recovery at SimpliFi Arena at the Stan Sheriff Center on Friday night with a four-set win over the University of Southern California. Scores for the match were 25–17, 11–25, 25–21 and 25–20 for Hawai'i.
"Obviously, it feels good," Hawai'i coach Robyn Ah Mow said of her team's win. "Coming back from a road trip 0–3, definitely feels good."
"I think that we really needed this win for our team," Hawai'i freshman middle blocker Anna Kiraly added. "We need to build from this, and we have a game tomorrow against the same team, so it's not going to be easy, but we are home so let's just keep it going."
Ah Mow continued to experiment with her lineup, inserting Kiraly and fellow freshman Annika de Goede into the starting lineup on Friday. De Goede's impact was immediate in her first collegiate start, as the opposite hitter recorded three kills and two blocks in the first set, ending the night as the team leader in kills with 11. Kiraly put away eight kills herself while also adding three blocks. 
"On the road, [de Goede and Kiraly] didn't really get a true chance," Ah Mow said. "It's just kind of hectic… and then we just did some team soul searching, and as a coaching staff, definitely thought that these guys did a lot in practice and are capable of playing. So, hence, they [got] the start [tonight]."
Set one was tied at five, but Hawai'i pulled away with a 10–2 run and took advantage of attack errors by USC, including an attack by USC's Brooke Botkin that went long to help claim the opening set.
The second set was a completely different story, as USC took advantage of multiple miscues between Hawai'i players throughout the set to pull away to a 25–11 win, tying the match at one each. Botkin's serve ended up being the 25th point of the set, as it ended up going off the head of Hawai'i libero Tayli Ikenaga and into the TV broadcast area for the Trojans' second service ace of the set. 
The third set was back-and-forth for the first half of the set. Hawai'i managed to create a decent lead behind a Riley Wagoner service ace and a de Goede kill off a block, although USC was able to cut its deficit to one point. The Rainbow Wāhine managed to close out the set, as a service ace by Janelle Gong, a solo block by Kiraly and a slide kill by Kiraly helped Hawai'i claim a key set three.
Set four was also close in the first half, with three lead changes and six ties in the set. It wasn't until the score was tied at 17 where the Rainbow Wāhine managed to pull away, as a crucial challenge by Ah Mow on a cross-corner attack by Mia Johnson that was originally ruled out was overturned after video review, turning what would have been a tie game into a two-point Hawai'i lead.
"I thought the ball was in, but it is what it is," Ah Mow said. "It's like 'Ok, this is another timeout for us to just get a break,' and, it's lucky that it went our way."
The challenge ended up fueling a 7–0 run for Hawai'i, as an attack error by USC's Candice Denny made it match point for the Rainbow Wāhine. USC managed to hold off three consecutive match points for Hawai'i, but Johnson's swing went off the Trojan defenders and out of play, giving the win to the Rainbow Wāhine.
For USC, Botkin led the team in kills with 17, while Trojans setter Raquel Lázaro recorded a double-double (32 assists, 13 digs).
Hawai'i concludes its weekend with another game against USC on Saturday. First serve is set for 7 p.m. HST, with Spectrum Sports and CBS Sports Radio 1500 broadcasting the game.
"I think [U]SC is going to come out and they're going to come back stronger," Ah Mow said. "It's a new game tomorrow, and they're probably going to come out strong again. Looking forward to it."