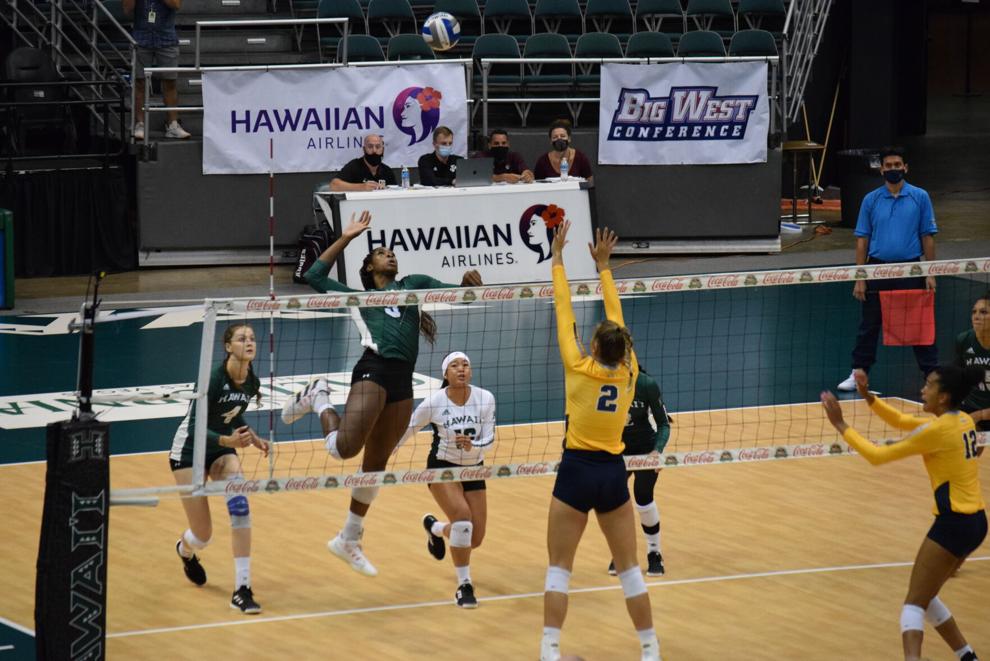 Saturday night's loss to Marquette University in SimpliFi Arena at Stan Sheriff Center was tough for the Rainbow Wahine volleyball team, but their players continue to express how appreciative they are to be playing. 
"Obviously, losing doesn't feel good," middle blocker Amber Igiede said. "It feels good to come out and play. I miss the feeling of winning. Honestly, learning from losing – it's probably like a blessing in disguise too."
"I'm honestly just happy to be in the Stan [Sheriff Center]," setter Kate Lang added. "Yeah it stinks that we lost, but [the] positives are that we were able to play in the first place. That's kind of the mindset I want to keep reminding myself of."
Lang ended up playing the majority of the night after entering the game in the middle of the first set on night two of the Hawaiian Airlines Rainbow Wahine Classic. The Rainbow Wahine ended up losing by scores of 24–26, 25–27, and 21–25. 
"I loved playing tonight. I think it was a great way to learn the ins and outs of the team," Lang said. "It was super choppy..., and I think that taking that into account for tomorrow, I can try to make it more smooth as a setter cause that's kind of the job so I'm just going to use it as learning experience and do better [on Sunday]."
Taylor Wolf recorded a triple-double for Marquette (11 kills, 23 assists, 12 digs), while Hannah Vanden Berg and Savannah Rennie both posted double-digit kills for the Golden Eagles, while Brooke Van Sickle was the only Rainbow Wahine with double-digit kills with 14 in a game that was relatively close in the first two sets, both of which needed extra points to determine a winner. 
"We scouted [Wolf], we knew what she was going to do, and we didn't do what we were supposed to do." Hawai'i coach Robyn Ah Mow said. "So we do that, is the game close? I don't know."
"Not to take from Marquette, they're a good team, but it was just really our side that I think that was just out of rhythm tonight," Igiede said. The sophomore also added that she thought that Hawai'i would've won if they had been in sync, but also acknowledged the number of newcomers on the team.
"There's new people, it's like a growing year, so I think – yeah, obviously the vibe was a little different, but we can only go up from here, honestly."
The first set was back-and-forth, as neither team established a lead greater than two points throughout the set, which ended up requiring 26 points to claim a winner. Hawai'i reached set point first, but the opening set ultimately went to the Golden Eagles, who used a 3–0 run to close out. 
Marquette continued to carry their momentum from the first set into the second, carving an early 5–1 lead that prompted a timeout by Hawai'i. The Wāhine eventually tied the set at 11 and initiated another back-and-forth game with the Golden Eagles that required extra points to settle it, with Marquette using back-to-back kills by Hannah Vanden Berg to claim the second set 27–25. 
Set three was the set of runs, as both teams put up multiple scoring runs. However, the set was not close as the previous two as the Golden Eagles led the entire set, using a strong 4–0 run to begin the third. They continued their run until Van Sickle's kill put Hawai'i made it 6–1, and although the Wāhine scored consecutive points after Van Sickle's kill, Marquette went on a 9–2 run behind two kills each from Savannah Rennie, Vanden Berg, and Ellie Koontz, having led by as much as 10 during the set. 
Hawai'i attempted a late push at a comeback, using runs of 3–0 and 4–0 to close the deficit, but it was too little, too late for the Wāhine as Marquette claimed their third set on Wolf's 11th kill of the match. 
" [Marquette] is like a core team; it played last year, it played the year before," she said. "We're trying to get things together, and I like my team's fight. They just kept fighting. We were down in the last set 15–5 and [when] we came back, it was like 25–21."
Hawai'i closes out the tournament Sunday at 5 p.m. HST against Texas A&M. Spectrum OC16 will televise the match while ESPN Honolulu will broadcast the game over the radio.