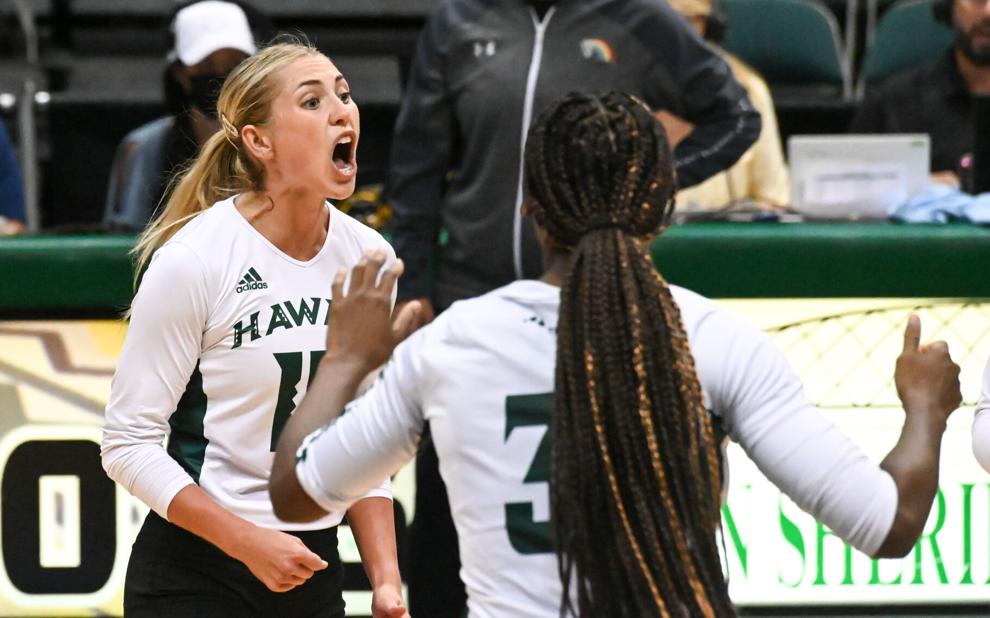 The Rainbow Wāhine volleyball team continued their winning streak against their conference opponents, sweeping Long Beach State 3-0 at SimpliFi Arena at the Stan Sheriff Center. Scores for Friday night's match were 26-24, 25-16 and 25-21 for Hawai'i.
Hawai'i's Brooke Van Sickle recorded double-digit kills for the eighth time this season with 15 while Riley Wagoner had 11 kills of her own on a .409 hitting percentage. Setter Kate Lang also posted a double-double with 37 assists and 11 digs, the first of her career. 
"It's so fun playing with Kate," Hawai'i middle blocker Amber Igiede said postgame. "We have two really good setters, and I think they do a good job of finding us, even in transition which is really important."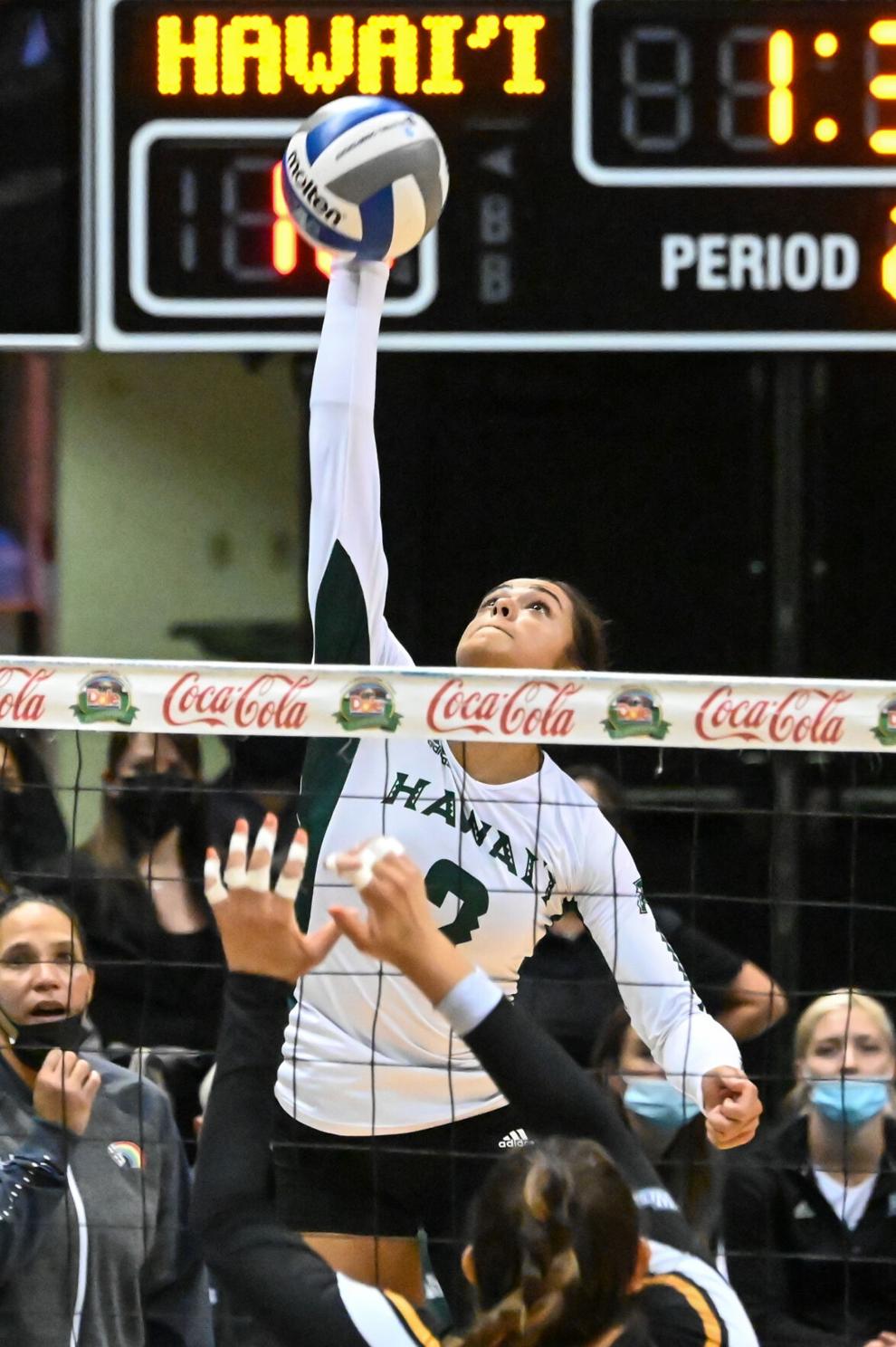 Igiede and fellow middle blocker Skyler Williams ended up combining for 14 total kills on the night with five blocks, including a critical block by Igiede and Lang that sealed set one for the Rainbow Wāhine, who trailed by as many as six points in the set. 
"It goes back to our confidence and being like, 'Hey, that's not us,'" Williams said. "We just have to remind ourselves of who we are."
Although Long Beach State led for most of the set, serving errors by the Beach kept Hawai'i in it. The Rainbow Wāhine managed to force deuces behind an Igiede kill and, following a swing by Long Beach State that went long, Igiede and Lang's combined block on Kashauna Williams capped a late 3-0 scoring run by Hawai'i that helped them close the opening set.
"It was really exciting," Igiede said of the play. "I was really excited, the team was excited."
Long Beach State started out set two strong and established an early 2-0 lead, but a 4-0 run by Hawai'i put them in front for good, as the Beach were held to a .156 hitting percentage during the rest of the set. Hawai'i claimed the set on Van Sickle's tenth kill of the match after a Long Beach State player came up short when trying to dig it out.
The Beach rebounded in set three to keep it close, with the set being tied a total of seven times. Hawai'i took care of business, though, as kills from Riley Wagoner made up three of the final five Rainbow Wāhine points in set three, including the match point to push Hawai'i to 3–0 in conference play this season.
"Riley's on another level," Hawai'i coach Robyn Ah Mow said. "She's been doing great. Even in practice. I just said that the other day, I was like, 'Man, Riley's been solid.'"
For Long Beach State, Erykah Lovett led the team with 15 kills on a .438 hitting percentage. Kashauna Williams had 14 kills of her own for the Beach, but also compiled 12 attack errors to finish the night hitting .057. 
Hawai'i concludes its weekend on Sunday with a game against Cal State Fullerton. First serve is scheduled for 5 p.m. HST with Spectrum OC16 televising the match.