The University of Hawaii football team returned to the Clarence T. C. Ching Athletics Complex for its final home game of the season, celebrating the careers of its 24 seniors as well as a 31-25 win against UNLV. 
"There's a lot of guys in key positions that are growing and developing right now," UH coach Timmy Chang said. "These seniors — they're steadfast and stay with it, they lead our team and it's time that these younger guys catch up and do it and be accountable for their braddah — and that's what you saw tonight. Unbelievable effort by everybody and I'm super happy for them."
Saturday's win for the Warriors marked the end of a four-game losing streak, which projected a possible growth for the team with receivers and quarterback able to pull off plays.
"It's hard for them — playing the last two games on a losing season, so it was awesome to go out there and get the win for them," UH quarterback Brayden Schager said. "It's really satisfying to see all the smiles on their faces and all the fun we're having right now."
The senior-laden Hawaii offensive line provided good protection for Schager, who threw for 202 yards and three touchdowns, which included touchdown passes to seniors Caleb Phillips and Zion Bowens.
Dedrick Parson also had an exceptionally good game as the UH senior running back ran for 115 yards on 19 carries, also scoring a 34-yard touchdown with 2:51 left in the fourth quarter.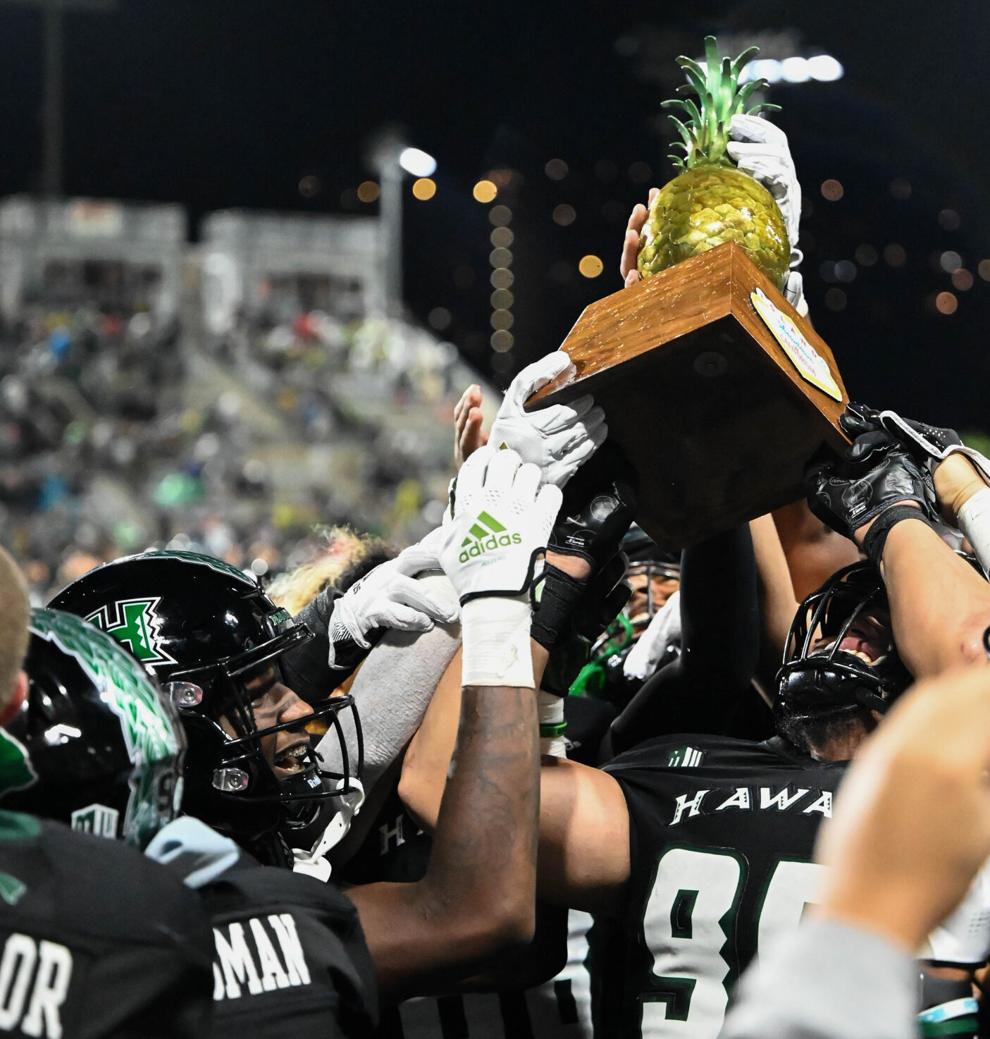 "To go out like that at home, it just felt amazing like a dream come true," Parson said. "It's like a scene out of a movie for real in front of my mom, my sister, in front of all the fans it's just amazing."
UNLV scored a field goal against Hawaii at the start of the game as Daniel Gutierrez converted from 27 yards out. Hawaii took the lead soon after with a 15-yard touchdown pass from Schager to wide receiver Tamatoa Mokiao-Atimalala. 
Despite UH's lead in the first quarter, UNLV quarterback Doug Brumfield threw a 1-yard touchdown pass to Jeff Weimer to give UNLV a 13-7 lead with 3:17 left in the first half of the game.
Schager's 11-yard touchdown pass to Phillips put UH ahead 14-13 in the third quarter. UNLV made a field goal to retake the lead, but lost it immediately after Schager's 55-yard touchdown pass to Bowens. 
"The o-line—they gave us really good protection so Brayden could have time to throw it," Bowens said. "(He) gave me a good ball so I could just run right under it."  
UH linebacker Logan Taylor intercepted Doug Brumfield at the end of the third quarter to set the Rainbow Warriors up in UNLV territory. Taylor led in tackles with 11 on the night. 
In the fourth quarter after a UH field goal, UNLV scored on a defensive touchdown where they recovered a fumble, but failed on the 2-point conversion attempt that would have tied the game. UNLV made it 31-25 after Parson's touchdown but did not recover the onside kick.
UNLV's quarterback Doug Brumfield completed 23 of his 37 passes for 288 yards and a touchdown. Linebacker Austin Ajiake had a game-high 15 tackles for the Rebels.
The Rainbow Warriors close out season at San Jose State next Saturday at 10:30 a.m. HST. 
"San Jose is a good team, there's a quarterback over there that was formerly here. We've got to refocus," Chang said. "There's Thanksgiving, these boys will be on the road away from their families and we do what we have to do. We love this game and we've got a tough opponent next Saturday."