HENDERSON, Nev. — Despite Noel Coleman's 3-pointer buzzer-beater that gave Hawaiʻi the opportunity to play another five minutes, UH lost to Cal State Fullerton 62-60 in overtime at the Dollar Loan Center Thursday.
UH held a 28-27 lead at halftime. Hawaiʻi had a 9-1 run in the first six minutes, but CSUF quickly caught up to 11-10 in the middle of the first half.
UH kept the lead until the middle of the second half, when CSUF's Tory San Antonio made a layup, making it 47-46. The two teams continued to score and maintain a small gap, but the Titans led by five points with about 80 seconds left in the game.
Bernardo da Silva's free throw and JoVon McClanahan's jumper caught Hawaiʻi up with the Titans 56-53 as the 'Bows had five seconds left to tie the game. Kamaka Hepa passed the ball to Coleman and he made a 3-point buzzer-beater to tie it at 56-all.
OVERTIME!!!!! 🧊🥶 pic.twitter.com/9z077clv9M

— HAWAII BASKETBALL (@HawaiiMBB) March 10, 2023
Hawaiʻi started the overtime with McClanahan's free throws and a jumper. But the 3-pointer from the Titans guard Max Jones tied the game and Latrell Wrightsell Jr.'s jumper took over the lead.
McClanahan's two free throws were Hawaiʻi's last possession to tie the game. But with the first one falling and CSUF catching the rebound on an intentional miss on the second, the game ended 62-60.
"We made a jump, and we can make our next jump if we can clean up just a couple things. We're not far off as we think, or could think," UH coach Eran Ganot said. "It's gonna be hard to get through right now, but we will."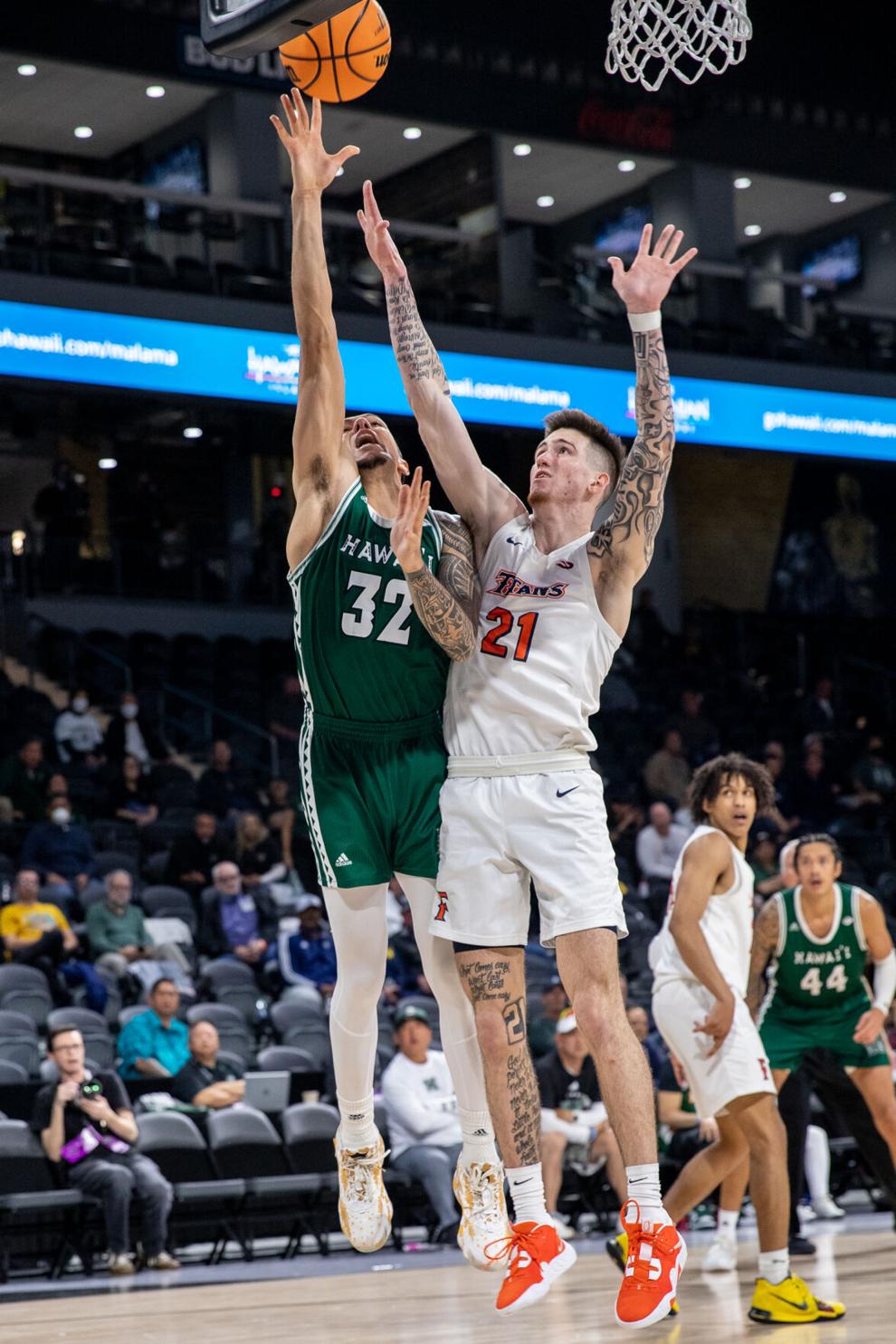 Despite the loss, Samuta Avea scored a game-high 19 points and 10 rebounds. Coleman and McClanahan added 14 and 12 points each.
CSUF swept Hawaiʻi this season. Thursday's game was CSUF's fourth consecutive win against UH, and the last game for seniors Avea and Hepa.
"Something Coach has taught me is never turn down opportunities, say thank you, so I just wanted to be here and say thank you before moving on from this program," Avea said.
"This is a relationship program, this is a for-life program, and these guys are family, it's just hard," Ganot said.