The Rainbow Warrior volleyball team went into this game with a chip on their shoulder after dropping their second loss of the season to conference rival Long Beach State the night prior.
"Losing never feels good, especially when it's in front of your home crowd and you get swept," Hawaiʻi outside hitter Spyros Chakas said. "I think that gave us extra motivation and it was something that pushed us even harder."
The top-ranked 'Bows (18-2, 1-1 Big West) swept No .4 Long Beach State 25-16, 25-23 and 25-23 Saturday night at the SimpliFi Arena at Stan Sheriff Center in front of over 9,500 fans.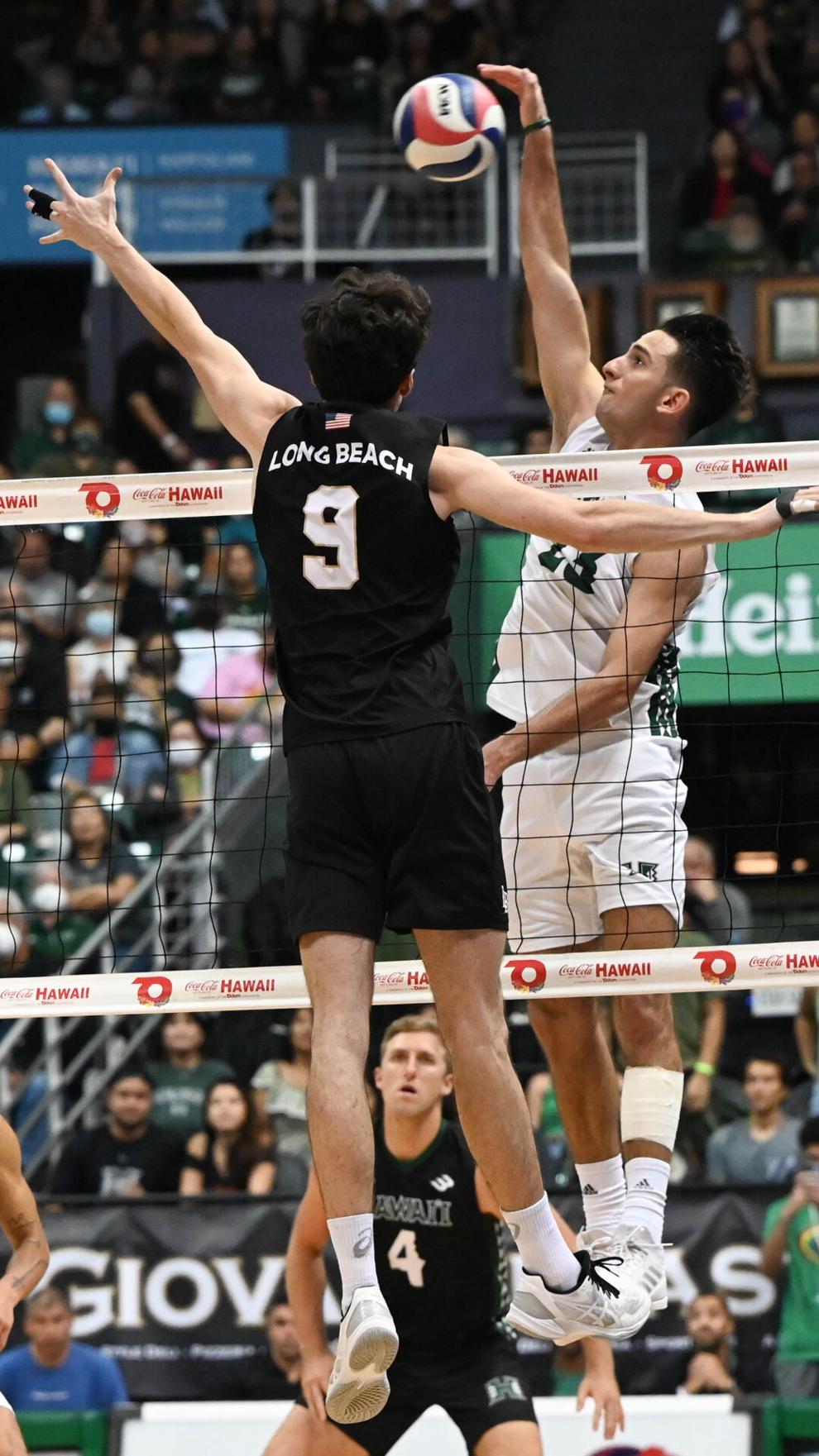 "It means a lot to everybody in this program to represent this state, to represent the university, to show the fans how much we appreciate them coming out," UH coach Charlie Wade said.
"We owe it to each other and we owe it to all the people that support us to give everything we got."
The first set started with a service ace by Jakob Thelle, setting the tone for the rest of the match. The 'Bows continued to come out firing and went on a 6-1 run, which gave the 'Bows a 16-7 lead. Hawaiʻi would close out the set strong and keep the Beach to only 16 points.
With the score tied at 12-12 in the second set, Hawaiʻi went on a 6-1 run to take an 18-13 lead. The 'Bows seemed to have secured the set after Long Beach garnered a service error to give Hawaiʻi a 24-20 lead.
Long Beach almost forced a deuce, but an attacking error by the Beach secured the set for Hawaiʻi.
The third set was a nail-biter which saw neither team gain a lead larger than three points. The Beach took a 23-22 lead, but after a kill by Chakas and two attack errors by the Beach, Hawaiʻi was able to close out the game.
Chaz Galloway led the 'Bows with 11 kills and a .429 hitting percentage. Hawaiʻi garnered a .385 hitting percentage and 11 blocks.
Spencer Olivier led the Beach with 14 kills while garnering a .417 hitting percentage. Long Beach struggled offensively, ending the game with a .247 hitting percentage.
Hawaiʻi will look to learn from their recent losses as they continue conference play at CSUN on Friday at 4 p.m. HST.
"I think those two losses have helped us a lot to get ready for what's coming up ahead and just knowing that if we're not playing our A-game, then we're not good enough to win everything," Thelle said.