The University of Hawai'i women's volleyball team held a pair of spring matches against Minnesota this past week at SimpliFi Arena at Stan Sheriff Center. The Rainbow Wāhine lost the first match to the Golden Gophers in five sets, 21-25, 25-17, 13-25, 25-18, 15-9 on Tuesday and lost the second match on Wednesday in five sets as well, 25-19, 23-25, 25-16, 17-25, 15-13.
"I'm a competitor — I always want to win but I know what the spring is for," UH coach Robyn Ah Mow said. "It's just for the guys who didn't play to get reps."
"I had a lot of fun today," middle blocker Amber Igiede said after Tuesday's match. "I think the team did too. We were like, 'Let's just have fun and let's play hard and work with anything [Ah Mow] gives us — which she did. She tried the whole bench, which was really good."
Here's more on what Ah Mow and other players had to say about some of the performances turned in by the Wāhine this past week.
Evans starts to find groove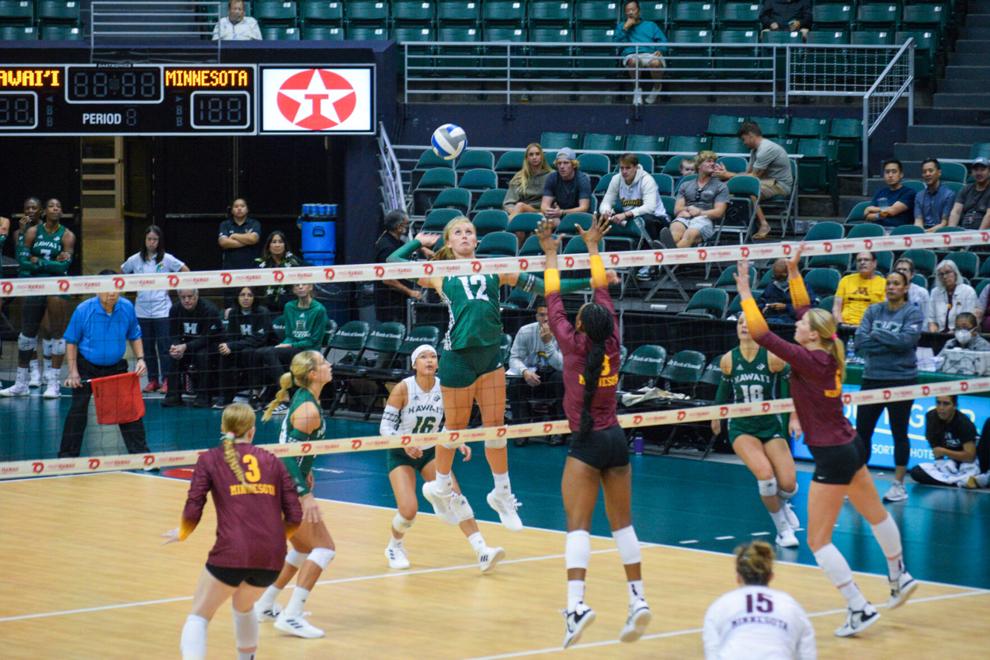 After Tuesday's match, Ah Mow did voice her displeasure that middle blocker Kennedi Evans did not get that many sets early, backed by a 1-0-1 hitting line in the first set on Tuesday. Evans did get more sets in the first set on Wednesday, hitting 3-1-6 and finishing the match with 13 kills on a .478 hitting percentage.
Here comes the 💥💥#GoBows #SISTAHHOOD pic.twitter.com/LDdbUSubdL

— Hawaii W. Volleyball (@HawaiiWVB) March 8, 2023
"Going into [Wednesday] was just making sure we established the middles early because it makes it a lot easier game for outsides when they have one-on-one options and when we're holding our blockers," Evans said.
Evans made spot appearances last season as she slowly returned from a knee injury suffered at Utah in 2021. The 6-foot-2 senior started both matches at middle blocker for UH this week and recorded 18 total kills over the two matches.
"She's mentally in and thinking about stuff," Ah Mow said. "Physically, her knee is getting better, but she can be a little more agile."
Matias makes first UH appearances against another program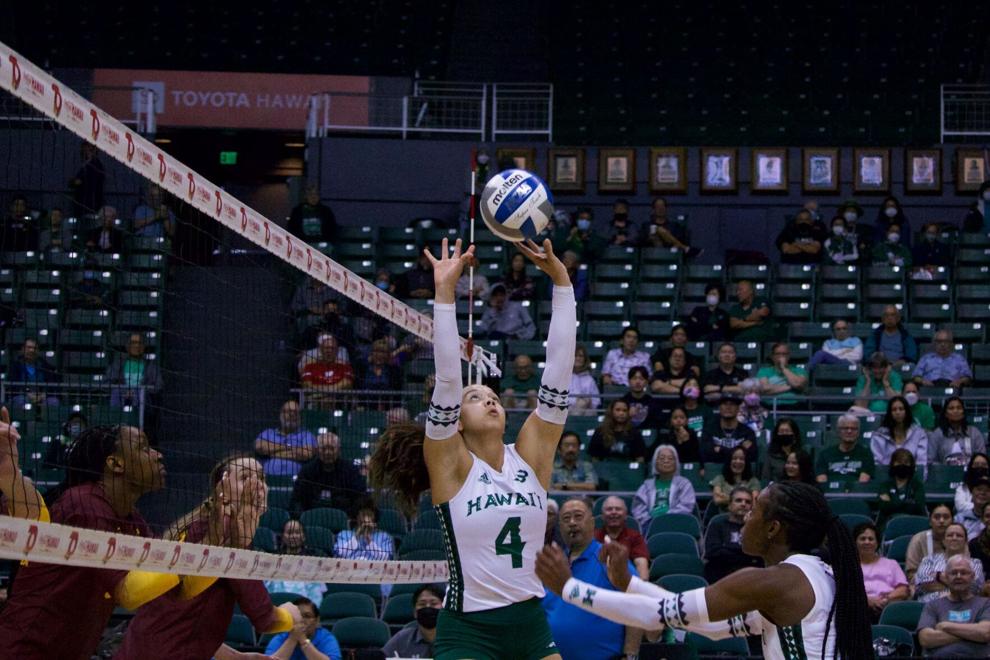 After redshirting in 2022, freshman setter and Punahou alum Jackie Matias made her Rainbow Wāhine debut this week, alternating with Kate Lang in what appeared to be a modified 6-2 offense at points in the match.
"I'm really trying to incorporate my relationship with Mylana [Byrd]," Lang said, referring to UH's lone senior last season that she was teammates with for two seasons. "I'm really trying to think about what Mylana did when I was a freshman and how she hooked me in and I'm doing that for Jackie, hopefully."
Lang averaged 7.4 assists per set and 1.8 digs per set over the two matches this week, including a double-double of 37 assists and 12 digs in the second match against the Golden Gophers. Matias had nine assists and a kill in the first match and recorded 12 assists, nine digs and two kills in the second match.
YESSAH!#GoBows #SISTAHHOOD pic.twitter.com/8qlWoSZnKu

— Hawaii W. Volleyball (@HawaiiWVB) March 8, 2023
"Jackie is still trying to get the hang of it," Ah Mow said after Tuesday's match. "I think back sets are good; she's still working on that front one."
Ah Mow did note after Wednesday's match that she thought Matias played better than she did on Tuesday, in terms of setting.
Small squad? No problem
Pin hitters Riley Wagoner and Chandler Cowell were unavailable to play in UH's spring matches as they are currently in season on the Rainbow Wāhine beach volleyball squad. The two were on the bench during Wednesday's match after not attending Tuesday's match due to beach commitments.
"We're a small team already so missing two people is not detrimental, but it's something that we miss," Lang said. "We feel their energy when they're there, so it's always great to see them."
"Four more eyes on the game telling us what we can do better," Evans chimed in.
With Wagoner and Cowell not playing, the Rainbow Wāhine had Caylen Alexander, Kendra Ham, Annika de Goede and Tiffany Westerberg as options at pin hitters. Alexander and Ham started both matches at outside hitter, with Alexander recording the team-high in kills in both matches with 14 in the first match and 16 in the second. Ham recorded 11 kills and five digs in the first match and 10 kills and seven digs in the second match.
With the departure of Braelyn Akana, Westerberg started both matches at opposite after playing as a middle blocker in 2022. Westerberg and Annika de Goede split time in the front row on the right side, with Westerberg also playing all six rotations at points of the matches.
"[Westerberg's] playing a new role and she's totally buying into it," Igiede said.
"Tiff went from middle and now she's playing right side, left side, passing, playing defense — that's huge for her," Ah Mow said. "She's doing well. I don't know how you take one middle and in less than one month, try to have her play defense, pass balls, play left, play right."
With the small roster size, Ah Mow and assistant coaches Kaleo Baxter and Nick Castello have had to play in practices at UH's Gym 1 as hitters, so the spring matches also provided an opportunity for the Rainbow Wāhine to play against another team inside the Stan Sheriff Center.
"Playing in the Stan is a different thing," Lang said after Wednesday's match. "We didn't have an enormous crowd tonight, but being able to use tonight and last night to adapt to the volume in here and not Gym 1 — I think communication has increased for us this week."
"Defensively as a team, I think sometimes great teams come in and don't understand the scrappiness of defense that Hawai'i volleyball has," Evans said. "I think that's something that we definitely brought to the table against a big team."