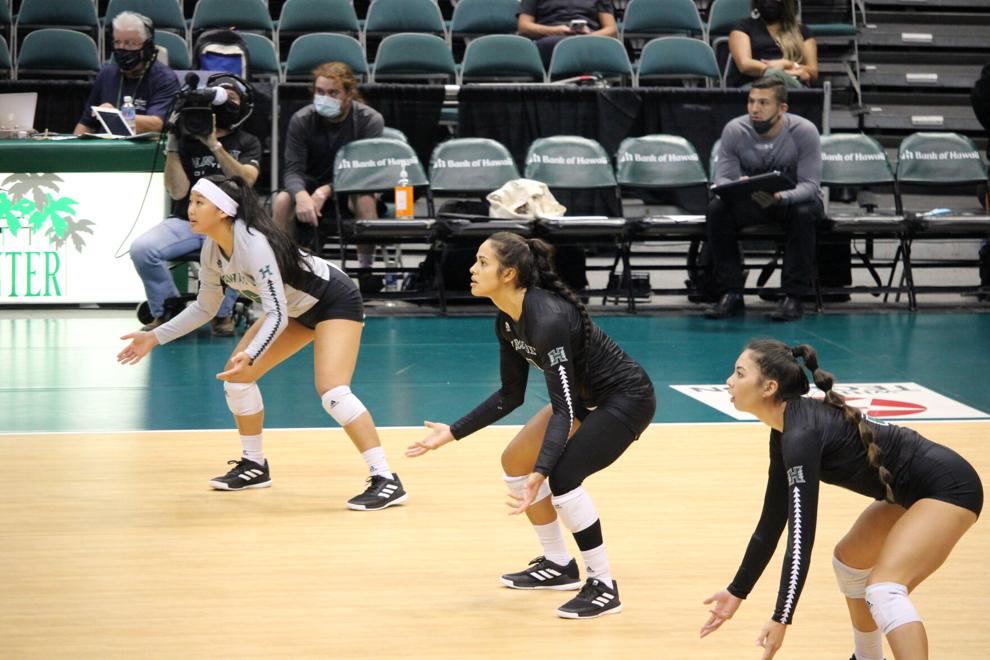 After completing a three-set sweep at UC Riverside on Thursday, the Rainbow Wāhine volleyball team came away with a second sweep at UC Davis on Saturday. The 'Bows took down the Aggies by scores of 25-18, 25-13 and 25-19 at the University Credit Union Center, and improved to 2-0 in Big West conference play and 5-5 overall.
Hawai'i outside hitter Brooke Van Sickle logged 14 kills and 11 digs, while fellow outside hitter Riley Wagoner put in eight kills and 10 digs of her own. Middle blocker Amber Igiede contributed 11 kills of her own, making it three straight games logging double-digit kills; Igiede also logged five of Hawai'i's nine total blocks. 
In total, Hawai'i earned 51 kills and 47 digs on Saturday. Setter Kate Lang recorded 38 of Hawai'i's 45 assists and defensive specialist Janelle Gong logged 11 digs of her own. Hawai'i also outhit the Aggies .396 to .208.
Hawai'i dominated the first two sets. In the first set, Hawaiʻi got out to a 21-12 lead thanks to a 5-0 run with Wagoner serving.  Davis reeled off four straight points to pull within five, 23-18, but middle blocker Braelyn Akana extinguished the Aggies' momentum with a kill of her own to put Hawaiʻi at set point. Van Sickle earned Hawaiʻi's only service ace of the match to give them the win 25-18.
In set two, Hawaiʻi and Davis were tightly matched.  Hawaiʻi then went on an 8-0 run with Igiede serving and led 13-4.  Hawaiʻi led by 12 several times in this set; they were hardly threatened and won set two 25-13.
After an early 11-2 run in set three, UC Davis challenged Hawai'i and briefly took the lead 16-15 thanks to a 7-0 run. Hawai'i answered back with a 10-3 run of their own to win set three 25-19 and to complete the sweep over the Aggies.
Hawai'i will return home to face Long Beach State on Friday, Oct. 1 at 7 p.m. HST, and Sunday, Oct. 3 at 5 p.m. HST against Cal State Fullerton. Spectrum OC16 will televise both matches.