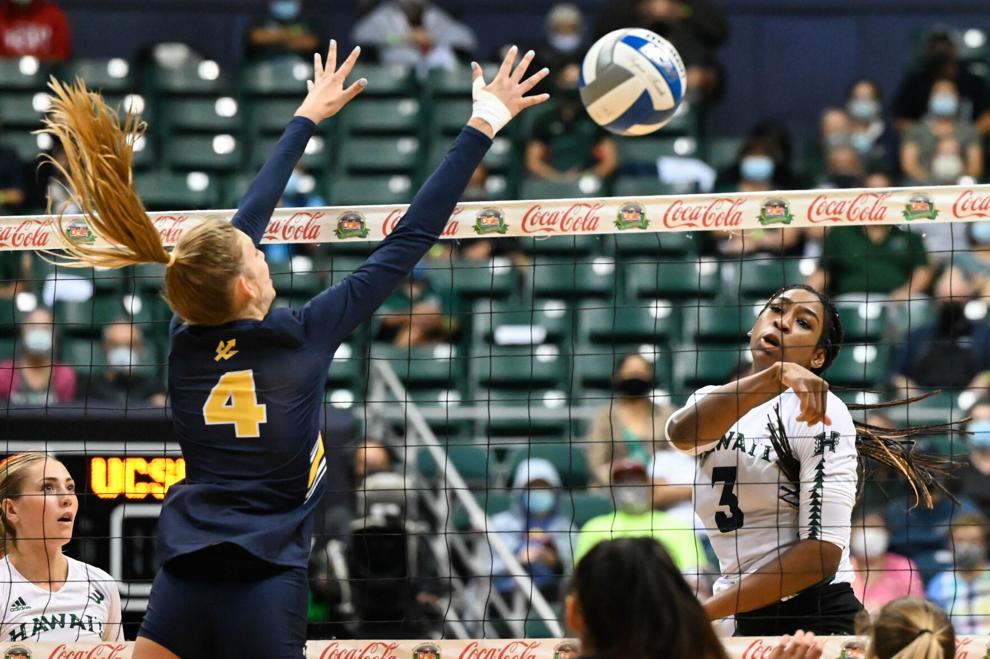 The opening game of what coach Robyn Ah Mow called one of "the harder road trips" for the University of Hawai'i women's volleyball team this season was much closer than expected, as the Rainbow Wāhine beat Cal State Bakersfield in four sets on Friday. Scores for the match were 26-24, 24-26, 25-23 and 25-19 for Hawai'i.
Both Amber Igiede and Skyler Williams posted career highs in kills, with Igiede dropping 20 and Williams recording 16. The Hawai'i middles were responsible for nearly 60% of the team's offensive production,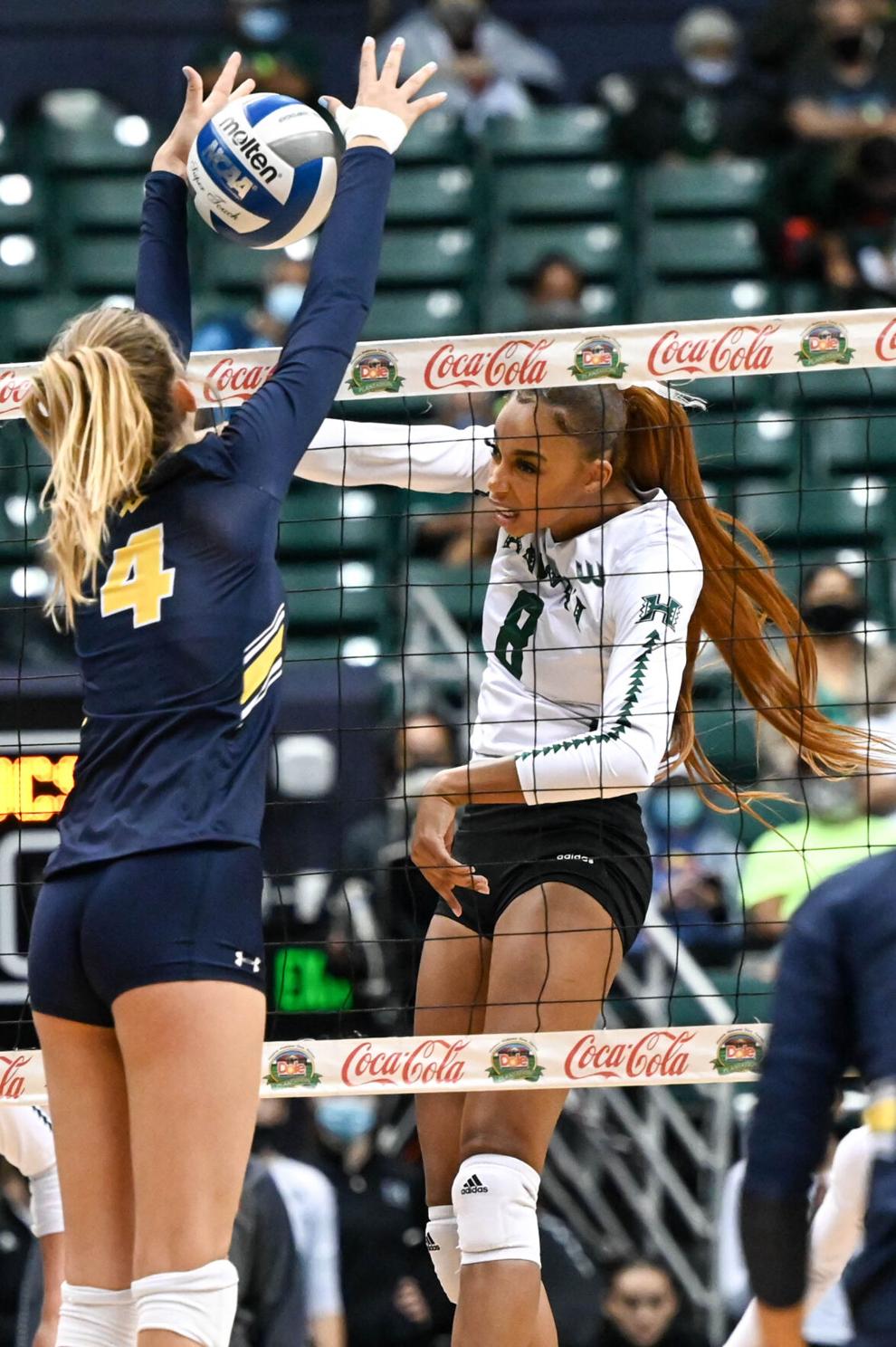 Hawai'i opened the game with a different look in the starting lineup, inserting Mia Johnson and Braelyn Akana in lieu of regular starters Brooke Van Sickle and Riley Wagoner. The duo of Johnson and Akana combined for four kills in the set, but passing and serve-receive was something that the Rainbow Wāhine seemed to struggle with, as Cal State Bakersfield recorded five service aces in the set.
Despite the difficulties they experienced, Hawai'i came back from a Roadrunner set point to force deuces and take the opening set 26-24, with Igiede's tip attack being the clincher.
Hawai'i seemed to struggle once again in set two, as Cal State Bakersfield was able to get the ball down the open court and keep it close. The Rainbow Wāhine had set point themselves before Bakersfield made a run that ended up winning them the set.
After two close sets to begin the match, Hawai'i made adjustments to the lineup, as Van Sickle and Wagoner made their first appearances of the match in the third set. While the set was just as close as the first two sets, the duo of outside hitters made the most of their appearance, as Van Sickle dropped five kills and Wagoner had the kill that won them the set.
Hawai'i returned to form in the fourth set, with the middles establishing their dominance. The kills and blocks recorded by Igiede and Williams in the fourth set made for over half of the points credited to the Rainbow Wāhine in the set.
Leading by as many as seven points late in the set, Bakersfield made what looked to be a late attempt at a comeback, which ended when Hayley McCluskey's serve went long, clinching the set and match for Hawai'i.
For the Roadrunners, they had four players record double-digit kill totals. Hana Makanova led the team with 15 kills, and Milica Vukobrat had 13 kills. Brooke Boiseau and McCluskey recorded 11 kills each for Bakersfield.
Conference Race
Entering this weekend, Hawai'i held a two-game lead atop the Big West Conference standings over UC Santa Barbara. With the win over Cal State Bakersfield, the Rainbow Wāhine maintained that lead as Santa Barbara swept UC Davis on their homecourt hours later.