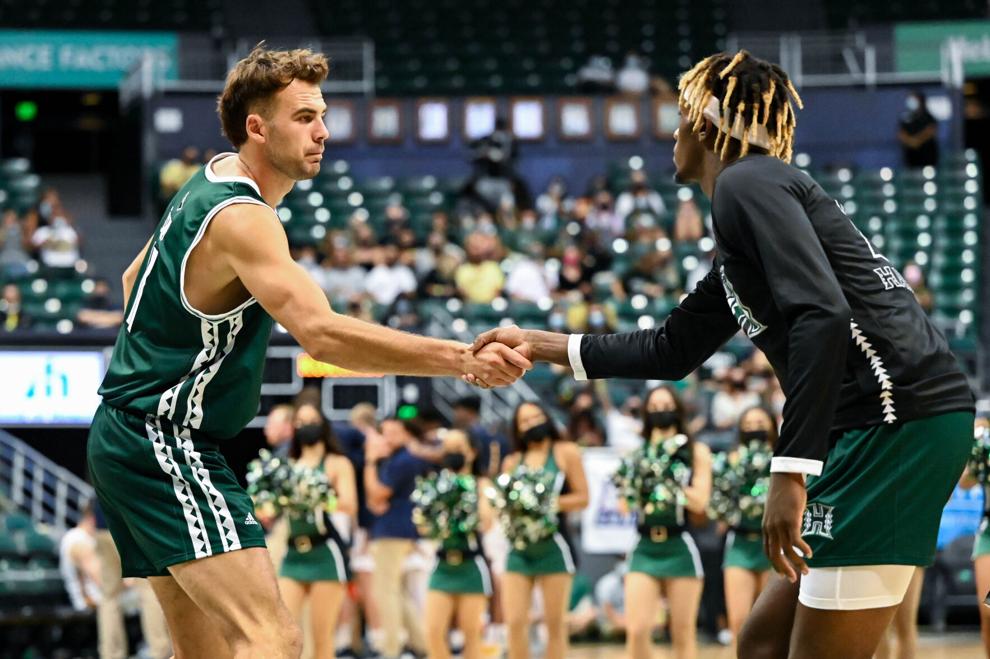 The Hawaiʻi Rainbow Warriors men's basketball team opened the season with a 97-67 victory over the UH Hilo Vulcans in their first game of the Outrigger Rainbow Classic at Simplifi Arena at Stan Sheriff Center. 
The Warriors got everyone involved with all but one player scoring points. Six players scored in double-digit figures and the bench wound up outscoring Hilo's bench 57-38. Hawaiʻi coach Eran Ganot said that passing the ball is at the heart of Hawaiʻi basketball. 
"60% of our baskets were assisted, that's what we do," Ganot said. "We share the ball, we share defensive responsibilities, we all block out. Everything is team, team, team." 
The triple threat of forward Bernardo Da Silva and guards Junior Madut and Noel Coleman were a big factor in leading the Warriors to victory. Madut led the way with 17 points and six rebounds and Coleman added 15 points and 2 assists. Da Silva finished the night with a double-double, accumulating 16 points and 10 rebounds. 
The Warriors towered over their opponents as the team's average team height is well over six feet. That difference led to the Warriors out-rebounding Hilo 51-25. Da Silva said they knew Hilo could play small ball but their size difference was what they planned to exploit. 
"We believed we had an advantage in size so that's what we tried to do tonight, crash hard on the boards," Da Silva said. "Get every board and be able to sit down on defense and play." 
The student section had one of the best turnouts for a Rainbow Warrior basketball game in years and their presence was felt. The players enjoyed playing in front of the fans again and doing their best to represent Hawaiʻi. 
"We definitely missed the fans, it's been almost three years I think if not two years since we've had fans in the stands," Coleman said. "Coming in as a transfer, I've never experienced a family feeling and fans in the stands here so most definitely an exciting one for me and for our team."
Hilo forced three turnovers after Hawaiʻi won the opening tipoff, but it was Hawaiʻi's Madut who scored the first five points of the game, laying it in under the basket before following it up with a corner three. Things would stall for a bit as it became a defensive game. Hawaiʻi then went on a 8-0 run to take a double digit lead with 11 minutes to go in the first half. 
The Warriors continued their run, giving up only one point, but the Vulcans came back with a 4-0 run and later hit two 3-pointers to pull within 13. The last four minutes of the half would be back and forth and ended with the Warriors holding a 40-28 lead at the half. 
The game continued to be a back and forth affair to start the second half before Hilo went on a 7-0 run to cut the deficit to single digits. The Warriors would later go on a 12-0 run of their own to extend the lead back to double digits at 20 points with 10 minutes left in the game. 
Hawaiʻi remained hot, going on a 9-0 run to extend their lead even further to 30 points. The Vulcans tried to fight back, going on a 4-0 run that was followed by 5-0 run, but Hawaiʻi would run away with this one, claiming the win.
The Warriors will have a quick turnaround and return to Simplifi Arena to play Northern Colorado on Thursday, Nov. 11 at 7 p.m. HST.