HONOLULU — Saturday was more of a publicity event than a scrimmage, as one reporter put it.
The annual University of Hawai'i spring football game had a couple of highlights in team White's 27-24 win over team Black, but the other associated events had their own stories.
The "Keiki Zone" and the Rebel SoulJahz concert, the latter of which moved from Les Murakami Stadium to SimpliFi Arena at Stan Sheriff Center due to the wet Mānoa weather, were the parties before the party. The day also provided the program a chance to showcase itself to recruits.
"It was a really special week for us," coach Timmy Chang said in terms of recruiting. "I thought it went really well. Give the credit to my staff, they were here all day and we pulled through and got it off the ground the right way."
It seemed to work for at least one recruit, who informed Chang of his intent to commit to Hawai'i on the Clarence T. C. Ching Athletics Complex field right after his postgame interview with reporters.
@CoachTimmyChang … LETSSS ROCK ‼️ Start of something special ‼️ https://t.co/PnJncQRcId

— Jordan Wright (@Jordan_Wright18) April 17, 2022
Warmups and gameplay were treated as similar to how game days will be this season, with the exceptions of a running clock in the second half, no live kickoffs throughout, and no penalties enforced.
There were no live stats or a telecast of Saturday's spring game, so here are some observations made from the walkthrough.
Saturday's standouts
Saturday showcased a number of football players on both teams, with Tamatoa Mokiao-Atimalala and Leonard Lee being the main choices for offensive and defensive players of the game.
"It felt good to just play football and get a chance to play," Lee said after the game. "The coaches are doing a really good job and putting us in spots to make plays and be successful."
Lee had two interceptions, one off Armani Edden and another off Connor Apo for the team in the home blacks. Mokiao-Atimalala had three first-half touchdowns for the team in the away whites, one of which was on a 75-yard catch and run from Jake Farrell.
"I (got) to give it to everybody," Mokiao-Atimalala said. "It's 11-man football, so all 10 did their job and I did my job. That's how we got it done."
Some of the other standout players were Dedrick Parson, who had seven carries for over 50 yards and a touchdown in the first quarter before being shut down presumably out of caution, and Farrell, who threw for over 200 yards and three touchdowns in the first half. Placekicker Matthew Shipley also kicked a 55-yard field goal for Black late in the first half.
The quarterback battle continues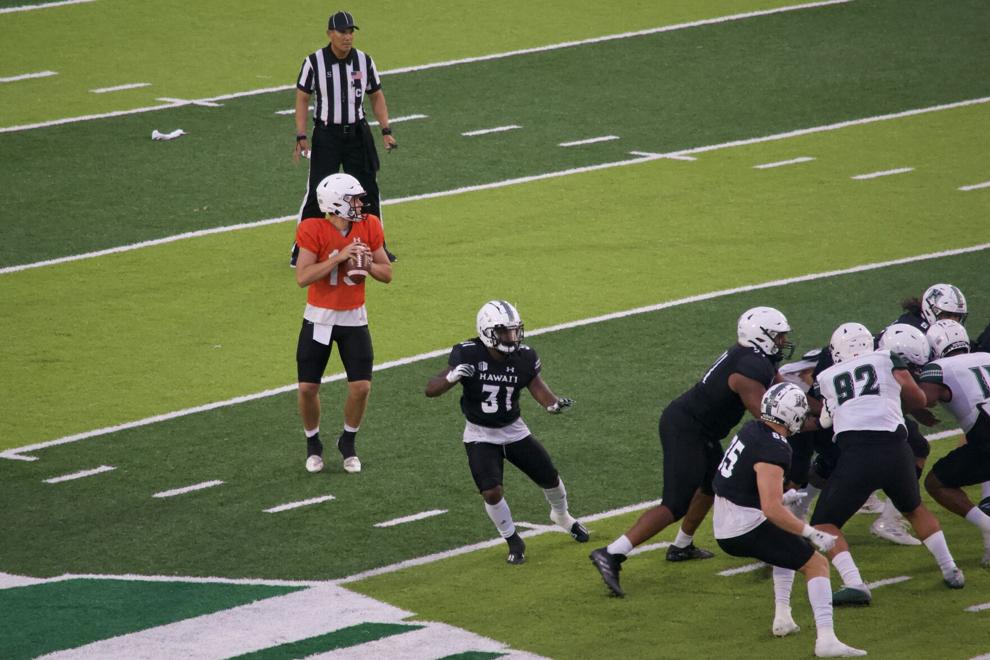 Today's spring game did not establish a clear starting quarterback, according to Chang. Brayden Schager and Cammon Cooper took reps for team Black in the first half before Edden and Ephraim Tuliloa took over in the second half.
"It's just going to be an ongoing event," Chang said. "We're asking them to do a lot."
For team White, Farrell started the game and split drives with Edden and Tuliloa before Apo and Chad Owens Jr. took over in the second half. Farrell's three touchdowns in the first half combined with Cooper's struggles (he completed three of his 10 passes for 15 yards on Saturday) have put him in contention to compete for a top-2 spot in the depth chart.
"They definitely played well with the opportunities they had," Chang said of Farrell and Schager. "That was good to see."
Ha'a is back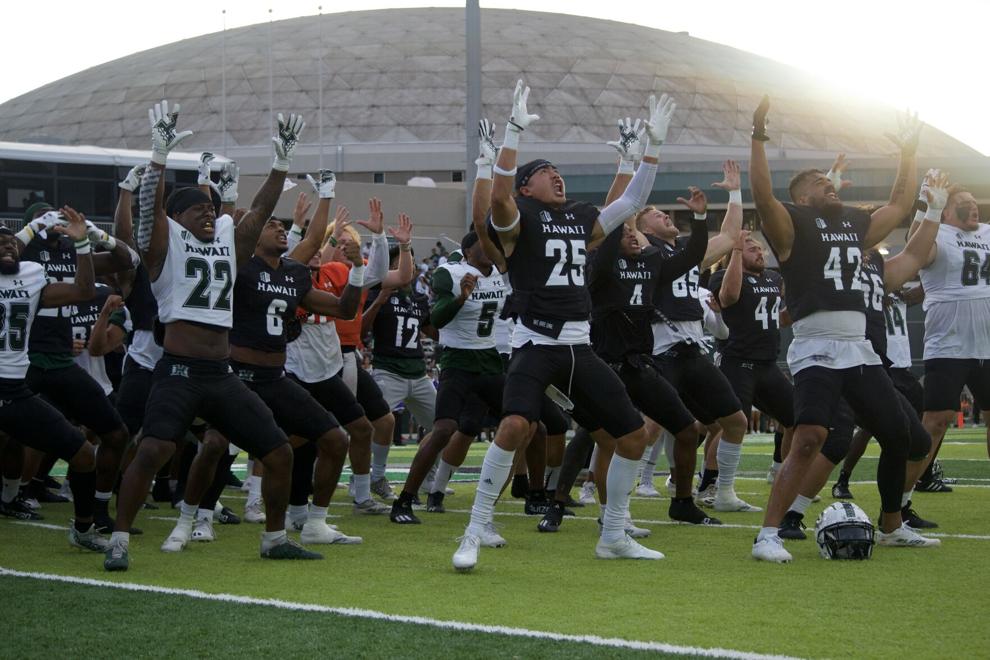 Before the opening kickoff, the team gathered and did something it had not done for quite a while; the Ha'a.
It's baaaack…👀@HawaiiFootball performs the Ha'a before kickoff of "Island Day" @CoachTimmyChang @HawaiiNewsNow #BRADDAHHOOD #GoBows #HawaiiFB #HNN pic.twitter.com/mAKUGOiZgc

— Kyle Chinen (@KyleChinen) April 17, 2022
"A long time," Mokiao-Atimalala said when trying to recall the last time the program did that. "Just to have the culture… I think it set the tone for everything."