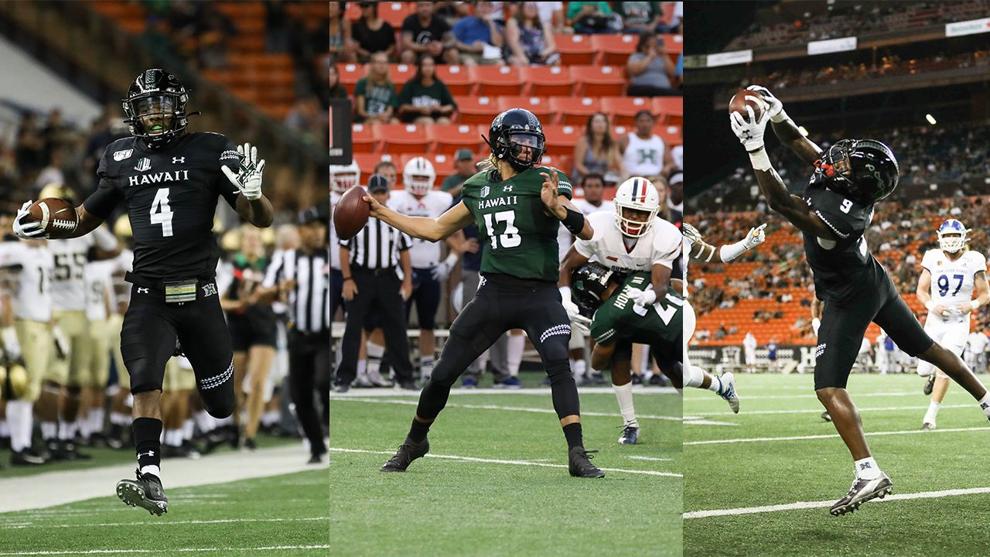 If the regular season had started out as planned, the University of Hawaiʻi would be flying back from Colorado Springs after taking on the Air Force in their seventh game of the season. However, due to the coronavirus delaying and cancelling sports across the country, the Rainbow Warriors are lucky enough to begin their season this weekend at Fresno State. 
The path to this point in 2020 certainly wasn't the easiest route.
Mahalo to Coach Rolo, Cole McDonald, and other seniors
After the Rainbow Warriors capped off an amazing 10-win season over BYU in the Hawaii Bowl, former head coach Nick Rolovich signed a new contract with Washington State University and starting quarterback Cole McDonald announced he would leave school early for the 2020 NFL Draft. The two heads that helped lead the Rainbow Warriors from a decade of disappointment were gone in a flash.
As quickly as they left, their seats got filled.
First, the head coaching vacancy was filled by former Pac-12 Coach of the Year Todd Graham. Graham helped lead Arizona State University to five bowl games in six years, along with helping lead other football programs back to relevance with the former and Tulsa University. 
Next, the best place to look for your next quarterback is looking internally. Redshirt sophomore Chevan Cordeiro was a common sight in games in 2019, as he went 4-0 as a starter and often stepped in when McDonald started struggling in games. Cordeiro is also a member of a trend of starting quarterbacks coming out of St. Louis High School in Hawaiʻi like Tua Tagovailoa, Jayden de Laura, Marcus Mariota and Timmy Chang.
Some more losses from the 2020 offseason?
- Starting receiver duo Cedric Byrd and JoJo Ward both graduated, with JoJo Ward now a member of the Arizona Cardinals practice squad. Both receivers each had 1000-yard seasons last year.
- Other offensive players include Dayton Furuta and J.R. Hensley. 
- The last batch of Norm Chow recruits are now graduated, with defensive stars Kaimana Padello, Solomon Matautia, Rojesterman Farris II, Kalen Hicks and Ikem Okeke. 
Aloha to the 2020 Recruiting Class
Every year, UH's recruiting class ranks out near the bottom of the nation, but we somehow always get great value from our three star recruits and lower.
Our main line of recruiting? College transfers.
Some of our best players in the last couple of years come from lower division colleges, as well as others from FBS colleges who want more playing time.
The big transfer from this class is a senior grad-transfer from the University of North Texas, Rico Bussey. The wide receiver played three seasons for the Mean Green, having just under 2,000 yards and 21 touchdowns. 
He will be starting alongside another transfer receiver in Zion Bowens. He received all-conference honors as a receiver last year at Long Beach City College, and he will bolster a dynamic and speedy group of receivers in Hawaiʻi. 
Some freshman to watch out for will be Dae Dae Hunter, an agile and speedy running back from Arizona. Fun fact, Dae Dae will be wearing number 0 on his jersey as 2020 will be the first year players will be allowed to wear the number. 
Another freshman will be looking to fill the boots of Australian place kicker Ryan Meskell: Matt Shipley. The kicker from Texas got the start, but it's another crowded kicking room with transfer Adam Stack, a local boy who graduated from Kamehameha, to compete with. 
Click here for the game notes for more information, as well as a schedule for this year's games.
Fresno State Preview