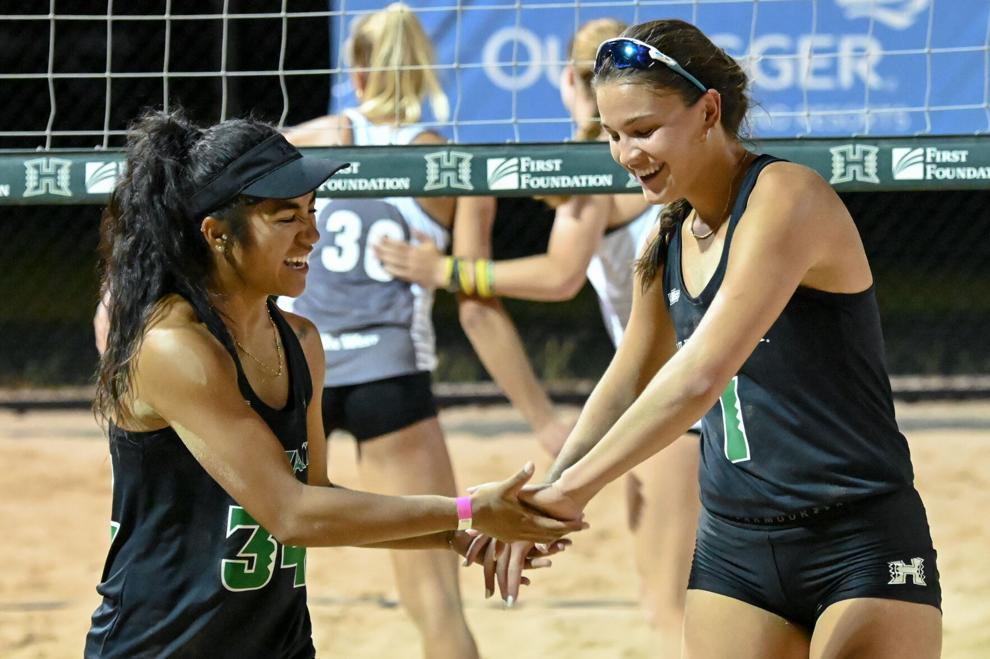 The University of Hawai'i Rainbow Wahine beach volleyball team opened their 2021 home slate with a win over Long Beach State at the Clarence T. C. Ching Athletics Complex Thursday night, 3–2. The game is the second between the two teams this season, who both entered this weekend ranked in the top 20 of the AVCA poll.  
Although fans were not allowed inside of the Ching Complex, there was still a home court advantage with noise coming from people, including members of the Rainbow Warriors baseball team, who stopped by to watch their fellow student-athletes compete from outside the complex. Hawai'i athletic department staff and coaches also filtered in during the action, including athletic director David Matlin and women's indoor volleyball coach Robyn Ah Mow.
Hawai'i drew first blood with the No. 5 match when their duo of Anna Maidment and Sofia Russo completed a reverse sweep against Long Beach State's Jillian Rodriguez and Emily Matoon, capped by an extended third set that saw a block party from Russo and controversial calls from the referees. 
 Long Beach evened it at a game each after their No. 4 pair of Alice Pratesi and Skyler Germann swept their match against Hawai'i's Kaylee Glagau and Ilihia Huddleston, despite a late rally from the 'Bows duo in the second set. 
The Sandbows took the No. 3 match with Kylin Loker and Harlee Kekauoha sweeping Long Beach's Kenzie Holtz and Makenzie Griffin in identical 21–15 sets. 
Jaime Santer and Pani Napoleon clinched the overall win for Hawai'i in the No. 2 match, winning the third set after splitting the first two sets with Long Beach State's Nicci Reinking and Katie Kennedy. The third set was tight for the first couple of minutes, but Santer and Napoleon pulled away with the help of a 6–0 scoring run to take the set 15–9.
The final match of the night was between the No. 1 pairs, Brooke Van Sickle and Amber Igiede of Hawai'i and Mari Molina and Tyler Spriggs of Long Beach State. The duo for Hawai'i were swept by Molina and Spriggs in two sets after they could not complete a late game comeback to stay alive.
The SandBows return to the Ching Complex on Saturday to continue their series against Long Beach State with a doubleheader. The first game will start at 12 p.m. HST and the second will take place at 3 p.m. HST. The second game will be televised on Spectrum Sports.