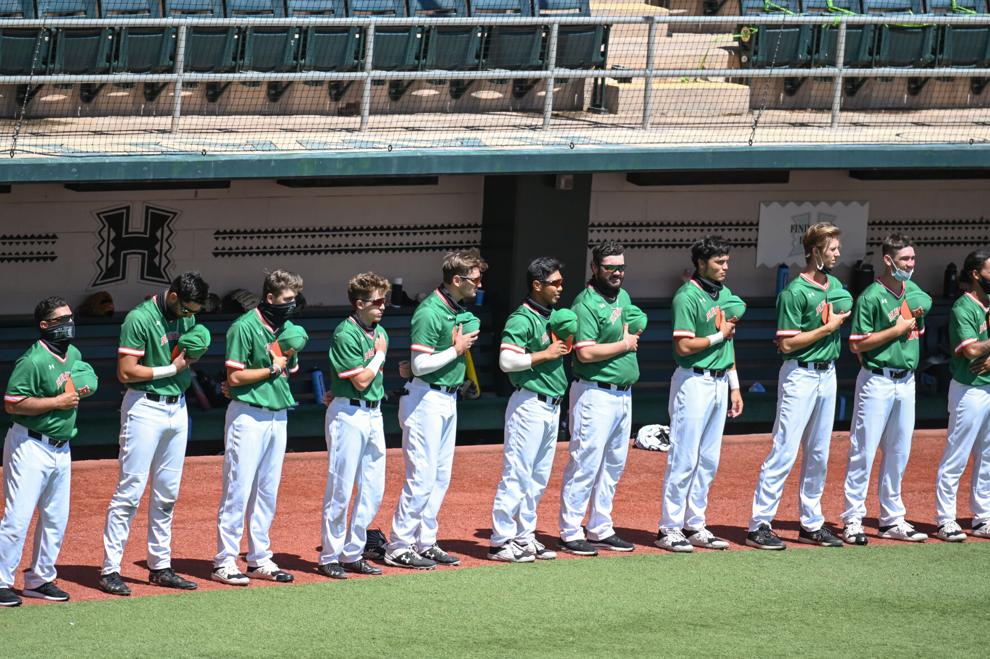 In their final home game of the season, the University of Hawai'i baseball team dropped Sunday's finale against UC San Diego 3–2, as the Tritons used another late surge to spoil senior day at the Les Murakami Stadium as Matt Campos, Alex Baeza, Tyler Murray, Adam Fogel, Dustin Demeter, Logan Pouelsen and Calvin Turchin said farewell to the program after graduating this spring.
Pouelsen pitched six shutout innings in the final home start of his collegiate career and Kole Kaler went 3-for-3 at the plate for the 'Bows. 
Despite having nine baserunners reach base off of Pouelsen, UC San Diego struggled to advance their men as the Hawai'i senior limited them to a .077 batting average with runners on base, as well as 0-for-7 with runners in scoring position. 
Kaler's double in the sixth inning led to him scoring the first run of the game, as he scored on Scotty Scott's infield single to create a 1–0 lead. 
After Tyler Dyball entered the game to spell Pouelsen, Tate Soderstrom put UC San Diego up 2–1 with a home run after the Tritons put a man in scoring position with two outs. The Tritons added an insurance run in the eighth inning on a base hit by Logan White to make it 3–1. 
The 'Bows got a run back in the bottom of the eighth and even loaded the bases with two outs, but stranded them loaded after Jared Quandt grounded out to end the inning. They also got the potential tying run to third base with two outs, but left him there as the Tritons got Campos to ground out to end the game. 
Dyball was hit with his second loss of the season after giving up all three Tritons runs in the 1⅓ innings he pitched, while Tritons starter Brandon Weed got his fourth win of the season after going 7⅓ innings. Luke Mattson recorded his fifth save of the season for the Tritons as he closed out the ninth inning. 
Hawai'i wraps up their season in San Luis Obispo next week, as they face Cal Poly in a four-game series beginning on Friday. The series opener is scheduled to begin at 2 p.m. HST and will be streamed on Big West TV.