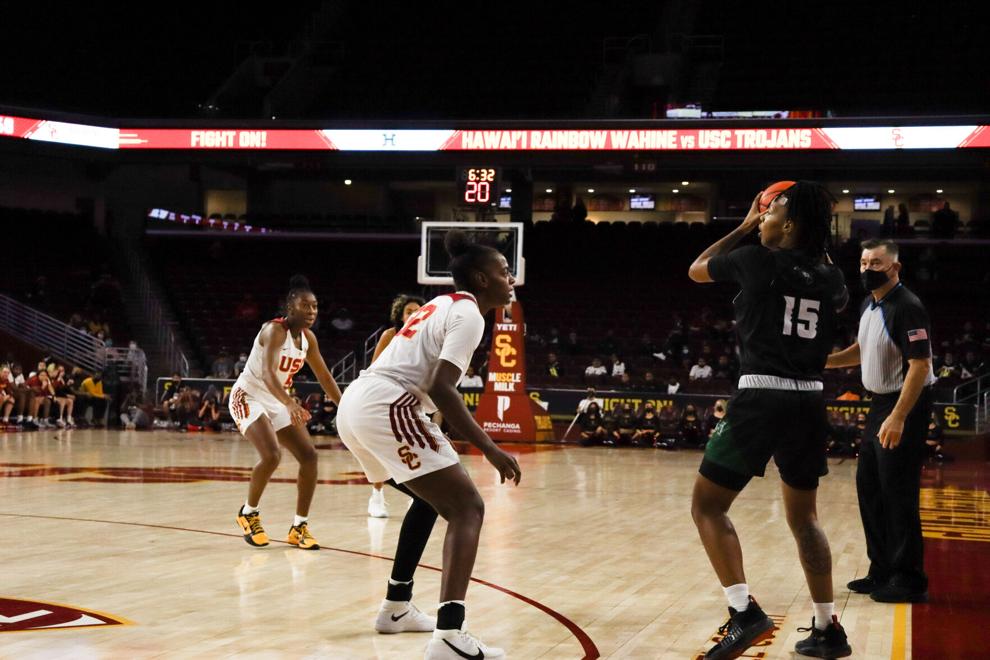 The Rainbow Wāhine basketball team lost to the USC Trojans 96-55 in a non-conference matchup inside the Galen Center. The 'Bows shot 30.3% from the field and 26.9% from three, with USC shooting a 51.5% field goal percentage and 52.9% 3-point percentage.
Aside from the few minutes in the first quarter in which the 'Bows held a 2-1 lead, the Wāhine trailed the entire game.
Hawaiʻi did force 16 USC turnovers but were not able to convert the extra possessions into points, only scoring 15 points off of turnovers.
Forward Kallin Spiller had a double-double in the loss with 10 rebounds and a team-high 14 points. Guard McKenna Haire scored 11 points and was 3-for-6 from the 3-point line.
The first quarter started off slow as both teams struggled to find any offensive rhythm. With four minutes left in the quarter, the Wāhine only trailed 5-2 but by the end of the quarter USC was leading 15-6.
The Wāhine played their best basketball in the second quarter. The 'Bows were trailing 25-9 with five minutes left in the second quarter but were able to cut the deficit down after a Jacque David 3-pointer made the score 32-24.
Hawaiʻi coach Laura Beeman said her team played a good second quarter but got flustered when their opponents made adjustments to their offense.
"Pace dropped and I had too many players get into their own feelings," Beeman said. "That is not a recipe for winning basketball."
The Rainbow Wāhine came out flat after halftime and the Trojans dominated the second half, killing what little momentum the 'Bows had to end the second quarter. USC increased their lead to 48-31 in the third quarter with a couple of made threes and by the end of the third frame the score was 62-45.
Beeman said her team has to not quit. "When play gets hard, you have to play harder, not give up."
The home team squashed any hopes of a Wāhine comeback in the fourth quarter when USC went on a 25-0 run to jump ahead 87-46. USC forward Jordan Sanders had 17 points, 7 rebounds, and was 3-for-3 from deep to lead all scorers.
What's next
Over their first two games, the 'Bows averaged 22 turnovers per game. Beeman said turnovers this early in the season were expected.
"Lowering turnovers will come with more experience and the style of teams that we are going to be playing against," Beeman said.
Beeman said the players should get more experience as the season progresses and pointed to the level of competition that their last two opponents displayed.
"We've played two really solid teams that have length, athleticism and speed on us," Beeman said. "We have kids who haven't played in 600 days, that's a lot of days without playing basketball."