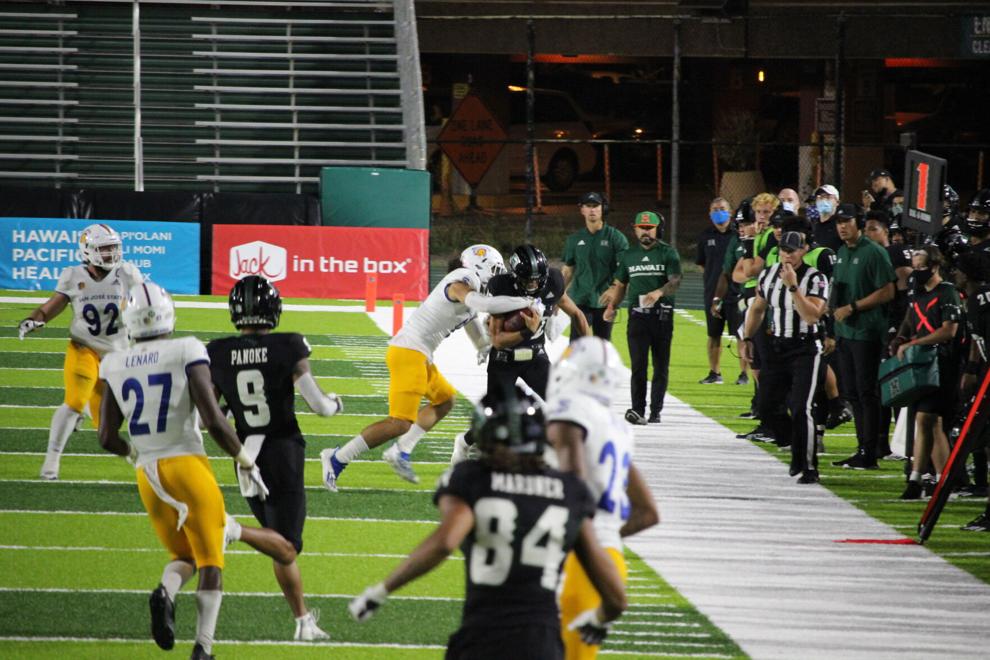 After winning their own homecoming game two weeks ago, the University of Hawai'i Warriors football team failed to play spoiler to the University of Nevada's homecoming festivities, losing 34-17 on Saturday.  
The Warriors fell to 3-4 (1-2 Mountain West) on the season as the Wolf Pack's defense proved to be too much for them, pitching a second half shutout and applying pressure all game, amassing five sacks and forcing four turnovers. 
True freshman quarterback Brayden Schager made his second start of the season in place of junior quarterback Chevan Cordeiro and completed 22 of 39 passes for 205 yards and four interceptions. Cordeiro did suit up for the game but only saw action on one play, a pooch kick. Sophomore running back Dae Dae Hunter led the team on the ground with 174 yards and two scores before leaving the game in the second quarter with an apparent shoulder injury. 
On the defensive side of the ball, the Warriors struggled to figure out the passing attack of Nevada. Hawai'i would get to the quarterback for a sack on three occasions, but those efforts did little to slow down the Wolf Pack offense. Nevada finished the night with 395 yards and two scores through the air, and added another 84 yards and two scores on the ground. Senior defensive back Khoury Bethley led the Warriors defense with 13 total tackles, while linebacker Darius Muasau and defensive linemen Junior Laulu and Zacchaeus McKinney each recorded a sack. 
Nevada got the ball first to start the game and drove it all the way down to Hawai'i's two-yard line, but Hawai'i's defense stood strong and held them to just a field goal. Hawai'i then spent little time answering back as they only needed one play to get into the endzone with a 75-yard run by Hunter. Both teams would stall on their next few drives to end the quarter with Hawai'i leading 7-3. 
The Wolfpack regained the lead to begin the second quarter with a six-yard touchdown run. The Warriors responded right back with another one play drive that ended with an 81-yard touchdown run by Hunter. 
Nevada later capitalized on a muffed punt return by the Warriors, capping off a three-play drive with a 10-yard rushing score to take a 17-14 lead. Hawaiʻi would tie it up on the proceeding drive with a 21-yard field goal by sophomore kicker Matthew Shipley, but the Wolf Pack added another field goal of their own and ended the half holding a 20-17 lead.
Nevada carried the momentum over into the second half, intercepting Schager to set up another scoring drive that ended with a 28-yard touchdown pass. Hawai'i would then drive down the field, taking it inside Nevada's 20-yard line before Schager threw his third interception of the day. Nevada then proceeded to extend their lead with another touchdown pass, this time from three yards out. The quarter would end with Nevada up 34-17. 
Most of the last quarter saw little action as Nevada held a comfortable three possession lead. Hawai'i stalled out on their first two drives of the quarter and gave up another interception on their third. Nevada would later line up in victory formation with 53 seconds left in the game to end 34-17. 
The Warriors return home next week for their second meeting of the season with New Mexico State on Oct. 23. Kickoff is set for 6 p.m. HST, and can be caught on radio on ESPN Honolulu or ordered on pay-per-view from Spectrum Sports.