Dedrick Parson kept it simple when breaking down the three rushing touchdowns he had in the University of Hawai'i football team's 31-16 win over Nevada at the Clarence T. C. Ching Athletics Complex Saturday night.
"The first one was my receivers blocking, my linemen blocking," the Hawai'i tailback said. "The second was my line — the linemen blocking and receivers blocking, and then the last one at the end of the game, which was again, my line and the receivers blocking."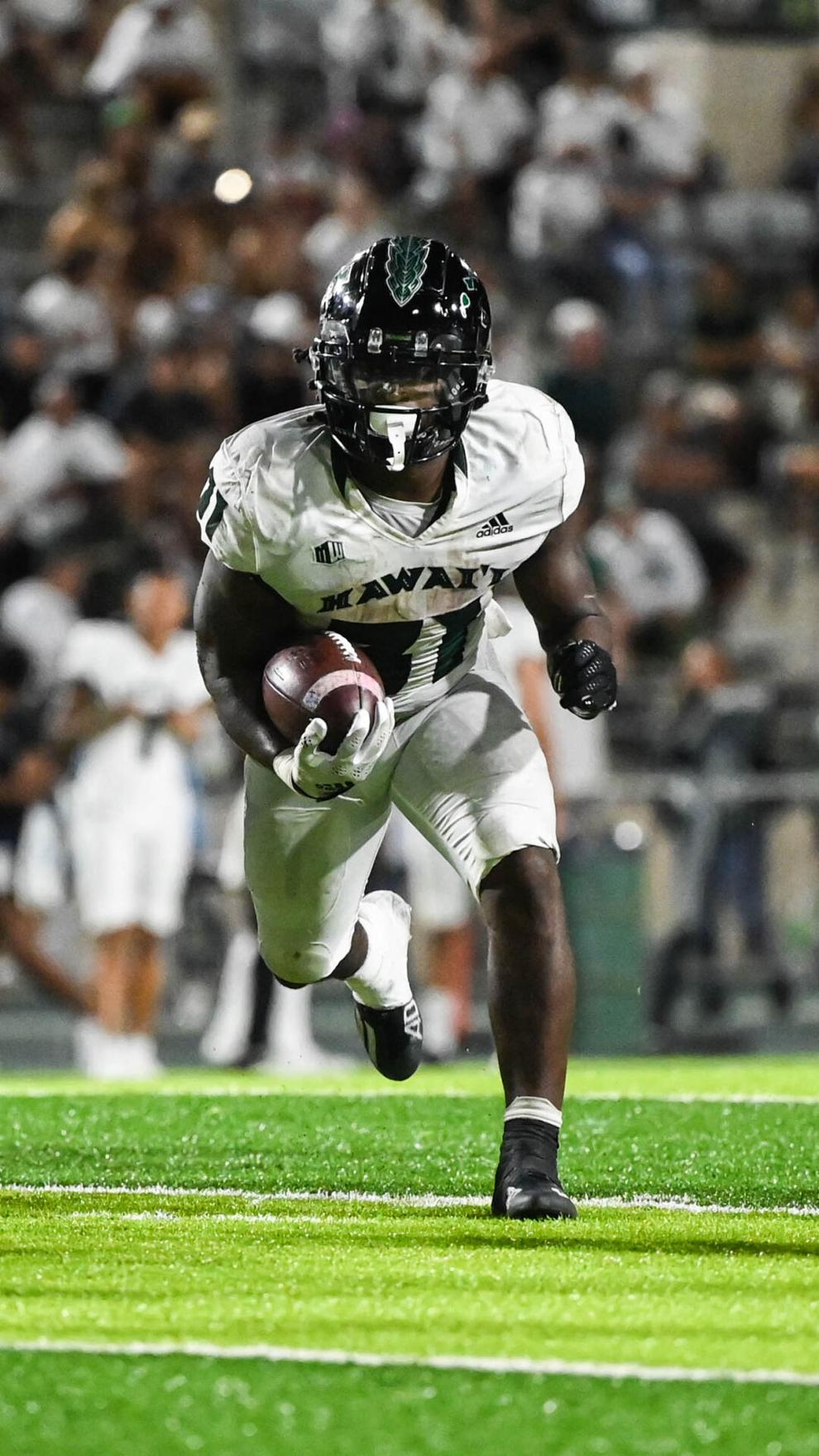 "Everything I do good, everything I accomplish is because of them," Parson added. "All the mistakes on me, is because of me. Props to my teammates for helping me have a three touchdown day."
Parson's three touchdowns along with his 136 yards on the ground helped Hawai'i (2-5, 1-1 Mountain West) pick up its first conference win of the season against Nevada (2-5, 0-3), where UH coach Timmy Chang spent the previous five seasons as an assistant coach.
"It's hard when I was at Nevada, playing my alma mater for five years. As a coach, you got to play these games when they line up and they're on the schedule," Chang said. "You play them for three hours, you go hard, and you want your guys to do well, and it's the same feeling I get when there's a lot of guys on that other side of the ball... I love that program there, and I'm very happy that our program won tonight."
Hawai'i began the game on offense and went 75 yards down the field, converting three first downs en route to Parson's 1-yard touchdown run to make it 7-0 UH.
Nevada countered back with a touchdown drive of its own as Devonte Lee scored on fourth-and-goal with a 1-yard touchdown run, but UH retook the lead on its next drive when Brayden Schager found Zion Bowens for a 48-yard touchdown.
"I thought the game plan was pretty good coming into the game, and executing was really good," Chang said. "Throwing the ball, running the ball, keeping (the defense) off balance, doing the things we had to do to move."
Schager completed 13 of his 25 passes for 173 yards with a touchdown and an interception, the latter happening in the early second quarter when Nevada's Eli'jah Winston was able to tip Schager's throw to himself and set Nevada up in UH territory. Despite the interception, the UH defense was able to hold Nevada to a three-and-out and three points.
"I thought we really killed ourselves on one of those drives with all those penalties, and that's what I'm looking for," Chang said. "It's always the things that are hurting us, and just telling the boys, 'Hey man, we're hurting ourselves, and if we can eliminate those, we're going to be okay.'"
Hawai'i was able to grab additional points in the fourth quarter with Parson's third touchdown of the night and a field goal by Matthew Shipley late in the quarter set up by John Tuitupou's strip sack of Nevada quarterback Nate Cox.
Defensively, Hugh Nelson II and Penei Pavihi led the Rainbow Warriors with eight tackles each while Tuitupou had UH's lone sack of the night.
Cox went 22-for-37 for 188 yards and also led the team in rushing with six carries for 52 yards. Nevada's tailback duo of Toa Taua and Lee were held to 25 total rushing yards on a combined 20 carries, although Taua led the Wolf Pack in receiving with 67 yards on six catches.
"Everyone's just doing their job. Just holding them to three (points), and instead of 28 points, they came out to 16," Pavihi said. "This is huge for us to build momentum on and to keep the score to what it was."
Hawai'i plays Colorado State in Fort Collins on Saturday at 10 a.m. HST. Spectrum Sports pay-per-view will have the television broadcast while ESPN Honolulu (1420 AM) will have the radio broadcast.