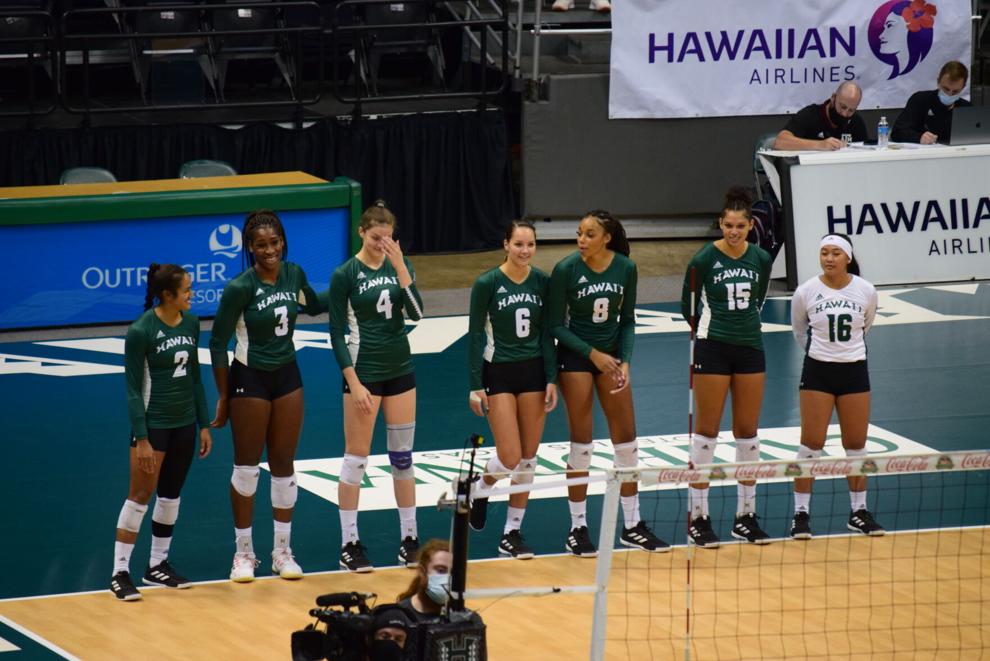 The Rainbow Wāhine volleyball team lost a thriller to Utah Valley University on Thursday, as they took the Wolverines to five sets on the opening night of the Utah Classic. Scores for the match in Rebecca D. Lockhart Arena were 23–25, 25–14, 23–25, 26–24, and 12–15 for Hawai'i.
Brooke Van Sickle recorded her fourth consecutive game with double-digit kills with a career-high 20, also shining defensively with 24 digs and four blocks, while Amber Igiede posted a career-high of her own with 15 kills and nine blocks for the Wāhine. Setter Mylana Byrd also posted her first double-double with Hawai'i, recording 46 assists and 13 digs in a game that had a total of twelve lead changes, eight of which came in the final two sets. 
For Utah Valley, Kristen Bell led the team with 18 kills and 18 digs, one of three double-doubles for the Wolverines along with Kazna Tanuvasa (12 kills, 11 digs) and Abbie Miller (28 assists, 10 digs).
The amount of kills each team had were fairly even in the opening set (Hawai'i had 11 to Utah Valley's 10), but service errors by Hawai'i in the set ended up coming back to bite them, as their six played a critical role in the Wolverines winning the first set.  
Set two was a different story for the Wāhine, who started out with a 3–0 run in the second set and pushed their lead to 6–2 to force a Utah Valley timeout. The set was the Wāhine's the entire way, holding the Wolverines to a .000 hitting percentage behind four blocks from Igiede, who also had a team-high five kills in the set.
Hawai'i ended up having to place catch-up for the majority of the third set after Utah Valley started out strong and established a 4–1 lead, although they eventually took a late lead at 19–18 behind a 5–0 run. The set ended up going to Utah Valley, as unforced attack errors from Hawai'i and kills from Bell made it near impossible for Hawai'i to defend three consecutive set points. 
The fourth set ended up being the closest set, as the two teams were tied a total of eight times and exchanged leads five times. Utah Valley ended up with more kills than Hawai'i (19 to 14) in the fourth, but they were blocked three times and failed to hit a ball in play four times, which helped the Wāhine stay in the game. Nevertheless, Utah Valley ended up with a chance to close out on seven kills from Bell and another five from Tanuvasa. With the Wolverines at match point, Hawai'i turned the tables and claimed the fourth set behind a 3–0 run thanks to a pair of blocks by Skyler Williams. 
Set five went back and forth in the beginning, with both teams exchanging points until Utah Valley went on a 3–0 run to take a 5–3 lead, leading to a Hawai'i timeout. The Rainbow Wāhine bounced back to tie the set multiple times and even took the lead at 10–9, but Utah Valley used a 5–0 scoring run to force match point, with Bell hitting her 18th kill to give the Wolverines their first win of the season. 
Thursday's game was the only game of the Utah Classic that Hawai'i is scheduled to play in Orem, Utah.  Their next match will be against No. 22 San Diego on Friday in Salt Lake City. First serve is scheduled for 8:30 a.m. HST, with ESPN Honolulu broadcasting the game on radio.