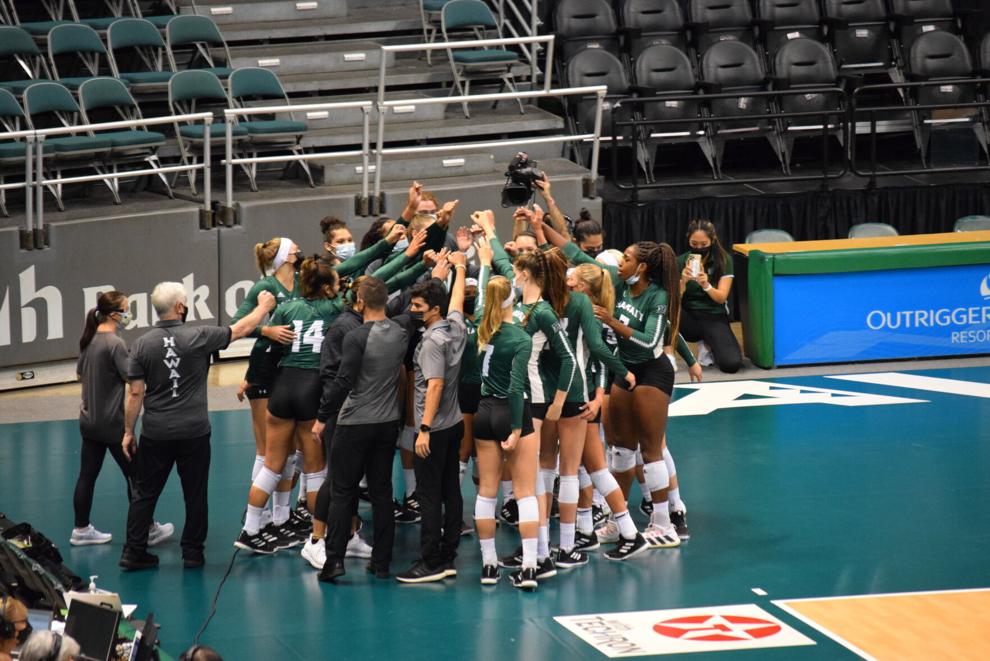 After 2020, the Rainbow Wāhine volleyball team knew that nothing was guaranteed. When asked when she knew for sure the match against Friday's match against Fairfield University at SimpliFi Arena at Stan Sheriff Center was going to take place, Hawai'i coach Robyn Ah Mow's answer was straight forward.
"Until they blew the whistle," she said. "For me, it was when they blew the whistle, you know? You never know."
"We're just grateful that we're able to play," Hawai'i outside hitter Brooke Van Sickle said. "We didn't play for like 600-something days, so super grateful." 
"We all just want a chance to compete," Hawai'i outside hitter Riley Wagoner added. "[Friday] was the first day in however many days that we got to compete and play against another team… that's really been like a driving factor for us, just to go out there and show people what we've been working for." 
If there was any rust after going 623 days without competition, the Rainbow Wāhine volleyball team made sure it didn't affect the big picture, as they swept Fairfield University 3–0 on the opening night of the Hawaiian Airlines Rainbow Wahine Classic. Scores for the match were 25–18, 25–12, and 25–18.
Van Sickle and Wagoner both posted double-doubles as the Wāhine won its first game of the season. Van Sickle led the team in kills with 16 and added 11 digs while Wagoner had 12 kills and 10 digs. Both credited the offensive efficiency of Hawai'i middle blockers Skyler Williams and Amber Igiede, who combined to hit .500 with a total of 12 kills, in opening up gaps that allowed the two outside hitters to be top 2 on the team in kills. 
"[Fairfield's] middle [blocker] started staying with our middles more and it made it a lot easier for us to just hit wherever we wanted pretty much around one blocker," Wagoner said. 
"With just dominating middles, I mean, they have to pretty much commit [to] them," Van Sickle added. "You have Amber, you got Skyler, like they're hitting at high clicks, so yeah… it's really nice. Thank you Skyler and Amber."
The team also got solid play from a pair of newcomers to the team, junior setter Mylana Byrd and freshman libero Tayli Ikenaga, the latter recording 12 digs and five assists.
"Tayli did really well," Van Sickle said. "She was very calm."
"I think the one factor going into the game is like 'Ok, she's a freshman. Is she going to be able to handle pressure?" Ah Mow said of Ikenaga. "And I think she did great. She was out there talking, passing, digging, directing."
In addition to her 35 assists, Byrd also added four kills, eight digs, and 1.5 blocks.
"Mylana was on top of everything," Van Sickle added. "Everyone was just able to focus and be 'Ok, let's go. Let's do our jobs and get a [win],' so it was very nice." 
"[Byrd's] a great listener," Ah Mow said. "She listens to the feedback that all three coaches give her and she just goes and does. I think she did a great job as well."
The Stags ultimately struggled Friday night, having been blocked nine times by the Wāhine while also adding another six attack errors to end the night with a .107 hitting percentage and seven serving errors against a tall Wāhine squad.
"Obviously, height is always a deterrent for anything, you know? You'll be like 'Oh, I got to go away from that, I'm going to set away from that,'" Ah Mow said. "We do have a tall team. I don't know. I think height does deter, but I mean, look at [Van Sickle]."
Hawai'i got off to a rocky start, as they had a net violation that gave Fairfield the first point of the match. Despite the error they ultimately took the first set 25–18 as Van Sickle and Igiede each put up five kills on a combined .600 hitting percentage.
The Wāhine had a slow start in set two, as their four attack errors helped Fairfield build an early 5–3 lead. Hawai'i tightened things up immediately, using a 9–1 scoring run to turn the deficit into a 12–6 lead and pulled away as Van Sickle recorded her 10th kill of the match to clinch the set 25–12. 
In the third set, Fairfield opted to change setters, going with Blakely Montgomery over graduate student Manuela Nicolini. The Stags created an early lead once again with a 4–2 margin, but Hawai'i closed it and ran away with it, using a 3–0 run to help catapult them back out front, with Van Sickle's 16th and final kill proving to be the game-ending point. 
For the Stags, KJ Johnson led the team with 13 kills and a service ace, with no other Fairfield player mustering more than four kills. 
The Wāhine continue their weekend with a game Saturday night against Marquette. First serve is scheduled for 7 p.m. HST, with OC16 televising the match and ESPN Honolulu carrying the radio broadcast.